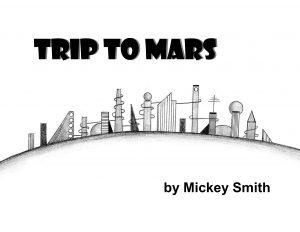 A few years ago I resurrected my first attempt at a novel, Trip to Mars, fifty-five penciled pages in a small yellow notebook with numerous crude illustrations. The 2,646-word story I produced as a sixth grader in the spring of 1964 is childish, cute, and illogical, but when the urge struck me in 2013 to render it into a children's picture book, a wondrous psychic bridge somehow formed between child and adult, a union I really hadn't expected. The modern illustrations peer through the childhood lens of 1964 but amplify and transcend the kid story, and this project became an homage to the writing it later inspired.
To make the picture book, I expanded the twenty-page manuscript into sixty-five pages of a few lines each, then illustrated each page in pencil. I decided the entire book would be black and white, and used a finger-rubbing technique to make numerous grayscale gradients. The book's first version in March 2014 was the scanned Word document saved as a PDF, then turned into a Windows Media Video file, and finally posted to YouTube. But I'd always wanted a physical picture book paperback, and after much experimentation completed the project in March 2017. It's now available as a compact and perfectly-sized 9″ x 7″ landscape-format paperback on lulu.com. I may do an eBook later but the paperback now satisfies my needs.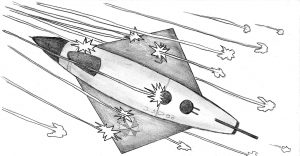 The story outlines the horrors of World War IV in, at that time, the extremely far future of 2033, along with the discovery of the moon's instability and the resulting evacuation of the planet's surviving population to Mars. Jack Commer, hero of my later published science fiction series, pilots the nuclear-powered spaceship Typhoon I and leads the same eight-man crew he'll captain in The Martian Marauders, Book One of the Jack Commer, Supreme Commander series. The crew includes Jack's three brothers Joe, Jim, and John. I think I originally named the four brothers after four identical plastic spacemen I had in elementary school. I recall that one of these four spacemen was a little lopsided and he thus became the somewhat loopy John Commer, the youngest brother who later makes a disastrous mistake with the Typhoon I in The Martian Marauders.