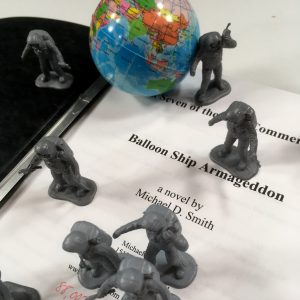 It's not time for a final assessment of the Jack Commer, Supreme Commander series, but after completing the first draft of the seventh and (probably) last book, I'm beginning to reflect on the long journey from The Martian Marauders to Balloon Ship Armageddon. Space captain Jack Commer has been with me since September 1962, first appearing in four of the thirty-four science fiction stories in my fifth grade Blue Notebook. He and his three brothers then starred in my first attempt at a novel, Spring 1964's Trip to Mars, and then the unfinished eighth grade draft of The Martian Marauders, a book which I happily rediscovered, completed and rewrote as a modern novel decades later.
I refrained from sprinkling self-serving promotional links into the above paragraph, but we need to get them out of the way or else I'll have to repeat all that content here.
A Writing Biography, Part II: The Blue Notebook
Trip to Mars in Paperback
The Irregular Origin of the Martian Marauders
The idea for a seventh book to conclude the series originated with Jack's wife Amav's declaration at the end of Book Six, The SolGrid Rebellion, that she and Jack ought to mount a search for their traitorous son Jonathan James, who's just been rendered into a million pieces of jagged glass by a Martian shattergun but, still alive, has been reconstituted as one-third of a solid chromium pyramid. Apparently Jonathan James is heading to a star thirty-four light years away to seek assistance from the deadly Wounded race of artistic exterminators Jack has been battling for the last two books. But there was no plot beyond that, which Jack and Amav both lamented in their blog interviews with me this spring.
I'm not killing off main characters in Seven, or otherwise making an Eight impossible, as, who knows, I may want to compose Eight a few decades from now. I think I'll relax more working on this novel if I leave this option open. The thought of permanently abandoning some characters like Dar or Kner or Suzette Borman is hard. Worse is the idea of merely tossing them into the seventh book to "resolve them all" as Heinlein did to his galaxy of characters at the end of The Number of the Beast–very tired writing there.
It may be that you're doing yourself a favor by not writing sequels and returning to the same characters. The often-delivered line from authors, "And then the characters spoke to me and told me their story wasn't over," etc. etc., could also be a way of staying comfortable with an arts-and-crafts level of consciousness. Consider Dostoyevsky exploring many of the same themes in new books but always extending them with fresh characters and plot; dynamic beings like Raskolnikov, Rogozhin, or Dmitri Karamazov may share similar forces, but they have wholly unique life stories behind them.
Am I writing fan fiction of my own work? Easy to grab onto Kirk and Spock and run with them, eh?