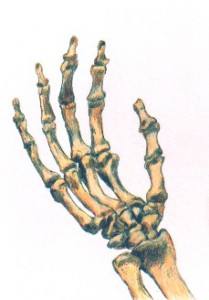 What's up with bones, daughters, and duplicate titles?
Several years ago I began to wonder why so many novels had the word bone in the title, and I went through the library catalog to make an extremely long and astonishing (but by no means exhaustive) list.  I recently updated the list of "bone" titles, trying to include only novels, though I may have inadvertently picked up a few biographies or nonfiction, which can be equally enamored of bone.  Here are a few of the titles:
A Bone From a Dry Sea, Bad to the Bone, Blind to the Bones, Blood and Bone, Bone by Bone by Bone, Bone Crossed, Bone Dance, Bone Deep, Bone Factory, Bone Harvest, Bone Mountain, Bone of My Bones, Bone to the Bone, Bones of Empire, Empire of Bones, Dead Man's Bones, Dragon Bones, Dragonfly Bones, Feast of Bones, Harvest of Bones, House of Bones, Lovely in Her Bones, The Lovely Bones, The Bone Garden, The Bone Orchard, The Bones in the Attic, The Bones in the Cliff, Trail of Bones, and Zero at the Bone.
You can only marvel that the use of bone in novel titles has not yet been universally derided as a cliché.  What is an author or publisher trying to convey with such a title?  Are we really supposed to be so thrilled, scared, or impressed?  I'm not commenting on the content of books themselves; as an example, I recently read Deborah Crombie's Dreaming of the Bones, ostensibly a "police procedural" but in reality an excellent literary work.