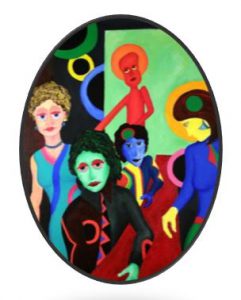 The idea for CommWealth came from the first part of these notes from a dream ("Their Satanic Majesties Computer Software Guide"), although successive revisions changed much of the plot. The second part, "The Tremendous Romance," wasn't used in the novel. The third part, "The Library Fantasy," also wasn't used, but has a similar tone to that of the novel's ending.
Design Considerations for New Writing. A Sort of Plot.
"Economics As if People Mattered"
Their Satanic Majesties Computer Software Guide
The Tremendous Romance
The Library Fantasy

Part 1.  T.S.M.C.S.G.
Character: Allan. An actor. Also supercilious asshole. Masks true identity. But he is aware of this problem–also doesn't know how to get to the truth. His compulsive sexual fantasies destroy his sex life with his girlfriend, Ann. His whole life revolves around his fantasies. But he is such a good actor that he manages to pull off an acceptable front to the world. His penalty: that he doesn't even know himself. His fantasies and sexual acts grow more and more absurd.
As story opens, Allan is walking, sees a Porsche or whatever, and asks the owner for the car.  Owner must relinquish it. In the next pages we see, casually treated, as astonishing variety of "free transactions" like this. Everything is free in this society. You just ask for it. There is a 30-day waiting period before one "possessor" can ask for that same item back from the new possessor of it. There is subtle retaliation–for instance, the Porsche owner, while not allowed to act angry about giving up the car, does go ahead and ask for Allan's coat and tie. Allan recognizes the maneuver–he always manages to make his askers "pay" somehow himself. The other technique is to hide as much of what you've got as possible. But these people are constantly castigated as "hoarders" and surprise inspections of homes, and publications of people's inventories, are common. Often you are called up at night and asked for several of your items over the phone, with instructions on where to leave them for pickup.
Allan has adapted to this society well.