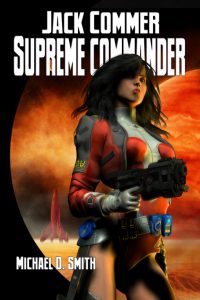 In the early stages of developing plot and characters for a seventh and final Jack Commer, Supreme Commander novel, as yet untitled, I interviewed twelve characters from the previous six books, trying to determine their motivations and whether they belong in the final book. Many of them spent a great deal of energy arguing with me, and two of them kept interrupting others' interviews. Each character gets his or her own blog post over the next few weeks:
Rick Ballard
T'ohj'puv
Jonathan James Commer
Amy Nortel
Jack Commer
Amav Frankston-Commer
Waterfall Sequence
Ranna Kikken Commer
Joe Commer
Jackie Vespertine
Laurie 283
Laurie Lachrer
I don't mind spilling any plot for Book Seven because a) nobody reads this blog anyway (Did I really say that?) and b) the plot is so vague right now that it doesn't matter. All plot ideas revealed here are completely up in the air. The characters just need to be heard.
Mike: Okay, our first interviewee is Rick Ballard, formerly Navigation Officer on the Typhoon VI, then a mutineer, kidnapper, and traitor who–
Rick Ballard: Hey, hold on, man–traitor's too strong a word there! When what I was trying to accomplish–
Mike: Well, in kidnapping Laurie Lachrer and in seeking to turn the Typhoon VI over to renegade elements–
Ballard: Piss on this! I had my reasons. Okay, maybe I went a little overboard, but–
Mike: You were killed by Jonathan James Commer's dog Trotter, but were miraculously reconstructed into a chromium tetrahedron robot along with the original pyramid robot, T'ohj'puv, and Jonathon James himself. Then, as Jack suspects and the notes have it, Ballard committed a war crime by destroying the city of Marsport with a Star Drive takeoff at the planetary surface–
Ballard: Goddammit, that's slander, man! Total BS! The damn T'ohj'puv robot did it, not me!
Mike: Then, in Book Seven, when you fly the tetrahedron to Iota Persei to contact the Wounded–
Ballard: Let me tell you I am pissed, do you hear, pissed, at being killed off for good in Chapter One of your precious Jack Commer Seven. I had top billing for Seven but then–
Mike: Okay, Rick, I can see you're angry about being cut early in the book–
Ballard: I blow up in the first chapter! Contaminated by stupid JJC's goddamn Alpha Centaurian brainwashing! I had those damn Wounded in the palm of my hand! In the palm of my hand! And then you mess it up!
Mike: Okay, okay, but there are plans for a possible Ballard robot later on–apparently JJC, who's lonely in the Greater Magellanic Cloud, builds a Ballard robot for fun. But– Continue reading →