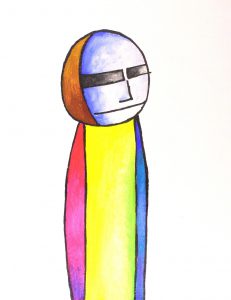 This summer's Draft 7 of Sortmind completely changed the old library-centric plot of the original novel, and it was only after a small amount of grief that I finally knew I had to let go of the following mini-chapter from the first version, although every time I've reread it I've found myself laughing out loud. Maybe you just had to have been there. In the revised novel Don and Peter are software entrepreneurs, but below we find the original Donald L. Roseparker, power hungry simpleton Assistant Director of Administration of the Drulgoorijk Public Library, finally putting his library school degree to work in the original Part II, Chapter 18 of Sortmind.  He'd previously had limited use of the library's malfing Telepathic Database, but now discovers it in full, along with its marvelous Telepathic Word Processing program.
TD document TWPP/D3/45h:98223-534:990**/:44
Mode: Article
Submit to Publication:  Library Limousine, for issue: June
Created:  May 15, 10:13 AM
Title:  CRISIS!  RESTRUCTURE MAJOR METROPOLITAN LIBRARY!
Author:  Donald L. Roseparker, M.L.S., Ph.D., Assistant Director for Administration, Drulgoorijk Public Library
INTRODUCTION
Peter Traumfoster told me, write up restructuring of Library as my goals as my first year as Assistant Dir. for Administration, immensely controversial for this reason to write a major article for Library Limousine will educate philosophical, budgetary reasons behind restructure when this article could as a revolutionary blueprint?
For reasons beyond control, in finally getting around to this article even though it May, but when it finally came time to compose article, I found Telepathic Word Processor and I said this is for me
INTRODUCTION
Well, okay!  Many of senior staff at Drulgoorijk Pubic including perhaps Director Library, was not sufficiently aware of the crisis screwing Drulgoorijk September: the budget of $20,000,000 must slash by $6,000,000 by Oct. 1!  and begin of September the great Lambert Holbin, intentionally famous librarian and Ass. Director for Admin. has come up with, cuts only $2,556,308.22.
and this performance is unacceptable and so they say Mr. Holbin's September 5th untimely Mindwipe did not diminish his mythic status in the world; BUT did he know he failed and he chose Mindwipe rather than face the facts that this time!  So the slick Lambert Holbin had run out of tricks?