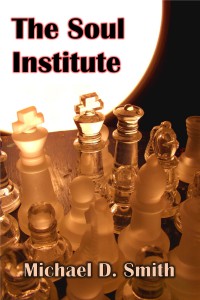 Sortmind Press is participating in the Smashwords Summer/Winter Sale which runs through July 31.  As Smashwords points out, it's winter in the southern hemisphere and this is a global enterprise, thus Summer/Winter sale. You have proof of this in that I can clearly recall from visits to Australia how strange it is to have cold July nights and Christmas in high summer. And consider what it means to crane your head to a night sky populated with completely different stars …
In any case, I (a.k.a. the highly experimental Sortmind Press) have my novel The Soul Institute and my novella The First Twenty Steps on sale as eBooks.  When purchasing from Smashwords you have the option to obtain EPUB, Kindle, PDF, or other formats.  Note the coupon code to the right which you'll use to get the discount.
The Soul Institute – 50% off: https://www.smashwords.com/books/view/598432
The First Twenty Steps – free: https://www.smashwords.com/books/view/296433
The Soul Institute at 50% Off, or $3, Through July 31
The Soul Institute is literary fiction, and among things is a coming of age novel, my excuse for a Bildungsroman.  Obviously not my usual science fiction, but like almost anything I write, TSI is farcical / over the top / serious / psychological / tragic / absurd. And hopefully funny. It involves family tensions, teenage rebellion, empty fantasy lives, romantic musical chairs, and the intolerable authoritarianism that somehow arises from the ideal of a Soul Institute.
A bestselling if somewhat unhinged novelist founds a small coastal Texas university dedicated to the study of the soul. Computer technician Himal Steina embraces this vast foggy sanctuary when he's appointed writer in residence and falls in love with one of the Soul Institute's numerous faculty goddesses, unaware that he's blundering into a catastrophic jumble of power lust, romantic chaos, drug abuse, and gang violence. As the director's teenage son consolidates command of the Paint Sniffing Gang, panic and violence build in the college town and the Soul Institute begins to confront the wild inner forces it's so piously sought to celebrate.
The First Twenty Steps Is Free During July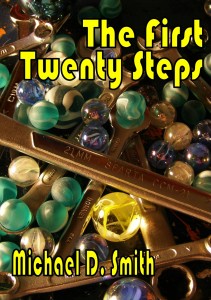 This novella begins as a grim story of an ex-con falling into trouble with a motorcycle gang, and only turns into science fiction towards the end.  Just released from six years in prison, unsure how to meet basic needs, Harry finds a kindred spirit in Roberta, in thrall to a depraved motorcycle gang. But the passive-aggressive leader of the Cerberean Knights leads them into a major crime this evening as he seeks to pay back favors from the corrupt city council of One-West. As the motorcycle attack on the Dataflux computer building turns terrifying and surreal, Harry and Roberta find themselves outgunned by another biker gang belonging to a mysterious billionaire who intervenes to protect his secret hyperspatial supercomputer.
copyright 2016 by Michael D. Smith
TSI at Smashwords: https://www.smashwords.com/books/view/598432
20 Steps at Smashwords: https://www.smashwords.com/books/view/296433