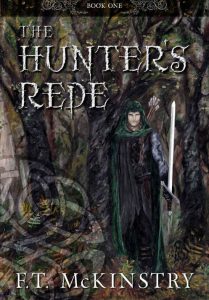 Fantasy author F. T. McKinstry offers a 2016 second edition of The Hunter's Rede, now available from Amazon.
The Hunters' Rede, Book One of The Chronicles of Ealiron, offers an absorbing look into the psyche of a hired assassin with limited but well-disciplined magical powers. Making his way through kingdoms at war and encountering treachery, grief, comradeship and love, he begins to understand that he must move beyond his allegiance to the rules of the Hunter's Rede which have served him so well for so long.
Sometimes the creation of an entirely new fantasy or alien world, with all its history and complexities, presents problems for the reader struggling to make sense of all this new input. Not so this novel. There is no clumsy, heavy exposition, and the straight chronological narrative, all focusing on the point of view of the main character Lorth, leads you easily through setting up the world in your mind. It would really have strained this narrative to have to undergo flashbacks to other characters' point of view, other times and places; the straight chronology centered in one character provides a strong backbone for this book. A detailed but not overlong glossary at the end of the book also helps nail this world down.