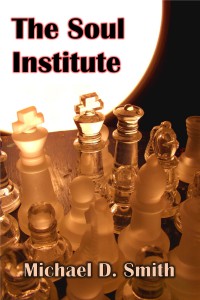 Art Department Chair Fannin Richardson came out of my 1990's desire to use my visual talents to move ahead with an art life. I'd just gone through the discouraging setback of mailing off scores of query letters for my novels Sortmind and Property (the latter much improved and published 2015 as CommWealth). This was pre-Internet, when contact with publishers and agents was mailed query letters and mailed manuscripts, including self-addressed stamped envelopes for the likely return. Along the way I had the oddly uplifting experience, which I predict will never happen again, of mailing an entire 320-page typewritten MS. in a box for $10 along with $10 return postage, which the agent or slush pile reader would then eagerly affix onto that same box in order to mail it back with a slip of paper stating: "Sorry, not a fit for us." After one hundred percent of my attempts met with rejection slips I was definitely disheartened, but I also noted something funny: rejections from book publishers were inevitably more cordial, sometimes with encouraging handwritten notes, than my stories' magazine rejection slips, which were often snotty and hostile. Though I'd come to the conclusion that sending off these query letters was like buying a lottery ticket with a similar chance of success, at least the rejections confirmed that I was on the right path. I was a writer of novels, not of stories.
But the question became: who has the time or inclination to sift through your query letter, much less three sample chapters, much less your three hundred-page novel? Whereas it was obvious that people were responding in an instant to my paintings. Their effect hits you all at once and you either love the image or not, want to purchase it or not. If your book is published after five years of work and three years of query letters, you might see a teeny advance: $1,000? $1,500? Contributor's copies? But you could easily sell five paintings, a couple weeks effort, for $400 apiece.
Pursuing the visual wasn't primarily because I thought it would be more lucrative, but more for involvement with the world: response, feedback, growth, breaking out of the depressing state of isolation and obscurity. Visual art seemed a much more straightforward path. Except that I forgot my ancient 80/20 balance, where I feel most psychically correct when spending 80% of my time on my real love, writing, and 20% on painting and drawing. In the '90's I even thought of getting a masters degree to teach art in a junior college. Armed with a new garage art studio and enough extra cash to buy those terribly expensive art supplies, I turned out a couple hundred paintings, learned a lot, had some one-man shows, and sold a few works. But I also met so many people who loved "the art life" but really had little to give either as artists or gallery owners. My new visual art life provided contact with some very expensive mediocrity, lots of clever design, admittedly with some stunning jewels mixed here and there, all supervised by art gatekeepers the way the publishing industry has its literary gatekeepers.