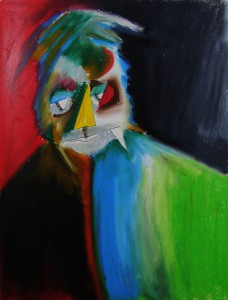 Although Moolka Waxtor's romance with Derrick Dexter is central to The Soul Institute, Himal Steina, the bombastic new writer in residence who's inexplicably appointed to the secret ruling council of Overcrons, develops an obsession for this eighteen-dimensional goddess, eventually getting much more than he'd bargained for. But first we see him jousting with the charismatic and slightly deranged Alfred Moid Burlcron, Director of the Soul Institute, who later guarantees that Himal can marry Moolka. From the novel:
Alfred Moid Burlcron motioned the newcomer to a large armchair in front of his desk. "Come on in and have a seat."
"Well … uh … thanks." Himal Steina uneasily took the chair as if strapping himself into the cockpit of a jet fighter. He was a powerful little bear, with burly arms and torso, woolly hair, and a puffy unshaven face. Burlcron found himself taking an instant dislike to this man, tempered by a fascination that anyone could let himself be so small and bearlike.
"So you really did drive down here in one day," Burlcron said, taking his seat behind his desk and tapping his Himal Steina folder.
"Uh, yes, sir," Steina said, shifting his thick legs in his armchair.
"In a race car, no less, as I hear it."
"Uh … a race car …?"
"I'm joking, of course. You'd mentioned to my secretary that you'd be driving a Porsche down here in one day. I told her you would need a race car for that."
"Oh … right … when I called the other day and you weren't in … well, don't get me wrong, sir! I wasn't trying to impress your secretary, sir! In fact, the Porsche is really a piece of … of junk, you know. It's a 928 S4, but it's an '89, got it real cheap … the previous owner rolled it and really abused the engine …"
"Hmm …" Burlcron said, suppressing the urge to write interviewee nervous on his Himal Steina folder. After all, this wasn't an interview. The man already had the job.
"And … the transmission's a mess. The clutch slips, fifth is nonexistent, if you know what I mean … the car's really nothing but dents … which of course I expect to have fixed as soon as possible …"
"Yes, yes, I'm quite sure …" Burlcron murmured. Now he did write car problems on the folder, and then: Salary? Did we discuss that?