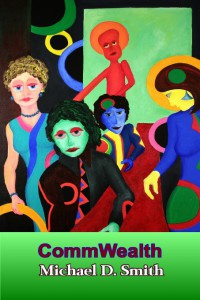 Dystopian? Black comedy? Literary? Mainstream, contemporary–what on earth do those terms really mean? CommWealth has been published by Class Act Books. Describing a society in which all forms of property have been banned so that a deeper sharing can take place between citizens, CommWealth isn't science fiction but is just as bizarre.
The novel is available from Class Act Books in paperback and in EPUB, MobiPocket (Kindle), and PDF eBook formats. It's also available from Amazon as a Kindle eBook and in paperback. The cover features one of my paintings of the characters, Property, or The Cup of Fog. More background can be found on my CommWealth web page.
Introduced six months ago, the CommWealth system has outlawed private property. Playwright Allan Larson has adjusted well to this new society, easily claiming umbrellas, mansions, and Porsches from fellow citizens. Any object from your house to the clothes you're wearing can be demanded by anyone, to be enjoyed for thirty days before anyone else can request it.
Still obsessed with his ex-girlfriend Lisa, Allan invokes the laws of CommWealth to demand ownership of her. When bicycle mechanic and fledgling actor Richard Stapke discloses that he's secretly been writing novels and plays for years, Allan incautiously spreads the word that Richard's a genius, with the result that an official CommWealth claim is made of Richard's entire literary output. The resulting five-volume Stapke Intimacies brings to light a twisted history of betrayals, double agents, and murder that propel members of the Forensic Squad theatrical troupe into a suicidal revolution.
In this excerpt, CommWealth Inspector Jonathan Hardy investigates a possible Hoarding charge against bicycle mechanic Richard Stapke: