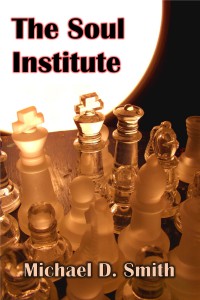 "Back away from the novel and slowly put your hands on top of the Internet. Keep your mind where I can see it."
Sooner or later you come to this point. The time has finally arrived to push the novel out there.
A bestselling if somewhat unhinged novelist founds a small coastal Texas university dedicated to the study of the human psyche. Appointed writer in residence at the whim of the director, computer technician Himal Steina realizes his dream of mythic sanctuary at the vast foggy Soul Institute, falling in love with one of its numerous faculty goddesses but unaware that he's blundering into a catastrophic jumble of power lust, romantic chaos, drug abuse, and gang violence.
The Soul Institute is my aircraft carrier flagship novel. I do think this is my best work, and it's karmically important for me to publish TSI after either eleven or twenty-four years of work, take your pick once you see my calculations below. Since September I've more or less put all my energy into a final revision and publication effort. This novel isn't science fiction, not even the bizarre "what if" social commentary of CommWealth's dystopian economy, but like almost anything I write, The Soul Institute is farcical / over the top / serious / psychological / tragic / absurd. And hopefully funny. I try to navigate through the drafts of a novel by amplifying those sections I feel have good flowing energy, and cutting those parts that drag, no matter how necessary they might at first seem to the book's structure. But I figure if something bores me as I reread it, it can't really be necessary. If you reread your work with a feel for whether energy is leaping off the page, you eventually coalesce around the emotionally correct parts that are necessary. The point is that I think the entirety of The Soul Institute is now high energy.