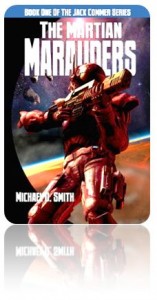 Book 1. The Martian Marauders
Book Review: The Martian Marauders (April 26, 2012)
by Turner at The Nerdasaurus Rex
"… The book immediately gets you up to speed on both where the human race is and where the main focus of the story is going to be focusing in the first few pages. I think that the idea that mankind is no longer on Earth due to our own actions was both believable and a good choice, just as I felt that tying what had happened on Earth with the main characters, directly, was beneficial for helping make sure that readers understand how important these characters are to the universe they are in …"
Loved it! (June 20, 2012)
by F. T. McKinstry, author of the Chronicles of Ealiron series
"… The early parts of this tale are subtly shadowed by uncomfortable questions about events such as Uranus sailing by the Earth like a hockey puck or the moon exploding, irreversible cataclysms that have left an indelible, collective scar on the human race. But as it unfolds, a clever if not beautiful way to heal begins to reveal itself. This requires the heroes to be open-minded and to view what begins as evil, weird, and too different to accept — not to mention dangerous — in a more evolved light. The rub is that these are the selfsame trigger-happy soldiers who, until now, have only contributed to the problem …"
The Martian Marauders by Michael D. Smith (May 25, 2013)
by Bob Milne at Beauty in Ruins
"… This is a dark, paranoid, and largely somber swashbuckling adventure, one that draws the reader in and does a superb job of demanding we sympathize with damaged heroes and traitors. The sci-fi elements are exceptionally strong, especially in terms of military technology, and the development of the Martians as a truly 'alien' race is fantastic …"
Martian Marauders by Michael D Smith (August 21, 2013)
by Joseph Spuckler for Author Alliance
"… The technology in the book is well defined. Space travel inside the solar system has been reduced to a matter of hours by the Typhoon, but is still exhausting. Weapons—both on board ships and hand-held—are unique and well thought out. The alien species are also unique and much more developed than the usual humanoid form with green skin … Martian Marauders is a fast-paced science fiction novel that will hold the interest of any sci-fi fan …"
Sci-fi story pits man against intriguing Martian enemy (May 22, 2012)
by MarkusRex82 at Amazon
"… A lot happens – a lot of action, a lot of developments, a lot of discoveries, and a lot of characters are introduced – in this book and it is all done with the goal of a trilogy in mind. I was entertained and liked how everything wrapped up by the final paragraph …"
Surprising readable and compelling Sci-Fi (February 22, 2012)
by Mike_ [not the author] at Barnes and Noble
"… Michael D. Smith's novel jumped into the fast lane by quickly establishing main characters and how and why the reader should find them of interest. The book is set in a reasonable future milieu that encourages exploration and the pondering of 'What if?'…"
Broke my prejudice against Science Fiction Fantasies (March 22, 2014)
by Lawrence C. Dishman at Amazon
"When I first composed a review for 'Martian Marauders,"' I was one third of the way through it and found that I smiled with each page … Now that I've completed the book, I happily report that my initial reactions were accurate. I really enjoyed "Martian Marauders" enough to make me anxious to continue with more of Michael D. Smith's adventures."
Off to a Good Series Start (January 21, 2015)
by Toni V. Sweeney at Amazon
"… I found the characters very complicated, indeed sometimes maddening, but always interesting. Their actions were so unlike those of the typical space heroes that I wondered if perhaps this was a satire in spots. Indeed, since a good bit of the exposition is through their thoughts—and what thoughts they are!—it could possibly be. Whether it is or not, intentional or not, The Martian Marauders is an entertaining, enjoyable, sometimes laughable, once or twice appalling, adventure. One warning, however (and a possible Spoiler), Author Smith has a habit of creating characters you may come to like…and then killing them. Be prepared …"
Warning: You Will Want to Read the Entire Series! (February 21, 2015)
by Linda B. Nightingale at Amazon
"… I loved Jack. His ineptness with women was charming in a way, and his shaky fate with Amav was both intriguing—will he win the girl of his dreams—and amusing. From the first paragraph to the last, the characters and their tale will keep you turning pages. I read the book in one day. That's a record for me. I got into Martian Marauders and couldn't put it down. There are many smiles on the pages of the book—like the interview with Huey Vespertine. I actually laughed aloud, yet I shed a tear or two earlier. Mr. Smith knows his stuff, both the craft of writing and the technology required to fabricate an enthralling sci-fi. I'm on to the next in the series! …"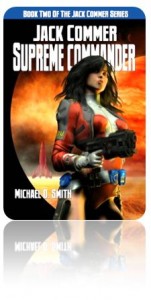 Book 2. Jack Commer, Supreme Commander
Deep, Character Intensive, Fast-paced Sci-fi (September 10, 2012)
by F. T. McKinstry, author of the Chronicles of Ealiron series
" … When they are all captured by the Alpha Centaurians and sentenced to brutal torture and death, all seems lost. Here, this story triumphs through what I thought was not only an intense, visceral description of slimy aliens, messed up belief systems, and shocking threats but also a brilliantly executed series of plot twists that kept me turning the pages, none the wiser, until the end when love, cleverness, and fortitude save the day …"
Irreverent, Satiric, and Good Space Opera (January 21, 2015)
by Toni V. Sweeney at Amazon
"… In the second book in the Jack Commer series, as the title indicates, much to his sometimes dismay, Jack is now Supreme Commander of the USSF. He's also newly-wed, and on his way to Alpha Centauri for peace negotiations. It's difficult enough being a surviving Commer brother. It's even more difficult being newlywed. It's a quadruple problem having your very intelligent bride on the same ship as you and one of your crewmembers lusting after her. It's even worse when the Martians onboard can't adjust to Star Drive and get violent and have to be sedated … I think I liked this novel better than the first. It's full of the irreverence, satire, and whirlpool thoughts of the first but even more so. Again, it's another which really can't easily be summarized … it has to be read so you can see for yourself. There's a cliffhanger, but I finished reading with the supreme confidence that Jack Commer, Supreme Commander, would prevail … as he always does …"
Not Disappointed! On the Contrary! As Good as I Expected (August 15, 2016)
by Linda B. Nightingale at Amazon
I read the first Jack Commer (Martian Marauders) and was looking forward to this book. I was not disappointed. If, and I hope there is another book, I will be in line to buy it. This book is touching in parts, and a witty space adventure, Jack facing a peace mission with his new wife, in his new position, Supreme Commander of the USSF, the latter of which he did not want. I needn't recap the blurb or inadvertently give away a plot point. Suffice to say, read the series.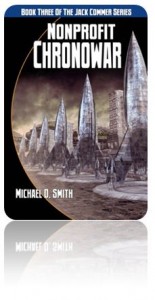 Book 3. Nonprofit Chronowar
An Excellent Addition to the Series (September 7, 2013)
by F. T. McKinstry, author of the Chronicles of Ealiron series
"… The characters in this story are full of realistic flaws, bearing all the insecurities, fears, addictions and neuroses the human race is prone to, especially under stress. The author uses a creative manifestation of time travel, the origins of which no one in the story understands, to weave together past and future events into a unified whole in which the main characters become aware of who they are and what they're capable of. They are expanded by contact with the future; and healed by contact with the past …"
It's about Time … and about Space … (February 8, 2015)
by Toni V. Sweeney at Amazon
"… Again, this is another Jack Commer novel which is difficult to synopsize. We learn Joe has resigned from the USSF. He's now partners with Huey Vespertine in a GaiaNet radio show. The Alpha Centauri-Earth peace is holding…or is it? … The rest of the gang, from Martian Emperor Dar to Jack himself and all characters in between, as well as some newcomers, are all in attendance, First and foremost, however, it's Joe's story and he runs with it…sometimes slightly amuck … Don't take my ramblings at face value. Read this entry in the series for yourself. It's by far the best because it re-examines some of the things happening in the previous two and gives a little more explanation … I'm not a fan of time travel stories because they're usually so futile, but this one definitely has a ray of something that could be sunlight at the end of its tunnel. It ends as abruptly as the previous novel but indications are it'll pick up immediately in the next, which I'm looking forward to reading …"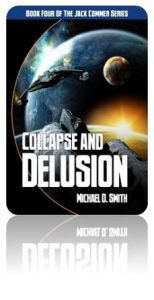 Book 4. Collapse and Delusion
Colorful Characters, Nasty Aliens and an Interesting Plot (September 27, 2016)
by F. T. McKinstry, author of the Chronicles of Ealiron series
Collapse and Delusion, Book Four in the Jack Commer Series, starts off innocently enough, at a wedding where we get re-acquainted with the characters in the series. The author does a good job including refreshers about events in the previous books without big info dumps, thus setting the stage for a swift and nasty decline into scifi mayhem, including hostile aliens, dastardly plots, cool weaponry, and interesting, fleshed-out interpretations of things like time travel and programmed consciousness.
In contrast to the technical aspects of this story are a group of colorful, entertaining characters: commanders, engineers, badass women, sleazy journalists and politicians, and the redoubtable Alpha Centaurians, an alien warrior race with unsettling characteristics, pissed off attitudes and hidden agendas. These characters clash against a backdrop of a series of programmed time-space shifts and the utter collapse of the vast, Alpha Centaurian empire, in which every citizen is part of a collective mind.
Things get ugly when Supreme Commander Jack Commer and his wife Amav journey to meet their son, who was abducted as an infant by the Alpha Centaurians. Now a recalcitrant young adult who was raised by the enemy as part of a warriors' brotherhood, he has written a novel, popular across the cosmos—but is not what it seems. During this stressful visit, in which they've planned a reunion party with their friends and colleagues, the Commers are pulled into a war for control over the shattered Alpha Centaurian empire, a battle that involves an unlikely bunch of would-be overlords. In the resulting chaos, everyone scrambles to take sides between collective bliss and perfection—and the scarier choice of individuality and free will. Just when it seems there's no good place things can go, a twist involving the surprising transformation of a tormented protagonist makes for a satisfying ending.
Appropriate Title, Great Story (January 13, 2017)
By Toni V. Sweeney at Amazon
Early in this fourth entry in the Jack Commer series, someone is asked how he manages to understand what is going on. His answer is that he simply accepts the chaos and believes everything will turn out all right as predicted.
One is reminded of the poem by Rudyard Kipling: "If you can keep your head when all about you Are losing theirs and blaming it on you…" for indeed there's a lot of blame being tossed around in this story, and a lot of panic as well. Most of it surrounds Phil Sperry, for this is Sperry's novel first and foremost. He's the main character this time around, and finally gets to prove exactly what kind of man he is.
The title Collapse and Delusion is most appropriate, for delusion is its byword and also describes a good portion of the plot…but it's a delightful delusion, filled with wild humor. One might compare it to The Three Stooges in Space, or It's a Mad, Mad, Mad, Mad World…I mean, Universe.
This is easy to say but more difficult to prove without going into a summary of the plot, which is definitely a difficult task. Suffice it to say somewhere within all the fun is the defeat of the Centaureans by the USSF, in a way that's clever, unique, and totally laughable…so no spoiler there.
I urge everyone to read this funny…yes, confusing and delusional…but satiric literary madness for yourself and enjoy. Afterward, recommend it to a friend…but don't try to give him a synopsis. That'll spoil the pleasure of his own discovery of Michael D. Smith's series.
There are a couple of new characters and plenty of old ones. Indeed, the first chapters are a bit like a disorganized family reunion in which most of the members have a grudge against each other but within a few minutes are all friends again.
It's a hoot, a blast, bitingly satiric, and funny as all get-out. I highly recommend not only this entry, but the entire series.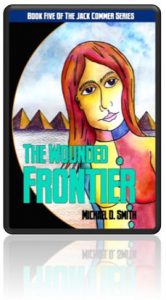 Book 5.  The Wounded Frontier
A Terrible New Enemy (February 1, 2019)
by F. T. McKinstry, author of the Chronicles of Ealiron series
After the collapse of the Grid, the vast collective mind of the Alpha Centaurians, humans and Martians in the United System Space Force now find themselves included in a new Grid, one they are told is completely voluntary, but who believes that? This book begins with Jack Commer and his crew embroiled in the nasty climate of resistance and hostility that accompanies widespread change. Called out for their dark histories, vilified and threatened by haters and the establishment, the crew escapes with their lives as they attempt to embark on an important mission to investigate an anomaly in a distant but familiar star system.
Following is the sort of mayhem at which this author excels: bickering, confusion, shock as everything that can go wrong, does, complete with crashing, exploding and vanishing ships, domestic disputes, and questionable solutions, all hanging under the shadow of a vast, unassailable sphere that no one understands. Add in a couple of ancient but expertly retrofitted human robots in the form of Draka Sortie, the suspiciously appointed President of the United System Council; and Jack's most talented engineer, Laurie Lachrer, and things get even worse, bringing to bear the author's penchant for smug, obnoxious villains you love to hate.
These books have a great, campy 70s scifi vibe — but without the cheesy special effects: the high tech is well done, sophisticated and interesting. The robots do an alarming amount of damage before the crew figures out what's going on, and by then it's too late. Now under the control of an alien race called the Wounded that devours star systems for the energy rush, our heroes must find a way to outsmart the Wounded's robotic henchmen before the demise of both the Sol and Alpha Centaurian star systems. The conclusion, characteristically wild and unexpected, involves some fallen companions and a mythical dimension where space warriors go after death, no less, making for yet another fun read.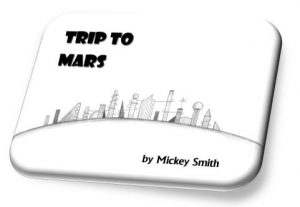 Trip to Mars, a Childhood Prequel to the Jack Commer Series
After the explosion of the Xon bomb, World War IV has rendered the planet uninhabitable. Jack Commer and the crew of the Typhoon I have been chosen to spearhead the evacuation of Earth's surviving population to Mars. To hasten their mission: a radioactive ray has caused a crack in the Earth's crust and the planet will explode in a few days.
Sounds like a SYFY Channel disaster movie, but it's actually a tale concocted from an 11-year-old's imagination. Young Mickey Smith wrote and illustrated this story when he was in the 6th grade. Many years later, his adult self took the gist of the plot and made it into the Jack Commer scifi series.
Having read both Mickey's version as well as that of the grown-up author's, I was amazed by the depth and detail that 11-year-old put into his story. One can sense that here is a budding author in the making…and one would be correct. The story shows a surprising grasp of drama, tension, and adventure which will be reflected in later works. The illustrations also show a very good grasp of artistic technique.
I recommend A Trip to Mars for both youngsters and adults alike.
This graphic novel was supplied by the author and no remuneration was involved in the writing of this review.
Book Review – Trip to Mars by Michael D. Smith (July 12, 2019)
By Maryann Miller at maryannwrites.com
When I met author Michael D. Smith, Mike or Mickey for short, at a book festival in June, I was intrigued by his book Trip to Mars. I also enjoyed visiting with him and getting a brief introduction to his other artistic work. He has written numerous books and has been painting and drawing for many years. Do visit his website to see all that he's accomplished.
REVIEW: I love this book. Maybe because I got to know Mike, and he was such an entertaining table buddy at the book festival, but I really think it's because of the story and the wonderful illustrations. I was impressed that the story was written by a boy of eleven. It is very well written, and Mike shared that other than some editing for grammar, the words are the same as when he first wrote the story.
Quite an accomplishment I think, and adults will enjoy the book as much as young readers.