Rough Draft Synopsis of a Rough Draft
Colonel Laurie Lachrer, just appointed Supreme Commander of the USSF, inexplicably transports to the new Typhoon VIII spaceship where former SCUSSF Jack Commer leads a no-return mission to the Unknown Anomaly at the Center of the Universe. So who's in charge now, Laurie or Captain Jack who just resigned his commission and turned over all his SCUSSF duties to her to be free to pursue this suicidal stunt?
But the Fools of the Fire who maintain infinite watch over the Anomaly will speak only to Laurie.
In Jack's and Laurie's absence, fascist elements overthrow the United System and jail respected figures from the earlier Jack Commer series. But naïve alien university students on an Alpha Centaurian planet mount a resistance in tandem with Laurie's robot counterpart, Laurie 283, who designs and builds Pegasus, a state-of-the-art flying saucer weapons platform. Meanwhile a decades-old robot with a malfunctioning Sublayer Four writes a novel that he's sure explains everything that's happening.
A Stable Platform for a Revision?
I just finished Draft 1 of Supreme Commander Laurie, Book One in a series of the same title, spinning off from the Jack Commer, Supreme Commander series. The book is 335 pages, 98,149 words, but since character Mickey Michaels insisted on inserting verbose chapters from his own novel into the narrative, I can see where many cuts may originate.
SCL didn't seem to pack much of a catharsis wallop until the last third of the book, when to my delight much of its meaning came together. I revised Draft 1 chapters several times during composition, then reread and lightly edited the entire thing over the past few days. Overall I think this draft story arc is reasonably intact and can be a stable platform for a revision.
Unexpected Energies
As I read earlier parts of the manuscript I'm amazed at plot I've totally forgotten, and how inventive much of it is. I see parts needing strengthening and others destined for the cutting room floor, but I'm withholding Draft 2 judgment for now. I just want to see if I enjoy reading my own work. Revisions so far are minor style issues and keeping dates and facts in line.
The plot demands consistency, so I've paid a lot of attention to the timeline down to the minute, to spaceship design, and to who is standing where and when. For instance, it was sobering to calculate that at the end of chapter 27 there have to be 26 people on the first level of spaceship Pegasus. In his novel Fathom the Doomboat Stars Mickey Michaels satirizes this mania for keeping things straight, counting battling spaceships as he lectures his readers on the importance of basic arithmetic.
This novel has been full of surprises, including the evolution of two minor characters into major ones: arrogant Michaels and deluded but sincere Major John West, both of whom pushed the plot in new directions. I would repeatedly look over what seemed like vague notes for a coming chapter, doubting whether any valid fiction could possibly result–then find myself churning out ten good pages of unexpected energies from those same notes. Usually notes that dull just produce dull fiction.
I'm not sure how the absurd Mickey Michaels novel chapters will work in a final version, but I've thoroughly enjoyed writing them and they've opened some intriguing directions, maybe because it's such shadow stuff. Halfway through the book came the idea that the utterly wise alien Yrwitt, Waterfall Sequence, would be so in thrall to robot Michaels' short-circuiting Sublayer Four that Waterfall would of course merge his soul with the obsolete robot's. That was a great gift to this writer and propelled the novel forward.
The Issue of Endings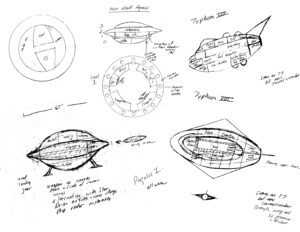 I don't want endings to merely tidy up the plot. I saw no reason to repeat my usual mistake of charging into a hundred-fifty-page ending I haven't emotionally worked through, only to have to tear it up and start all over in Draft 2. I wanted a concrete story to emerge from the abstract ideas-fest I'd first proposed, and midway through I put aside fiction writing for a few days to rethink the end chapters. I pushed the book hard over its last four days and the final section came out pretty well. Surprises continued within the revised framework.
Since the novel emerges from the Jack Commer series, SCL includes relevant details of Jack Commer history to get a sense of how Laurie tackles her new role. Books Two and beyond will head into new territory with much less of that background. Jack has no narration voice in Supreme Commander Laurie. He's now a supporting character.
I have vague ideas for Book Two; some new characters might develop further. But given that I threw everything I had into Book One, unworried about content for coming novels, I've also thought that reader comments about missing or unanswered themes may be useful concepts for future books.
Next steps before Draft 2 include cleaning up the facts files and designing spaceship Pegasus in detail. I have just crude drawings for it and the other ship, Typhoon VIII. Balloon Ship Armageddon in the final Jack Commer novel showed me how seriously a ship design can affect the plot.
I also made a list of new characters needing illustrations:
Laurie 1014, wooden robot
Rick Ballard, wooden robot
Ywer, Martian copilot
Saxon Greenhill, doomed copilot
Lt, Mickey Mal Michaels, malfunctioning novelist robot
Meng Hui, physician/engineer
G'nzeel, Zarj museum curator
Pam Jonson. navigator
Mavis Wilson, up-and-coming copilot
Three Maroxin student Nihilists
The Fools of the Fire
And I definitely need to make a book cover for Fathom the Doomboat Stars.
copyright 2023 by Michael D. Smith