Large Paintings Show at the Renner Frankford Library, August 3-30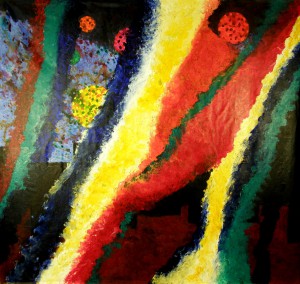 In August 2011 I'll have four large paintings showing at the Renner Frankford library auditorium in Dallas.  The link–URL also shown at the end of the post–takes you to the Renner page with hours and location.  The show runs August 3-30 (hanging day 8/2 and pickup day 8/31).
This 7' x 7.5' canvas is one of four large ones I've done this year to exorcise an ancient demon of wanting to paint extremely large.  Actually, I might want to paint these sizes again, but the vast scale of these unstretched canvases changes my procedures and materials dramatically, not to mention realities like supply expense, transportation, and difficulties in lighting and photographing.  And the fact that often you're standing in the middle of the painting while executing it.  Also it made me wonder how pour artists like Helen Frankenthaler and Jackson Pollock dealt with wrinkles on the unstretched canvas.  As well as cat hair and other miscellaneous debris.  A large unstretched canvas has a surprising weight and is a challenge even to pick up or roll properly.
The original canvas I worked on was twice this size–7' x 15'.  Maybe I was trying to set some sort of personal size record and so offended the muse somehow, but when I painstakingly C-clamped the heavy awkward thing to a makeshift wall in my studio and finally took a look at it, I realized how bad it was.  It was so large I could not get back far enough to take a decent picture of it.  It was horribly dark and dull and static and ponderous, over-planned and … mediocre.  I found myself unwilling to even look at the thing.  I already knew it was a wrong-headed mistake, but when my wife Nancy gave some excellent comments on exactly why it was mediocre, I was consciously able to crystallize why I needed to cut the canvas in half and simply have fun doing some total sloppy improvisation on two halves.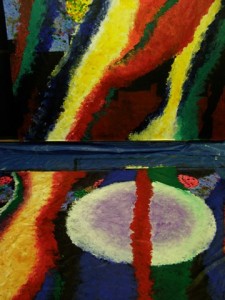 Since all four of these large paintings are unstretched, they can be rolled and stuffed into my car from dashboard to rear window; however, this process mandates curtailing my usual love for built up texture.  I wanted the canvases as light as possible, and with a flat surface to minimize damage while rolled up or being transported.
If I ever take it into my head to staple these canvases onto stretchers, which would reduce the overall size by a minimum five inches on a size, I might consider revising them with more texture and some additional color.  In their unstretched state they seem like rough drafts of paintings, with all the awkward exuberant energy of a rough draft of anything.  I found myself thinking as I did these large works that these were depictions of large paintings, something you might commission an artist to do as backdrop for a theatrical production about an artist who painted large scale …
copyright 2011 by Michael D. Smith
link to Renner location and hours: http://dallaslibrary2.org/branch/renner.php