Jack Commer Book Seven Interviews, 1: Rick Ballard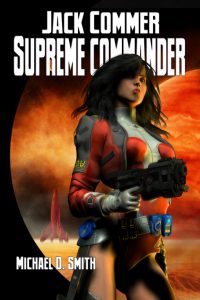 In the early stages of developing plot and characters for a seventh and final Jack Commer, Supreme Commander novel, as yet untitled, I interviewed twelve characters from the previous six books, trying to determine their motivations and whether they belong in the final book. Many of them spent a great deal of energy arguing with me, and two of them kept interrupting others' interviews. Each character gets his or her own blog post over the next few weeks:
Rick Ballard
T'ohj'puv
Jonathan James Commer
Amy Nortel
Jack Commer
Amav Frankston-Commer
Waterfall Sequence
Ranna Kikken Commer
Joe Commer
Jackie Vespertine
Laurie 283
Laurie Lachrer
I don't mind spilling any plot for Book Seven because a) nobody reads this blog anyway (Did I really say that?) and b) the plot is so vague right now that it doesn't matter. All plot ideas revealed here are completely up in the air. The characters just need to be heard.
Mike: Okay, our first interviewee is Rick Ballard, formerly Navigation Officer on the Typhoon VI, then a mutineer, kidnapper, and traitor who–
Rick Ballard: Hey, hold on, man–traitor's too strong a word there! When what I was trying to accomplish–
Mike: Well, in kidnapping Laurie Lachrer and in seeking to turn the Typhoon VI over to renegade elements–
Ballard: Piss on this! I had my reasons. Okay, maybe I went a little overboard, but–
Mike: You were killed by Jonathan James Commer's dog Trotter, but were miraculously reconstructed into a chromium tetrahedron robot along with the original pyramid robot, T'ohj'puv, and Jonathon James himself. Then, as Jack suspects and the notes have it, Ballard committed a war crime by destroying the city of Marsport with a Star Drive takeoff at the planetary surface–
Ballard: Goddammit, that's slander, man! Total BS! The damn T'ohj'puv robot did it, not me!
Mike: Then, in Book Seven, when you fly the tetrahedron to Iota Persei to contact the Wounded–
Ballard: Let me tell you I am pissed, do you hear, pissed, at being killed off for good in Chapter One of your precious Jack Commer Seven. I had top billing for Seven but then–
Mike: Okay, Rick, I can see you're angry about being cut early in the book–
Ballard: I blow up in the first chapter! Contaminated by stupid JJC's goddamn Alpha Centaurian brainwashing! I had those damn Wounded in the palm of my hand! In the palm of my hand! And then you mess it up!
Mike: Okay, okay, but there are plans for a possible Ballard robot later on–apparently JJC, who's lonely in the Greater Magellanic Cloud, builds a Ballard robot for fun. But–
Ballard: Sheesh! He makes me penitent! He makes me apologize for just being myself! I turn into some goody-goody religious twerp! Saying prayers for the crippled and all that crap! Screw that! No way I can act that!
Mike: Rick, you're a goddamn robot, for God's sake. I can make you act anything.
Ballard: Screw it! You hire us characters and then you're so cheap you can't afford real robots, so we have to play the part of robots. It's sick, is what it is! I don't know why I'm here.
Mike: Okay, Rick, but as you know, in some of the original novel notes, I was wondering if there was any way Rick Ballard could seriously be redeemed.
Ballard: Right, like freakin' Alyosha was supposed to be redeemed in the goddamn trilogy freakin' Dostoyevsky never got around to finishing! What crap!
Mike: Well, the concept has fascinated me. But I really wasn't sure I could pull off redeeming someone who's so obviously psychopathic–
Ballard: So you kill me off in Chapter One! Then you make it all a big joke with a supposedly pious goody-goody robot that I'm supposed to play later on! Some joke JJC dreams up! Well, it's sick! I'm not going to do it!
Mike: May I remind you that, as one of my characters, you're under contract. You can't refuse.
Ballard: And you have to gall to call me a psychopath! That's what I can never forgive! Why don't you look in the mirror, Mr. Writer Twerp? You write crap! The worst crap!
Mike: Maybe you're not a real psychopath. Just terminally narcissistic and tinged with evil. A true psychopath would have buttered me up a long time ago with charm, and I would never have seen through you.
Ballard: Well … look, man, obviously I'm just upset. Anyone can see that. I didn't mean that crack about you being a bad writer. Hell, all us characters know you're the best. We really love working with you. Your talent is just incredible. The way you make us all talk and everything. Really, you're the best. No hard feelings, man. I'm just upset about not being in this great Jack Commer Seven! We all know it's gonna be the last one, and it's gonna be the best of 'em all, and, well, what can I say? I'm just unhappy about being cut out so soon in the book. I mean, if you think about it, I was really coming on strong in The SolGrid Rebellion, you know, I mean, I had my lines perfectly memorized, and I played Ballard as if he were a psychopath, you know, and … really, I think it all worked out, you know? I mean, I want to play Ballard. Not some cheap robot Ballard.
Mike: You do realize that the human Ballard was chewed up by Trotter and what got put into the chromium pyramid was just a Ballard concept. Then, the Ballard entity that will meet a grisly death in a Wounded hospital on Iota Persei 2 is also just a robot–a failed one, at that.
Ballard: Listen man, suppose we cut a deal here. I sure don't mind playing Ballard as a Wounded robot–I mean, they're organic, human robots, better than the original, and immortal besides! Of course I'd want to play that robot. I don't mind telling you that what I was really looking forward was to having that human sex interface with Laurie! Man, then I could go on and on forever! I'd satisfy her, that's for sure! I could tell she was intrigued with me, man, and hey, wouldn't that be a great plot twist in Seven? Laurie admits she has the hots for me! We get to the Greater Magellanic Cloud and just screw ourselves silly for a thousand years straight!
Mike: Okay, appreciate the idea, but that would change the Laurie character considerably. I'm not sure I'd have any respect for her if she fell for you.
Ballard: Sheesh. The babe wants me, I can tell! Look, write me in a sex scene with her. And maybe one for that Jackie Vespertine doll, too! I hear she got a color image of herself done just today! Wow!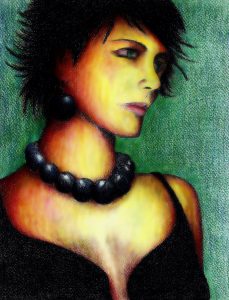 Mike: That's right, today I printed off the black and white version I've been using since 2013 and worked it over in colored pencil. Not bad, really, but I think I'll try a watercolor version too.
Ballard: That is one elegant piece, lemme tell you! And she likes doing robots! Man, do you remember those scenes in Book Six when she's just having at it with that freakin' robot? Wow! Elegant and horny! What a combination! I like it, man. Write me a scene with her!
Mike: Okay, Rick, this is one of the many reasons I realized you just can't work in Book Seven. Originally I was going to keep the three of you who were trapped in the pyramid, but then I saw that the focus is really Jonathan James. You really aren't needed for the plot.
Ballard: C'mon, man, lighten up, for Chrissake! Open this book up! I bang Laurie, I bang Jackie–then–get this–I bang Amav! I take Jack's wife away from him! She loves sex, I just know it! She's out of her mind for my big robotic–
Mike: Yeah, yeah, I admit you made me smile there. You and Amav. But forget it, there's a definite reason you're dying in Chapter One. Basically what I need you for in this book is the fact that at the end of Six you're heading in the Garrison with Jonathan James and T'ohj'puv to get Wounded technology to separate the three of you into essentially Wounded robots. But past that, I don't need you.
Ballard: Except as some joke robot at the end where I bow and scrape to every jerk that comes along like some goody-goody robot–well, the hell with that! Makes me sick to think about it. I'll screw up my lines, I swear I will!
Mike: Sorry, man, you can't screw up your lines. I'm the author and they're set in stone.
Ballard: Yeah, but I'll make sure there's a lot of typos in mine! You'll miss 'em, the goddamn book gets published, and everyone laughs!
Mike: Okay, okay, this interview is going nowhere–
Ballard: I know what these interviews are, you jerk! They're really auditions, like if we act like goody-goody robots maybe we'll get a few scenes here and there! Well, Rick Ballard doesn't eat that sort of crap!
Mike: Right, so he dies in Chapter One.
Ballard: And since you've got me in this stupid contact, I have to do it, right? I have to lie there and moan and groan in that stupid hospital bed and then I explode like a burrito in a microwave oven, have I got that right?
Mike: Yeah, that was the image that came to mind. See, Jonathan James's Alpha Centaurian contamination is actually what saves him, even though you and T'ohj'puv–
Ballard: Cripes, okay, all right, I'll do the stupid mother. Rick Ballard gets to be in three Jack Commer novels anyway. I only had a couple lines in The Wounded Frontier, sure I was just a minor walk-on but hey, was Rick Ballard complaining? No way, 'cause deep down I knew I'd be a major figure later on! Man, people will remember me in The SolGrid Rebellion! So okay, I'll do your death scene. Only thing is, man, I mean, look, can I level with ya, man? I mean, we all know you're the best writer and all, I mean best of all time, really, I mean, none of us would ever want to work for anyone else, ya know? And we all know you can make happen whatever the hell you want to, so … it's just that, well, man … like if I have to explode, can it be like, you know, all at once, so I don't feel much? Maybe not feel anything? Hey, I know! The Wounded have me so dosed with drugs I have no consciousness at all, and then–like, I go out real peaceful and all, or–get this! I'm so drugged I never feel anything, but like I make a speech before I go, you know, kind of sum up all the good in my life, man, like you know it's there, I would never have mastered both Weapons and Navigation if there wasn't some good in old Rick Ballard, y'know, I mean, what do you think?
Mike: Hmm. But I actually need your death screams to wake Jonathan James up in his hospital bed.
copyright 2018 by Michael D. Smith