The Wounded Frontier Paperback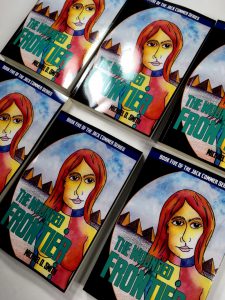 The Wounded Frontier, Book Five of the Jack Commer, Supreme Commander series, is now available in paperback. I was honored that my image of Colonel Laurie Lachrer became the cover. Laurie was a minor spaceport technician in Book One, The Martian Marauders, a teenager in 2034 who was the girlfriend of the youngest of the Commer brothers, John, killed at Mercury in the first book. But by 2075, forty-one years later, Laurie has undergone rejuvenation and has risen to the highest level of technical merit in the USSF, that of physician/engineer aboard the Typhoon class spaceships. Of course, while Jack thinks a great deal of her talents, she doesn't reciprocate in kind, analyzing the Supreme Commander's cranky and dazed command skills after he allows his wife Amav to have a screaming meltdown in the Typhoon III Control Room. The pneumatic but surly Amav Frankston-Commer has just slammed the Control Room door behind her:
"Jesus," Jack muttered, staring at his lap. "Look, everyone, that was–was–"
That was damn unprofessional, Laurie thought. God, what a zoo.
"I need to call … maybe Draka … make sure she's settled in Stateroom One." But Jack made no move to do so.
Laurie checked the Crew Locator module. "Uh, sir, I'm showing her back in Stateroom One. Seat harness fastening just now, sir."
"Thanks … thank God …" Jack sighed, and Laurie wondered if he'd been sharing her own image of the out of control bitch yanking open the rear hatch, leaping twelve feet to the Andertwin grass, breaking her ankle and screaming obscenities as she limped into the woods.
There was another long silence.
"She's been … under a lot more strain than I realized …" Jack finally managed.
"Look, it's okay, Jack," Joe said. "I'm ready to start the launch sequence, but if you want to get down to Stateroom One …"
"N-no …"
Laurie looked away from the shaken Supreme Commander in disgust.
"Andy, fire up Auxiliary One," Joe said, "then ease in the hover thrusters."
"Yeah … thanks, Joe … just get us off …" Jack whispered.
This wimp was going to command the Typhoon V? El Comandante Supremo wouldn't want any of these ancient III-class ships, that was for sure. She was shocked at what he'd allowed to happen here with wifey. If Laurie were captain she'd put them both off the ship this instant.
Though Jack was over six feet tall, broad-shouldered and handsome in a rugged, uneven way, with a square face and deep-set brown eyes, he'd never impressed Laurie in all the decades she'd known him. Rejuvenation technology had gone well for the seventy-two-year-old Supreme Commander, and Jack looked to be in his mid-thirties, as did his brother Joe. But Joe's equally dark brown eyes radiated an invigorating mix of humor, passion, and ruthlessness in contrast to Jack's vaguely worried expression, and though Joe was a couple inches shorter, his huge biceps and pectorals, his taut belly and muscled thighs, projected a physical stamina that inspired everyone who worked with him. Jack seemed to want to weigh his decisions until they were no longer necessary; Joe jumped into the middle of the worst danger with whatever he had to give at the moment.
Joe should have the V, and everyone knew it. He was so much more level-headed than his brother. He'd even make an excellent Supreme Commander. And Laurie should be on the V as physician/engineer. She'd taken those classes on V tech and probably knew more than anyone.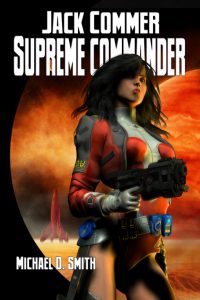 That Frankston-Commer woman was not as smart as she thought she was. So damn perfect, just like her darling el Comandante Supremo. Why didn't Jack just step down? He obviously couldn't handle the job. Everyone knew he'd been off the rails since '34.
June 2034, when he'd sent his two brothers to their deaths–
Laurie shook her head. Of course that was unfair. Jack certainly didn't order his brother John to destroy the Typhoon I, even though for years she'd wanted to believe that Jack had fled the doomed ship with his favorite brother Joe, then directed the Typhoon to impact on Mercury, killing the six remaining crewmen including Jim and John Commer.
But that wasn't how it happened. It had taken her decades to accept that. Joe had only spoken about it to her once, but he'd confirmed that John had the pilot's seat and did it against Jack's orders. Maybe to impress Jack, who knew?
Killed himself and the rest of the crew just to impress his brother. Jack should never have left John in command. He should've known how close John was to snapping.
Too long ago. Too long. Forty-one years? Why was she even thinking this? She never thought of John!
Oh my God! Did I really love him that much? To never drop it after all these years?
copyright 2018 by Michael D. Smith