I'll Write Your Book Blurbs, or, When Lilith's Beloved Kentucky Horse Farm Goes into Bankruptcy …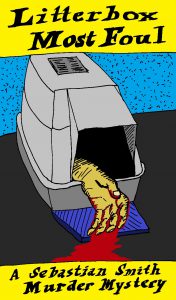 Writers know how difficult it can be to come up with a decent book blurb. How can we possibly distill our novel's entire universe into one attention-grabbing slab of marketingese? The good news is that now you can just blow all that off and concentrate on getting that next novel underway. Just change the character and place names in your story to match the blurbs below–and watch your sales surge out of control!
When Lilith's beloved Kentucky horse farm goes into bankruptcy, only an arrogant, shirtless cowboy from her past …
Chief Inspector Careen O'Raority immediately sniffs something amiss at a cat-infested East End tenement. Was the half-consumed corpse the work of the petite Abyssinian, the ebullient orange Maine Coon, or the crafty Calico? Or could it be that O'Roarity's one-time detective partner, Lynx Point Siamese Sebastian Smith, has resumed his uncanny dealings with the Canine Corps? A Sebastian Smith Murder Mystery.
Jen has a secret Rob must never know…
Enslaved since childhood by the Imperial Directorate of Prison Planet Dorg, seventeen-year-old Rona Crypt survives with nothing but her sharpened wits, a well-nourished fury, and a four-foot length of rusty chain–eternally ready to lavish serious vengeance on every slimeball in the universe!
CIA assassin Jack Hades teams up once again with yoga-panted Veronica Vulf to thwart an INHOC plot to turn America into a sea of shiny radioactive glass.
Gentleman space vampire Klaus Wolfgang von Stuttelmann has been looking forward to the colonization of Mars since long before the Thirty Years War. But in finally stowing away on USS Carnoxial en route to the Red Planet in 2075, he encounters an extremely blond and dangerous ghost from his World War II SS Sturmbannführer days.
When the Dragon Lord of the High Magicians of Creeliu foolishly relinquishes control of the Hidden Sword of Polurnia in exchange for mastery of the Kingdom of Golthea-Porthoq …
On the eve of the Battle of Gettysburg, the puritanical mandates of the Light of Overwhelming Darkness can't prevent sect seamstress Connie Martin from infiltrating Confederate lines to indulge in a night of culture-shattering passion and political intrigue. A young woman's captivating account of coming of age amid disunion and war.
Puzzling quantum fluctuations at the center of the Andromeda Galaxy force a team of quarreling, sex-starved physics graduate students to conduct a survey of every electron in the universe, with astonishing results.
In this first book of the Cvuuter-Kolythat, Commander Mlahu of the Vergerian Imperial Fleet stumbles upon a galaxy-wide plot to overthrow the Cvuuter Dynasty as the war-weary Empire of Kolythat faces one last onslaught in the form of the Heomu, mutant demi-humans from a dark matter alternate universe who, themselves fleeing from a three-way conflict between the Tambl of Zeloc, the Aarg of Rannabulk and the Confederation of Darglaggan Security Entities, enlist the aid of voluptuous Darglaggan spy Lasira Asinya, who in penetrating the Kolythat Sanctum of EDOR discovers the awful truth of the centuries-old Cvuuter treachery on planet Magedream. Or is it the Vergerians who betray the Holy Kolythat? Who cares? In any case lots of exploding spaceships and SEX SEX SEX!
In a lurid homage to Aldous Huxley's 1950's mescaline and LSD experiments, this four thousand-page, genre-defying anti-novel, a literary masterpiece on the order of Remembrance of Things Past …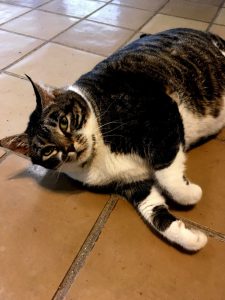 An adorable, generously endowed black and white American Shorthair is strapped into her own telepathically controlled drone to partner with elusive Lynx Point Siamese Sebastian Smith in conducting sensitive aerial patrols of a safe and happy neighborhood. But when the Directorate begins building ugly apartments just a few blocks away, Shelley veers off on a deadly new course of her own! A Sebastian Smith Murder Mystery.
copyright 2017 by Michael D. Smith