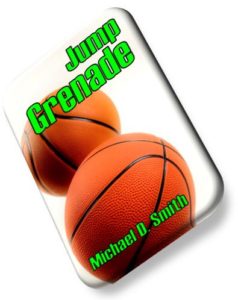 Q: So what's this crap you've got now? Jump Grenade? And don't give me any of those typical BS marketing blurbs.
MDS: All right, guy, let's get into it. Basically the novel is about psychopathy, how much fun it is to win at any cost–and how surprised you are when you discover that the cost is karmic, stretching across thousands of lifetimes.
Q: Yeah, right. You've led everyone to believe it was about some kid basketball player.
MDS: Well, it certainly is. I had a lot of fun writing a sports story. I had to stretch a bit to do that. I wanted sports writing, visceral and sense-oriented. The casual insults and curses everyone hurls at each other evoke the mandatory ego-jockeying of the sport.
Q: Was the title intended to be stupid, or did it just come out that way?
MDS: The title is karmic. Billy has to meet a transformed version of his girlfriend at the end: a forceful and unknown Universe Ryder. Instead of a jump ball they contend with a jump grenade. His shamanic powers of winning and fame are finally throttled, but Uni's powers of truth and responsibility are now growing.
The Draft One title was Ocean Singe Horror, the moniker Billy took right before he blew up the Baltimore arena. It's an anagram of Orange Rhinoceros, and for more information, search for the term on my blog. I changed the title to Jump Grenade so we can figure out that the book is about basketball. Of course the cover should clue you in on that.
Q: Okay, the cover's a decent image. You did the whole thing by yourself, didn't you? Then again, maybe you should've hired a professional!
MDS: I was really leaning towards using camouflage spray paint on a basketball! Originally I thought using two basketballs would be too cute, evoking the relationship of Billy and Uni. But in experimentation, the two basketballs against the bright white background worked. It's intensely three dimensional, with a lot of airy space, not the typical close-up of objects I've done for The Soul Institute, Akard Drearstone, or Sortmind. This does not look like my normal covers, which is also what I wanted.
Q: Yeah, but now I find that Jump Grenade's based on another one of your old stories from childhood. C'mon, don't you have anything new?
MDS: Jump Grenade is new consciousness. It has current energy that speaks to me, though it's also connected with the past. Yeah, in 2008 I came across an old ninth grade story, "The Saga of Billy Bam, Basketball Star," and it was so farcical that the idea of expanding it with modern themes instantly intrigued me. I didn't care if it wound up as another story, a novella, or a full novel, I was just going to let it come out at its own rate even as I readied myself for other new writing.
After finishing the rough draft I let it sit while I worked on other novels. Then in 2014 I made an EPUB of the first draft so I could read it on my phone, and I found myself laughing out loud at it at D/FW Airport. I figured I owed it to the universe to get the novel in passable shape. The second and third drafts didn't disappoint me; I still find myself laughing at my own novel. Maybe I shouldn't, but the ludicrousness of this thing keeps hitting me.
I have a lot of old novels I'd never consider rewriting or publishing. They were just experiments. No energy resonates from those, and I seem to be done looking backwards to refurbish old works. The Core now understands there are no more old novels to fix up, that it's time to embark on new paths. That isn't balking me, although plot, characters, and structure for a completely new novel are still unknown.
Q: So here's the standard stupidass question: where'd the idea for the stupidass book come from? Continue reading →