Class Act Books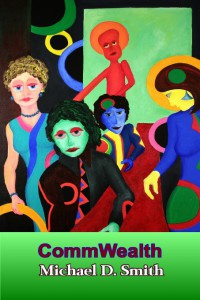 publicist Toni V. Sweeney recently introduced me to author Beverley Bateman, who kindly interviewed CommWealth's resident anti-hero Allan Larson on her May 24, 2018 blog along with glorious snippets of my bio, novel excerpts, and buy links.  Thanks so much, Beverley!  I wanted to reproduce the interview itself not only because was it fun to write and deepened my understanding of Allan (yes, this can happen to an author long after a book is written), but also because I'd just completed the twelve character interviews for a projected Jack Commer Seven science fiction novel and this opportunity just fell out of the sky in weirdly Jungian synchronicity.
Beverley: What's your name?
Allan: I'm Allan Larson, the leader of the Forensic Squad theatrical troupe in CommWealth. The other actors pretend I'm not really the leader and they say Steve Constantine, who owns the coffee shop where we put on our plays, is really the leader, but really, he's just a like a business manager, he knows zilch about the theater. I write the plays, I motivate the actors, everyone knows it's me.
Beverley: Where did you grow up?
Allan: Right here in Linstar, this fictional town on the Texas coast south of Houston that our dear author has milked before in at least one other novel. That's another reason I'm the leader, because I know this town and what makes it tick. When I was a kid this place had maybe 20,000 people, now it's grown insanely to something like 180,000. I've seen this place grow up, like a teenager who has to get bigger and bigger shoes every couple weeks. It's an off-balance, frantic, immature sort of town, and I'm right at home here.
Beverley: During what time period does your story take place?
Allan: We have it set as just contemporary America. Turns out that dear author used the 2017-2018 calendar just to keep his facts straight, like December 14 falls on a Thursday, you know, but all the characters made him not use any actual year dates, because we wanted to keep this thing timeless.
Beverley: What's your story/back story? Why would someone come up with a story about you? Continue reading →