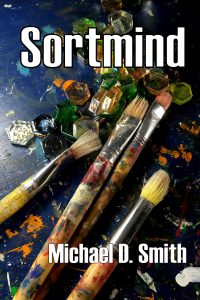 At the risk of polluting this blog with an imperfect and overly long document, I'm adding something that's not meant to be read, but just perused in order to show the lengths an author has to go to nail down chronology. The Chronology file is one of three main files for Sortmind, the others being Characters and Facts. Those two files are equally long.
It's possible that not every date in the Chronology document is as precise as it could be. I may have inadvertently left in dates corresponding to early drafts or cut chapters. Nevertheless, I wanted the file to be as accurate as possible to avoid plot conflicts.

Although year dates are mentioned nowhere in Sortmind, I used the year 2017 to establish the events of the novel, since I wanted to refer to precise days of the week. There's no use having an eventful school day on a Saturday, for instance. The chronology contains dates back to 1945 for references to characters' pasts, but below I've omitted everything except "2016" and "2017," which comprise three-quarters of the Chronology file.
The novel opens on April 13, "2017."
2016
Monday 2/15: First PortaLawyers go on sale.
Late May: Oliver's paintings gain attention at CAI Art Show.
June: Sam gets construction job for the summer.
July: Over the summer, Pat and Porter go beyond beer and dope and discover the joys of hard liquor and whatever drugs they can find at the Art Institute.
Friday 8/5: Sortmind app released by TTG.
Monday 8/22: CAI school year begins. Godwin Shaw transfers in from another city.
Monday 8/22: Saviors of Earth by Curtis Tillotson published. He had published a few books before, but Saviors of Earth becomes a bestseller by October.
Wednesday 8/31: Sam breaks with his parents and moves into his own apartment in the run-down area just south of CAI. Sam pays for it all out of construction job income, although his parents, alarmed that he says he's dropping out of school, offer to pay for his education through college, so it isn't a total break after all.
Monday 9/5: Sam buys a used 1996 car.
Tuesday 9/6: CAT formed.
Tuesday 9/13: date TTG instituted subscription fees. Also called the Restructure. Setup fee, annual subscription, and exorbitant searching fees.
Wednesday 9/21: Roseparker made VP for Software Development.
Sunday 9/25: Suzanne is activated.