Progress: Asylum and Mirage and the Title Change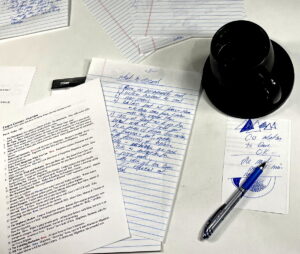 Caspra Coronae is now, halfway through its second draft, Asylum and Mirage. Hanging the essence of a novel on its title is important, and while Caspra Coronae has a lovely sound, it doesn't convey anything about this novel, and would only do so if the book were all about a character named Caspra. She has a major role in this novel, but can't carry the whole thing.
I wanted a title that hooks into the book's inherent unease. As I threw out hundreds of words, "Asylum," with its connotation of somewhat fragile sanctuary, kept recurring as a top choice. Then "Mirage" surfaced–dangerously wrong perception despite an undertone of attraction and loveliness.
The first part of the book: Anxiety, dread, foreboding. Hallucination, denial, illusion, fantasy.
The second part: Pattern, topology, investigation, art. Bravery, awakening, liberation.
So a naïve and disconnected artist gives a party to celebrate his new success, only to find himself drafted that same night into an unwinnable war against a savage, mind-manipulating entity calling itself the Reunion. Dave Raavenscorr's hundred fifty partygoers, unable to acknowledge the growing hallucinations of the Reunion's advance patrols, expect the charming Dr. Marshall Singletree to lead them on continual Migrations away from a formless catastrophe.
The Reunion has swallowed cities and towns in the south, and the armies of the brainwashed are now marching north to the college town of Lake Grafton. Two major governments have failed to stop the Reunion and have fallen. We are now ruled by a Third Constitution which is proving even more inept in dealing with the threat.
Nullity is a drug that can ward off hallucinations, but it's highly addictive. Almost fifty percent of the population is now addicted to Nullity. The remaining half, worried about succumbing to Reunion phantasms, find themselves assigned as caretakers of these addicts.
In preparation for Draft 2, I had a glorious ride interviewing the novel's characters, first as a group–not very satisfying–and then in five more interviews with either individuals (Caspra and Marina) or in pairs (Reva and Kina, Dave and Al, Thomas and Walter). Combining Dave with Al, and Thomas with Walter, truly liberated energy for Draft 2, and forced me to combine the dark and light sides of those characters.
It took me a while to admit that I also needed to combine Reva, Singletree's lover, and Kina, Singletree's daughter. I'd unconsciously known for a long time that the similarity between the two women precluded either having a satisfactory ending. Thus no Singletree daughter now exists; much plot had to be torn up not only for Kina but also for Al, an addict who kept adding inexplicable self-awareness to the point of evolving into a boring demi-god, and Walter, the most over-the-top, nasty evil jerk you could imagine.
I removed Marina from any point-of-view narration so there are now only four narrators: Dave, Caspra, Reva, and Thomas. This sets Marina up to be a much more unknowable force. The character combinations also posit a rational ending that completely eluded the first draft. Though the ending's exact form remains up in the air, I feel the characters will point me there.
We now have a more ensemble-focused cast. Here are four female, then four male characters:
Reva McKee, 31
She's a website designer who's mapped Reunion movements, but by the time the book opens, the Third Constitution's ban on the Internet has rendered her career meaningless. Now she investigates the art galleries in the idyllic college town of Lake Grafton and develops influential contacts. She gets Dave Raavenscorr, her new friend, his first Lake Grafton show, and she assists him in his art career and in developing the huge warehouse studio he's just bought. She also starts a book club to honor the Great Migrator from the Reunion, Marshall Singletree, and soon becomes his lover.
Tall, long-legged, clear-voiced, with intoxicating dark green eyes, her short dark hair framing a sharp chin, Reva is breathtaking. Her stunning good looks and heroine aura radiate elegance, sexual confidence, and nobility. But she's full of self-doubt, struggling to be a nice girl and repress herself even as she gives off that erotic vibe. The much older Marshall gets hold of her and forces her to reassess her life, and then, right when she's vulnerable, her so-called friend Dave erupts with his own seductive powers.
Caspra Coronae, 31
Caspra is a former video artist, now a Nullity addict sponsored by Dr. Marina Nunn. Over the past ten years she's been drifting through numerous dull clerical jobs in the Lake Grafton area. She's petite, with brown, almond-shaped eyes set in a pleasant Nordic face. Her high, soft voice often seems hesitant, but one finds unexpected power behind it.
Dave knew her in high school, but only regarded her as an adolescent sex fantasy. When he meets her for the first time in fourteen years in Chapter Two, he becomes unglued, even as Caspra, who ought to show proper respect to any Nonaddicted, scorns him as "that immature dweeb from French class." She's an artist at heart, a patient observer of the chaos around her, and she takes pains to distance herself from the rest of the vulgar Nullity addicts populating this book. In fact, Dave has trouble believing that Caspra is really addicted, in her tight black evening dress slit far down in the front, in her high heels and fake pearls, her long blond hair elegantly done up behind her slender neck.
Marina Nunn, 43
Chair of the Music Department at Lake University, at 5'5" and 125 pounds Marina can look childlike at forty-three, which is why Dave at first assumes she's a college girl. She has an odd round face and hurting eyes so dark brown they seem entirely black. Her disheveled hair is deep russet streaked with gold, and her voice is musical and expressive. She can disguise her great figure with loose brown sweaters, or blatantly present herself at Dave's art opening in just three articles of clothing: two knee-high boots and a shiny unzipped silver jumpsuit, tight over the ample bust and excellently snug at the waist.
Like Reva, Marina has many art gallery contacts. She poses for life drawing classes, where she picks up so many young men that any horny college boy knows what she can offer and where to find her. She tells Dave, to his consternation, that he's the only man she can say no to. She has incredible naïve courage, grappling with monstrous inner forces as she prepares her notes for an opera called Reunion Topology. Her out-of-control energies shock Dave's partygoers, but she never resists displaying her ridiculous side–or her scary side. She finds it amusing that everyone at the university looks down on her as a whore, even as they acknowledge her academic expertise and power.
Jasmine Sung, 24
Jasmine is a music graduate student. She began working at Dexter Graphics a week ago where she met Leon Winter and became his lover that same night. She's short, with tiny hands, liquid brown eyes, and silver hair in a cute bowl around her head. For Dave's party she's chosen a bright blue sweater outlining her unusually huge and voluptuous breasts. She has plastic blue eight-pointed stars on her sandals, and speaks in a startling baby girl voice. Jasmine feels complete; she lives in the moment and doesn't think she needs to learn anything. One gets the impression that, bubbly on the surface, she long ago sank into a twilit realm where sex and death are the only remaining themes. She's worried about her hallucinations and thinks small doses of her addict's Nullity will keep her on track. When she volunteers for a special assignment, poet Thomas Tanner hands her a .38 revolver.
Dave Raavenscorr, 31
Dave is an artist who's begun to sell his large canvases through a gallery Reva found for him. He's also lined up a syndicated comic strip set to start in January of the coming year. He's patiently saved enough money to buy a downtown Lake Grafton warehouse which has lain dormant for decades, and he's just moved in with help from Reva and a former coworker, Leon Winter. New to town, Dave is clueless about Lake University, but starts drifting onto campus hoping to pick up women. He never succeeds until he meets Music Department Chair Marina Nunn.
Dave has prematurely graying hair matching deep-set gray eyes. He's tall and lean, with a chiseled passionate face, big bony hands, a powerful chest, and huge biceps.  All this would be impressive if he'd just stand straight, but he always seems to be hunching over to disguise his power. His eyes are dazed, his mouth loose, the planes of his otherwise hard face quivering. His nervous gestures make onlookers wince; his hands are unusually expressive, constantly describing structures in the air in perfect cadence with his rapid speech. He can come across as a scruffy overgrown sixth grader.
Reva had initially been disturbed by, and attracted to, his mixture of childishness and secret wisdom. Her magnetic surge towards Dave had initially been strong, but she finally convinced herself that he was destined to be a great friend, not a sexual partner. Over the last few months Dave and Reva have developed a nourishing friendship. He's supported her book club and she promotes his art any way she can.
Everyone pegs Dave as a laid-back guy, but he's a mystery to himself and perhaps even a destructive force. He creates art in raw power mode but presents it in puppy mode. The Third Constitution Army may even have a say about his muddled personality.
Thomas Tanner, 29
Thomas gives nightly poetry readings in Lake Grafton coffee shops and bars. His topics include his leaking dishwasher and the existential whine of his air conditioner. He's well-published in the Lake University Tiresias. He's 5'10", with thin brown hair and a receding hairline. His overly thin face is lopsided with a constant irritating grin. Reva considers that his mesmerizing dark blue eyes had probably been what kept her dating him so long. By day Thomas is the assistant manager of the Frankston County Procurement Department. He has a photographic memory and attends all Marshall Singletree's colloquia. He worships the Great Migrator, as Singletree is known. Thomas thinks he alone understands that philosophy.
Jealous that his former girlfriend Reva is such good friends with Dave, Thomas considers himself in competition with Dave for the title of Foremost Creator. He also can't acknowledge how furious he is with the Great Migrator for stealing his girlfriend Reva three weeks ago. For Dave's party, Thomas wears a rumpled rock group T-shirt and overly tight and none too clean jeans, with a huge golden V-shaped belt buckle pointing to his penile bulge. Like Jasmine, fearing the Reunion and hallucinations, he's been taking calculated risks with his addict's Nullity. And then something snaps him from mediocre poet into junior varsity psychopath.
Leon Winter, 27
Leon Winter is Marshall Singletree's main assistant. An imaging software expert, he abandoned his Freestone College computer job when Freestone fell to the Reunion. Rescuing Singletree from the Freestone horror and Migrating hundreds of miles with him, Leon then found work in a graphics shop where he befriended coworker Dave. He's charismatic, charming, smart and kind, with a smooth, almost feminine face, clear blue eyes, and short blond hair. He's extremely attractive to women, and coworker Jasmine succumbs to him within a week of starting work at Dexter Graphics.
He's writing a book called Hallucinatory Evil, and Singletree regards him as the only person capable of being his successor. Leon got into legal trouble with the County over his last addict, whom he'd talked out of his addiction to Nullity; the addict then sold the unused doses and wound up murdered in a parking lot. At Dave's party Leon comes off as patronizing to Reva, and she begins to wonder what sort of compartmentalization, what sort of duplicity, he might be capable of.
Marshall Singletree, 55
Singletree is the Great Migrator from unspeakable psychic disasters in the south. Short, balding on top, with long silver hair to the sides, he has a smooth, hard head, mesmerizing brown eyes, a cruel mouth, a strong upper body, and a deep authoritative voice. He looks like a truck driver, or a dock worker, or a wrestler. Fleeing the Reunion conquest of Linstar, a major city four hundred miles south, he settled at Freestone College eighty miles north of the doomed city to study the Reunion phenomenon up close. There he wrote a bestselling book about why the calamity unfolded. Yet just a few months ago Freestone itself was overrun by the Reunion, and Singletree barely escaped with his young protégée Leon. At Lake University, he's been awarded an honorary professorship and gives a colloquium every Friday afternoon.
Reva McKee founds a book club in honor of Singletree's book and his philosophy. He then takes her as his lover, overwhelming her with romance and sexual satisfaction. But he has a shadow side cleverly concealed by fame and charisma. He fakes it with false modesty, claiming not to crow about himself while crowing about himself. He declares himself a bulwark against the Reunion, but can only think in terms of Migration from the enemy until such time as his followers become ready to turn and fight–although everyone knows nobody will ever be ready. Singletree has gotten quite comfortable with decades in the role of the strong man, but when Reva abandons him, he collapses in a second.
copyright 2022 by Michael D. Smith
Interview with the Burlcron/Mercer/Singletree
Before starting Draft 1, I interviewed the Singletree archetype and discovered how his Shadow nature forecasts the downfall of the Great Migrator.
Caspra Coronae Draft One Blast-Off
The post includes the history of this long undertaking through the start of Draft 1.
Walter's Farewell Soliloquy–to Himself and to Draft 1 Caspra Coronae
Walter merges into another character and exits the novel, but not before delivering a fine Shakespearian soliloquy at Marina's request.