Asylum and Mirage: Current Conditions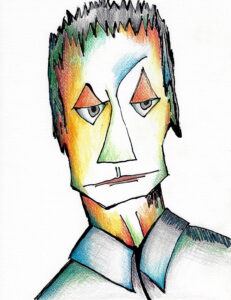 Artist Dave Raavenscorr picks up what he thinks is a college girl, but flees in panic when he discovers she's Dr. Marina Nunn, chair of the Lake University Music Department and a refugee from the Reunion brainwashing catastrophe at Linstar two years ago.
His best friend, devotee of the arts Reva McKee, throws a party at Dave's quirky art warehouse to celebrate his first one-man show. Her former boyfriend, poet and county bureaucrat Thomas Tanner, crosses swords with her new lover, the charismatic Marshall Singletree who escaped hallucinatory Reunion consciousness to offer his teachings at Lake. Dave shows up late, plastered and paranoid from his tryst with Marina, who follows him to crash the party.
I've finished Draft 3.3 of Asylum and Mirage, the third pass of this draft, and overall it works well. Draft 3.4 won't just be one more simple editing, either; I want to see what other associations arise, especially for the last chapters.
Draft 2 was 95,649 words, 339 pages. Draft 3.3 is now is 83,509 words, 299 pages. So I've saved a reader 12,140 words–and most of this was just cutting out unneeded verbiage and strengthening the text. This last draft did clean out some other unnecessary exposition or repetition of earlier chapter explanations, but probably not more than two or three pages' worth.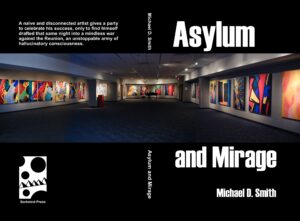 After playing with the triptych photos of my June 2005 painting exhibit, I came up with what seems like a good wraparound cover. It also works as eBook front cover only. I may well use this one; there's no obligation to try out fifteen or twenty different versions (as I've agonizingly done before) if I think I've really hit on something.
Not only does choosing a title solidify your feel for the novel as you continue to work on it, a good cover is a beacon for pushing it out into the world. Using the 2005 exhibit makes this book even more personal.
I've been thinking Spring 2023 for a publication date, but if Draft 3.4, 3.5, and on feel like they're morphing into the manuscript (which even 3.3 is threatening to do), I may have this out before the end of the year.
I used the short web page blurb for the back cover–didn't want to clutter that space–but I came up with the 145-word blurb at the top of this page that I like.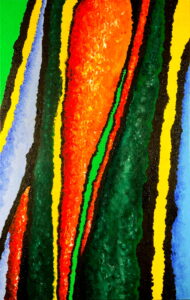 I'm appreciating the October 2022 painting Asylum more and more. Maybe it isn't a life-altering perspective or a stunning work of art, but it's a good meditation. Yes, there probably should be a follow-up painting Mirage pointing in a very new direction.
It's sometimes hard to see what the value of a painting is right away. And the process of painting it can be frustrating and exhausting, so I tend to be living inside the hassle even when I declare the painting finished.
What really got to me as I started the painting was the idea that I've arranged all sorts of obstacles to real creation. I have tricks, styles, methods, repetitions, all of which are unfreedom. Those methods should just be tools that I keep adding to, and they should never get in the way.
Publication of Asylum and Mirage is on the horizon. That means strengthening my overview of this work, not only to improve and integrate the final version, but to consider what this novel means to my life now. I can also consider what obstacles I've placed in front of my writing–less than visual art, I see, but it will be fruitful to contemplate this question.
Copyright 2022 by Michael D. Smith