Are You Ready for AI Authors?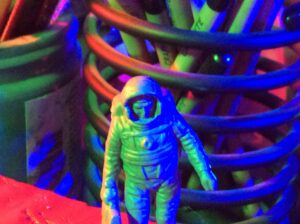 This is not really a review of How to Market a Book: Overperform in a Crowded Market by Richard Fayet, free on Kindle, but the book is a useful guide and it did inspire further thoughts on something I'd been mulling for a while, namely, this post on AI. I also picked up a useful tip about creating a new series in my existing Jack Commer universe, and I'm looking forward to further brainstorming on that.
So if I can summarize the marketing advice in this book as I understand it:
Find an up-and-coming fiction genre niche.
Research that niche and write to it. Don't stray into new niches that scatter your brand.
In the chosen niche, create a series, with an initial set of 3 novels released 30 days apart to take advantage of Amazon's algorithms favoring new releases.
Write 4 series novels a year and publicize each through your mailing list.
When the series begins to get overripe, create a new series in the same universe to retain reader interest.
Sales and royalties accumulate.
But … don't you think that we'll soon have AI software that will be able to complete all aspects of this process with lightning elegance? The techniques are already here; just Google "AI book writing software" or "GPT-3." Also see:
Soon there won't be any need for human intervention. Those first three novels are generated in nanoseconds, along with a fascinating AI author bio. Software owners accumulate the royalties.
The more precise the niche and its rules, the easier it is to replicate the formula for success. And if new niches or conditions develop, won't the AI need only a couple seconds to adjust and output a new bestselling series by the weekend? Will its readers care whether it's created by you, or by a fascinating new AI author?
What do you discover about yourself when you write a book? Do you really think there's a formula that works every time? What does the AI discover about itself in the process of writing a book? And what's that worth to you?
copyright 2022 by Michael D. Smith