Asylum and Mirage: A Note on the Cover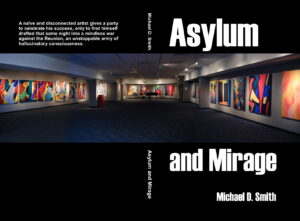 The novel's cover comes from my June 2005 abstract painting show at Dallas Public Library's Bradshaw Gallery. As the previous posts about the book describe, I'd had the image of Dave's art warehouse for many years, long before doing this exhibit, but the spaciousness of this show, how the large paintings so effectively filled that space, still resonates with me. Placing the panoramic view of the exhibit on Asylum and Mirage's cover makes the book even more vital for me–though this isn't Dave's studio and I'm definitely not unreliable narrator Dave.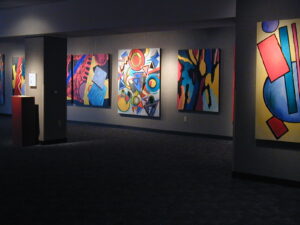 No, this is not really what Dave's studio really looks like. His space is more like the image in the cartoon I drew for the Notice and Dream Topology Tarot card.
Curiously in line with my old vision of an art warehouse, at one point during house-hunting in 2001, our realtor took me and my wife to a bizarre multistory former business in Oak Cliff (Dallas). The structure, on the market as a living space, was fantastically huge, raw during ongoing reconstruction, with a 50,000-gallon swimming pool nestled amid the almost inexplicable geometry of the place.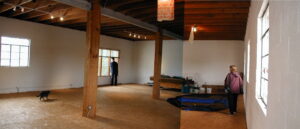 On the top floor was a light, airy space about twenty-five by forty feet which I drooled over as a potential studio. I grabbed a couple digital shots at the time, and just now crudely pasted them together to get the feel of the space. Well, we didn't have half a million dollars for that surreal warehouse, but it still reverberates.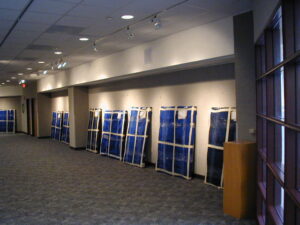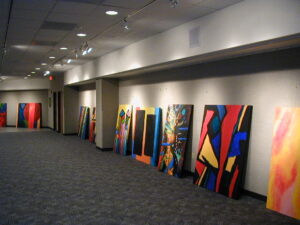 As for that vast June 2005 exhibit, not only do I still treasure the satisfaction of pulling it off, I recall just as equally the absolute exhaustion of preparing twenty-four paintings for transport and trucking, hefting the monstrously heavy and awkward things, staging them and hanging them in an incredible day-long effort by myself, then a month later taking them down, manhandling them back down the elevator and into the moving van I'd engaged, and finally seeing them home. Across the years, thanks again to the DPL Fine Arts staff for hosting me.

Other photos of the exhibit can be found on sortmind.com.
copyright 2023 by Michael D. Smith