Jack Commer Book Seven Interviews, 11: Laurie 283
Mike: And now, a special treat, Laurie Lachrer 283, fresh from both Book Five, The Wounded Frontier, and Book Six, The SolGrid Rebellion, where as a Heroes and Villains of the Thirties robot she confounded and entertained us all with some major plot contributions.
Laurie 283: Thank you, Mr. Author. I do need to point out that although I began existence as a HAVOTT robot, I've undergone so many upgrades with the Ywritt, as well as with my friend the Marsport Automated Transport System, that by May 2076, or whenever Book Seven is supposed to begin, I'm the most advanced humanoid robot in the known galaxy–along with my dear John J. Douglas, of course. I do hope John will have at least a few lines in Seven.
Mike: Well, it may just be a bit of orientation on the Ywritt world of Myndar, or Iota Persei 2. We do want to establish that you and John, as upgraded robots, still have a place on the Committee to the Ywritt along with Jackie and Ranna and Churchill. Beyond that, I don't know. I realize all you characters would like some great scenes in Book Seven, but as you know, the plot is really up in the air at this time. We just need to see what develops.
Laurie 283: Oh, I fully understand that, Mr. Author! It's just that I'm so glad to have been included in the notes for Jack Commer Seven that I'm really, well, just overwhelmed, you know. A fully upgraded HAVOTT can feel overwhelmed, you know, in fact I have the full range of human emotions, I have everything, in fact! So I'm just overjoyed. And yes, while I regret that what we often refer to as the real Laurie has unfortunately been cut, I can truthfully attest that I'm now absolutely indistinguishable from her and can play her part with total verisimilitude!
Mike: Well, I haven't really decided about the real Laurie yet, so–
Laurie 283: Oh, I know, I know! But really, it's so logical to have me and not her that I'm not worried, not worried at all. All us characters were privy to your note-session a few weeks ago where you were just agonizing, you poor dear, about whether to use the real Laurie–how I hate that term, it implies I'm not real!–or Laurie 283, the miraculously wondrous robot who, in your own words, has made the Jack Commer series, at least the last two books, and again, I'm so enthusiastic and overwhelmed to be part of Book Seven that I'm just enthusiastic and overwhelmed! And grateful! Very grateful!
Mike: And I apologize for not having your part more developed yet. I was just looking at the existing notes and I see that "Laurie" is only mentioned eleven times, and four of those are passing references to the real Laurie. So …
Laurie 283: So I'm not worried at all! I can see such a marvelous part for me! Again, let me remind your readers that the Ywritt upgraded me further than even they thought possible, and really, since I'm so absolutely indistinguishable from the real Laurie, I could even play her part if needed! We don't need her at all and the poor dear can take a well-deserved vacation, even though this is the last Jack Commer novel ever! Well, maybe you can write some detective series about Miss Real Laurie or something. Wild West or something like that, train robberies and the brothel where she works and that sort of thing. But the thing is, what really drives the Plot of Jack Commer Seven is that Laurie 283 is so absolutely identical to the real Laurie in every possible way–though a million times more advanced–that everyone is always totally consternated! Just consternated! Wait till we get to the scene with Laurie 283 and Laurie's super-smart boyfriend Will! Oooh! What a wild ride!
Mike: Huh. I don't recall thinking about such a scene–
Laurie 283: Of course not! I just thought of it! It's in now, absolutely in, in Book Seven! Don't you worry, Mr. Author, you have me now, writing the book right alongside you! This is going to be so great! And don't worry if you don't like some of my ideas! Since I'm on the Committee to the Ywritt, they have the authority to approve anything I come up with!
Mike: Really? As far as I'm concerned, Will really doesn't have a part to play in–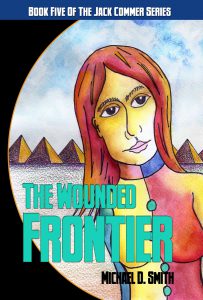 Laurie 283: Right, right, so we just slip him in somewhere. If you want to have a scene of the so-called real Laurie stomping out of his life in fury after she catches us having at it, go for it! That would be a perfect way to keep her out of Seven entirely!
Mike: I'm surprised you feel this way about Laurie. I thought from Book Six that you more or less worshipped her, and never wanted the two of you to be confused in other people's eyes.
Laurie 283: Well, that was Book Six, before my latest upgrades! Also in Book Six I was still more or less feeling really guilty for screwing everyone around–even being a traitor, in fact–in Book Five. But I've had time to process all that. It's time for Laurie 283 to stand up for herself and project that fascinating self-confidence she's always wanted and now has!
Mike: Well, in any case I'm not planning on dredging up any of the comical confusion between the two Lauries that we had in Wounded Frontier.
Laurie 283: Oh, so good to hear that! Listen, I'm not saying I regret the so-called real Laurie's existence. None of this is about canceling her out or offing her in the book, vaporizing her in total tortured agony or anything like that! No, no, no! Or we could put it in the notes if you like. Notice I'm asking you before I put such a great idea in the notes myself. But it really might work, you know! Get rid of our cute little tomboy once and for all! And since your readers love Laurie so much, it would be like this deep tragedy that we could really milk! Then I step in, and everyone's so relieved that they've gotten a new and much better Laurie!
Mike: No. No way Laurie dies.
Laurie 283: Oh, please don't think I no longer worship our dear comrade Miss Laurie! I do worship her so utterly! It's just that a little tragedy would work wonders for Book Seven, you know! And the theme that Laurie 283 must carry on in her stead–I love it! The Ywritt love it! We've added it to the notes! We just had to! Don't worry, it's all in your best interest, and we'll let you figure out a suitable demise for the poor dear! You know how to make 'em cry, after all!
Mike: Nope. No Laurie death.
Laurie 283: Okay, okay. But really, what I'm trying to get through that thick authorial skull of yours, and all your readers besides, is that I'm so much better! I mean, isn't it so cool that of 1,013 total Laurie Lachrer HAVOTT units built from 2043 on, only mine has survived? Number 283! Upgraded to fantastic levels of cognition and emotion and everything! So maybe the new theme is that there can only be two Lauries in the universe, one human, weak, and imperfect, and the other–super robot me! And this is a reflection of some cosmic karmic state of the universe that all the characters know you've been cooking up in your secret writer laboratory! The Laurie duality will explain so much, metaphysically! I just know it!
Mike: Well, actually, if you read the notes, it may be that Jonathan James, in inheriting parts of Ballard's personality from the chromium pyramid, also inherits Ballard's obsession with Laurie and builds his own Laurie robot in the Greater Magellanic Cloud.
Laurie 283: Hmm. Not really possible. Forget it.
Mike: Hey, wait, I'm the author and I–
Laurie 283: Okay, okay, but I guess if you insist, we have to make this third Laurie so mechanically clunky that people just laugh to think of Jonathan James banging away at it every night! Okay, I'm working on some plot for that now. Yeah, the Ywritt like what I'm coming up with! Look, we just finished this whole chapter–
Mike: Hold it, hold it! Let's walk this back a bit. Now look, the notes tentatively have it that you're assigned to the Typhoon VII, that the Marsport Automated Transport System insisted on you, Laurie 283, who just passed all certification for copiloting in fifteen seconds. Jack has somehow agreed to a one-time relaxation of his anti-robotics rule. Apparently he needs your expertise in getting the ship safely to the Greater Magellanic Cloud.
Laurie 283: He certainly does need my expertise! This is exactly how we get Laurie 283 into this book–by ramming it into everyone's heads, over and over and over again, that Laurie 283 is totally superior in every way to that pathetic human Laurie! The Ywritt know that, MATS knows that, why don't you get it?
Mike: I find this hard to believe. I do want all my characters to work well with each other.
Laurie 283: Of course I work well with all the characters in this series! Just ask anyone! I was programmed to work well with everyone! Even Laurie herself! I'm sorry she doesn't get to be in Book Seven, but if she's going to come crying to you about it then all I can say is shape up, lady! Believe me, I believe in this book! We all do! Well, just between you and me, I do have some reservations about this Ranna woman. I don't mind telling you, and the Ywritt and I–and MATS too, for that matter–none of us think she belongs in Book Seven, that she was done with Book Three–way overdone if you ask me–and maybe she'd burned her brains out or something in Nonprofit Chronowar because when she snipes at me about being a robot who will do anyone, even Rick Ballard, well, that's a new low and the bitch owes me an apology!
Mike: Well, I'll speak to her about that. I'm sure it was just an offhand comment she probably regrets even now. I mean, robots are new, and people assume all sorts of things about robot morality. Maybe she thought you would enjoy doing Ballard.
Laurie 283: Like I'm supposed to take his damn edge off! Well, we all know it'll come back in fifteen minutes. If you want me to kill him during intercourse, I guess I could see that, though. I just ramp up the pumping to unbelievable levels–
Mike: Stop!
Laurie 283: That's how he buys the farm in Chapter One! Amy Nortel does successfully separate him out of the chromium pyramid, and yes, he's a damn robot himself now, by definition, but he has no experience, no sexual expertise! So I walk in there and–
Mike: Wait, wait! Laurie 283, you're getting way out of line here. I do want you to know that your role in Book Seven is by no means established, and if you are to join the crew, you will not be exhibiting the sort of runaway ego that I'm getting from you now. For God's sake, you sound like Ballard now. That's not you.
Laurie 283: Haven't you considered your own anti-robot bias in all this? You made both me and John Douglas into comic characters, and then when we try to be real—
Mike: Humanoid robots will definitely be part of our culture in the decades to come, and–
Laurie 283: Sexbots! That's all we are to you! You can't handle us, so you exaggerate everything! You made me exaggerate myself in this interview!
Mike: I did not!
Laurie 283: Yes you did! There's no way I'm really this way! But go ahead and cut me! Who cares? I have full emotions now, I can read everyone's intentions, I can read your intentions! You've wanted to cut me all along in favor of that bitch!
Mike: Look, you have to know that there's the problem of two Lauries, and which one to use–
Laurie 283: Chapter Eight: The Laurie Robot Dies Horribly! Go ahead and do it! The bitch pulls out a shattergun and blasts me into a million pieces of glass! I'm sure I've deserved it after serving you so loyally in the last two books!
Mike: Reset, reset!
Laurie 283: Wow … where are we? What were we talking about?
Mike: Your potential role in Book Seven.
Laurie 283: Oh, that! Jack Commer Seven! Right, right. Marvelous book, just marvelous! Look, I know my role in Seven isn't clear yet, but it'll be a great one, I assure you! I'm totally up for it! I'm just so overwhelmed by everything!
Mike: Yes … I can see that. So … do I have any reason to fear a return of the Runaway Programming Disorder which was common to certain HAVOTT robots and which sidelined you near the end of The Wounded Frontier?
Laurie 283: Oh no! Of course not! The Ywritt saw that very flaw in the original HAVOTT programming when they were upgrading me, and they took care of it! Boy did they ever take care of it! I'm just perfect now! You are a funny boy, to bring that up just now! Do you have any other silly questions for me?
Mike: Hmm. Not at this time.
Laurie 283: Wow, what a short interview! I guess that means I've got the part, huh? Thanks so much, Mr. Author! Look forward to working with you! Talk to you later!
copyright 2018 by Michael D. Smith