Jack Commer Book Seven Interviews, 10: Jackie Vespertine
Mike: We now welcome Jackie Kikken Vespertine, Professor of Exobiology at the University of Mars, a seasoned Jack Commer series professional with major roles in Nonprofit Chronowar and The SolGrid Rebellion.
Jackie Vespertine: I'm tempted to say, don't remind me of any of that! I just want to say that I'm grateful to be allowed back to work. My colleagues at the University of Mars have been extremely supportive of somehow who could have been socked away in prison for thirty years after that stunt I pulled on the Typhoon II.
Mike: Well, I think that it's all worked out for the best. Not only was Amav, as Dictator of Sol, convinced that the debates Jonathan James and the rest of you sparked about SolGrid turned out to be essential to the safety of Sol, she also said that Jackie Vespertine's expertise with the Ywritt was badly needed.
Jackie: And Amav has gotten no end of flak about pardoning her own son as well as me, Suzette, and Pat. Of course Z'B had to be pardoned–he's the Martian Emperor, and was taken as a hostage. But pardoning JJC, someone who's technically still on the run from the law, no matter that he's encased in a solid chromium pyramid–
Mike: I know. Legally she's insisting that Ballard kidnapped him, that he's an unwilling participant. But, as Dictator of Sol, she can do as she pleases, I guess. In addition, she's pointing out that JJC's machinations did a lot of good by flushing out some traitors in the USSF, namely Carla Posttner and her cohorts.
Jackie: Right. But in any case, I'm just ready to put all that behind me. Basically, I'm just eager to get back to my work with the Ywritt, and my university duties.
Mike: Yes, you do seem a bit flustered by everything that happened in Book Six. I can understand that.
Jackie: And in a way I'm glad there's no real role for me in Book Seven.
Mike: Why do you say that?
Jackie: Well, it's pretty obvious from the notes. There are only four mentions of "Jackie" in them, all in the second chapter, and all emphasizing that Jackie Vespertine is present only to anchor that chapter a bit along with several figures from Book Six–as if anyone would be curious to know how they fared after Six. Well, to tell you the truth, I don't think anyone cares. You should just move on and let Six lie in the past.
Mike: I disagree. I think people would at least want to know that you and Suzette and Pat were pardoned. Also that Z'B continued his recovery and resumed his full duties as Martian emperor. Just a bit of additional closure as we start into Book Seven. But you know, one reason I picked you for one of the twelve interviews is that I did want to see what else you could contribute to Book Seven. I admit you're a mere mention in the notes so far, but–who knows?
Jackie: Hmm. Suzette did tell me on the way back from Altrouda, when we were still in military custody, that she had a premonition that the rough draft of Jack Commer Seven might be a thousand pages and include everything that's been going on with you the last twelve years, and that later you'd cut it down, but you could have a great big catharsis now, instead of waiting for some purely literary fiction to follow Book Seven.
Mike: Hmm. Interesting. A necessary, sprawling mess. Suzette is always full of surprises. I may consider her angle there.
Jackie: Well, I guess if you need me for Seven, of course I'm available. But I've got to tell you, the whole thing needs to be centered on me just wanting to forget everything in Book Six and get back to work. I'll say it again, I'm really, really grateful that I'm not in prison, that I'm working at what I love, and I just want to do what's right now. There's still so much to accomplish with the Ywritt. That has to come first.
Mike: Sure. And I can assure you there will be no Rick Ballard kidnappings. All the women characters have shown a great deal of disgust for that scenario. As I told your sister Ranna, we've already done that with Laurie in Book Six, and it's stupid besides. Everyone already knows he's a loser, so I kill him off in Chapter One.
Jackie: No worries. I can handle Rick. He's a ten-year-old. You did lock the interview room door this time, didn't you?
Mike: I did. I think our readers are pretty sick of his antics anyway.
Jackie: Look, to lay it on the line, I don't want to be seen as some sort of sex symbol, with men slavering over me because my rejuvenation took well and I'm supposed to be a ten. Let me tell you, being a ten at seventy-six is difficult! I mean, I know you've been reworking the pencil drawing you did a few years ago of me, and I appreciate all the effort, but … the ten thing can get a little overdone, I think.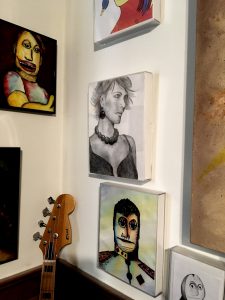 Mike: Well, I did decide I was done fooling with that image. The original pencil version is still the best, but the rough paper still shows traces of the grid lines I drew to scale up the original image, which I believe was a jewelry ad from some magazine. Well, that image was from the time I was writing the first draft of Nonprofit Chronowar in 2000. When I saw it I said, this is the perfect Jackie Vespertine, the woman I was re-investigating long after her infamous attempt to seduce Jack Commer in the December 1981 "Zorexians" story, the one that was the seed of Nonprofit Chronowar. Anyway, I didn't actually draw the image until 2013, and then I basically centered on a portrait aspect. The scan of the pencil image worsened the faint grid lines on paper even further–so I experimented with a purely black and white version that turned out surprisingly well. This year I printed out two copies of the digital black and white version and made a colored pencil and a watercolor version. So there are four versions in all. Enough!
Jackie: All the characters admit it's a great image. Some of them want theirs redrawn as realistic portraits, like mine. But I just want to move past all that. And not in any sense that I'm ashamed of having kept myself in good shape all these decades. I'm not about to hide in sweatshirts. But there's this sense in the novels that I'm some sort of femme fatale, dangerous, all that. I'm tired of it. I've got work to do. Jack's right–despite all this rejuvenation, none of us is immortal, and there are some karmic things I need to do before I check out. I'm just pleased to have a little more time to plot it all out. I don't want to waste any more energy on femme fatale stuff.
Mike: Yeah, I get that. But your personal magnetism is high, everyone can see that. It's something to be accepted.
Jackie: You know, after Book Six, Jackie Vespertine is very, very chagrined. And more chagrined about how she besmirched her Exobiology post at the University of Mars than about having had sex with a robot, lusting so pathetically after Jonathan James, and those nude scenes she did in Book Six. I know I've screwed up a lot in this life. When I was twenty I was pretty much a drunk, pretty much drugged up, screwing guys right and left, and later on, when I was married to Huey, I methodically went about trying to seduce poor Joe, really just trying to escape everything that was going wrong with me. God, did I lead the poor guy on! It's amazing Joe and I are even on speaking terms these days. I mean, anyone can see he's moved away beyond it, he got himself together, but–I don't know. It's been pretty … unsettling, everything that's happened. I guess I haven't really processed it all.
Mike: You've had a very, very difficult role in this series, for sure.
Jackie: I think the thing that really, really turned me around, and it was just a spark at the time, was when I realized that Joe really loved my sister–in 2036, three years after everyone thought Ranna was dead. Killed in the evacuation when her passenger shell crashed. I mean, I knew I had to let go of him, even though my sister, the woman I could see he really loved, was long, long gone. How crazy is that? And then–the reward came–Joe winks out of existence, and I see him two years later at Urside and Alycia's wedding–he has Ranna with him! They Transitioned out of the passenger shell back in '33 just in time!
Mike: So a few months after that realization, that turning point, you divorced Huey.
Jackie: There was some talk of having the marriage annulled, because after all he was Polot, an Alpha Centaurian who'd taken Huey over. Who was only able to do that because Huey's soul had long since gone … somewhere. He was just a shell. I still don't know why I married him. I thought he was charismatic at the time. I didn't realize there was an alien being who'd walked in, you know? I think I was trying to atone for all those years of depravity. Well, maybe the marriage was a first tiny step, but like I say, when I realized I was hurting Joe, that he loved Ranna and not me, that was the real beginning of regeneration. So I divorced Huey. It was the quickest way for me, forget all that annulment stuff, let him have half of everything, so what? I went on to finish my university studies, which I'd never completed, got my Masters, got my Ph.D. in Exobiology, and … I had my purpose.
Mike: And was your attempt to link up with Patrick James another attempt at purpose? A real relationship this time?
Jackie: Right. I'd kept men at bay really for–my God!–forty years. A few relationships, but in retrospect I never took any of them seriously. I did think Pat might really be the one. For a while. He got so obsessed with SolGrid, but that wasn't all the reason. Basically he was one more mistake, and it caught me way off guard.
Mike: It's possible that being in a committed relationship with someone that wasn't right had you enough off-balance to get enchanted with Jonathan James' idea of stealing the Typhoon II and making a romantic rebellion against SolGrid, against Sol itself.
Jackie: That's an interesting way of putting it. Maybe you're right. I was definitely off-balance by April 2076. I thought I had it all figured out, I had my career and my work with the Ywritt, I still felt in my thirties at seventy-six, and … it all came apart in a day or two with JJC, with Sanders Hirte, with … wow. In any case, I'm done with that. You do recall how totally cratered I was at the end of Book Six. And you have to promise me there can't be any happy ending stuff with Pat. We're not going to get back together. I know that was one possible outcome in your notes, but that you've since removed it.
Mike: Right. The whole point was that you and Pat were incompatible and just didn't realize it for quite a while. You had a sort of comfortable, fake "real relationship."
Jackie: Yes, that does describe it. We were really only together a few months–six, seven? Anyway, along comes JJC and his SolGrid Rebellion and everything goes to hell. I come apart. It's just like me being twenty again, crashing from one stupid impulse to another, going down and down and down. So at the end of Book Six I'm like having a flashback, or a total relapse, to that old era, something I thought I was completely done with. So I can't just launch into Book Seven as some put-together character who's simply sucked it up again after screwing up so badly in The SolGrid Rebellion.
copyright 2018 by Michael D. Smith