Make Way for Ducklings by Robert McCloskey and the Endless Slog to Sanctuary and Transcendence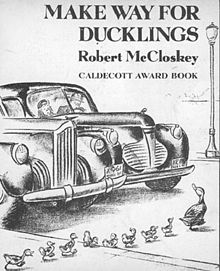 I chucked this into my Goodreads list because this happens to be the first book I ever read on my own–can't remember the age.  I ran across it recently and re-familiarized myself with it.  Not a dazzling book to my modern sensibilities, but of course it's a 1941 Caldecott "classic."  I think I was home sick for the day when I spent a childhood afternoon laboriously plowing through this saga of ducks endlessly searching, searching for … what? … sanctuary, safety, home … some foundational ground of being … I'm sure this book influenced all the novels I've written but who knows how?
Above is the original cover, which is probably the one I had.
For the purposes of this blog I was tempted to add as a new category, "The Endless Slog to Sanctuary and Transcendence," but finally decided against it even though this is probably what my writing is all about.
Coming soon: the author revisits the first chapter book he ever read on his own.  An interesting story including a car accident, a hospital stay, and probably a direct link, for better or worse, to his current writing style.
copyright 2016 by Michael D. Smith