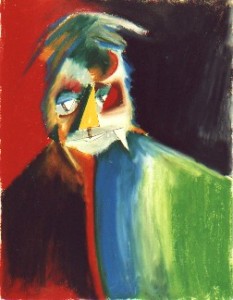 I finally returned to this novel and finished it last month.  After an initial two drafts I'd finished what I thought was a final manuscript of The Soul Institute in December 1999, and I was proud of the result.  Yet, inexplicably, I placed the manuscript securely in the desk drawer for over a decade.  I think this was primarily because I assumed (I'm sure quite correctly) that an offering of 1,064 pages and 266,000 words by an unknown author was way too long to be seriously considered by traditional print publishers–and I had no concept of the e-publishing industry which was in its infancy at the time.  I think the idea was to get one of my shorter novels published first and then TSI might be considered for a second one.  But whatever the excuse, the real feeling I've had all this time about the 1999 TSI is shame that I didn't even try to send it out.  Putting it in the drawer was a signal that I was out of contact with my art.  Yes, I was always writing nonstop and developing my craft, but now I see that doesn't really mean much if you're afraid to even try for publication.  That feels like being 70% a writer.  It feels as if you yourself are consigned to the desk drawer.  And I didn't realize until later that 70% commitment to anything is really psychic pollution.
But maybe the long wait was worthwhile, because, however much I was proud of the 1999 expression, another decade gave me new perspective and I could see the faults in the 1999 MS. and how the whole story could be strengthened.  Two more drafts over the last year rearranged and simplified its plot, cutting the length about 25% as it reduced a great deal of interior character thinking and expositional verbiage.  Now I'm eager to send The Soul Institute out, as I think this is my best novel so far.  It's still a long novel, 211,000 words and 853 pages, but speaking as a writer of both short and long novels, I feel the length is appropriate for this work, with its dozens of characters and their complex histories and interactions.  And e-publishing can deal with this length better than print publishing anyway.  Of course you don't want a single line to be boring.  But I do know that well-written long novels can be a special delight.
The Soul Institute explores a chaotic month at a small coastal Texas university founded on royalties from its Director's bestselling novel.  Midlevel computer technician Himal Steina embraces this vast foggy sanctuary when he's appointed Writer in Residence at the Soul Institute and falls in love with one of its numerous faculty goddesses, unaware that he's blundering into a catastrophic jumble of power lust, fantasy life, sexual upheaval, and gang violence.  Several sets of characters eventually come together:
The administrators and faculty perusing turf wars and farcical love affairs amid TSI's increasingly bizarre bureaucracy

The students who came to live the life of Soul and are dismayed by the underlying turmoil

The ninth graders with their separate world of inhalant abuse and violence.
My goal in The Soul Institute, from its first conception, was what I've long called a "Shakespearian fairness" to all characters.  Each character, no matter what his or her moral or mental state, no matter how noble or ridiculous or pathetic, is an actor on the stage of your novel, to be respected and understood, given time to develop, and fully integrated into the framework of the story.  And in the back of my mind, even while flailing at 70%, was the sense that I wanted to present all these character entities and what they meant to an ideal reader.  This ideal reader is sometimes myself, especially in editing mode, but almost always winds up going beyond my personal concerns and striving to connect with other human beings who are open-minded and curious, willing to both severely judge my writing and learn from any honest energy in it.  After I got my writing energy back to 100%, I could see this ideal reader even more clearly.  You want the writing to be as perfect as can be for this reader.  The ideal reader is totally on top of everything.  There is no way to fool or shortchange this reader, just as there is really no way to fool yourself.  For long, that is.
Copyright 2011 by Michael D. Smith