A Writing Biography, Part III: Unhappy Kid Interlude, Yet Two Novels, Sort Of
Or: Wandering in the Wilderness with New Discipline, the Consciousness Expansion of Adolescence, and Many To-Do Lists
This is an odd period to write about, and only this year, after I made plans to write about first The Gore Book and then The Blue Notebook (Parts I and II of this history) did it hit me that before a new opening up in 1968 there was a third period, in which I wanted to write, made plans to write, and did write, but produced nothing deeply satisfying. No real expression was coming out, just a mix of science fiction irony, disaster, and failure. Writing was still emotionally necessary and I never abandoned my desire to be a writer, but the output was increasingly becoming an obligation. Somehow I was disconnected with it and unconfident. I was still writing kid stuff as I was starting to grow up, and it was coming out pretty dark.
It's pleasing to consider Writing History Part I (The Gore Book) or Part II (The Blue Notebook), but there's a bewildering blend of fascination and depression in looking at Part III, 1964 childhood to 1967 young adult. The style matures greatly from the sixth grader's Trip to Mars through the newly teenaged author of the Martian Marauders with his slight investigation of emotion, up through the troubled youngster writing tales of failed Gemini launches and catastrophic Mars missions, accompanied by some surprising kid erudition about space flight procedures gleaned from following the space program. While the TV show The Outer Limits never grabbed me the way The Twilight Zone did, I can see the effects of the often psychically nauseating Outer Limits on Part III work. Though there weren't as many titles as either of the previous periods, there was overall more output, including two attempts at novels. The Part III stories are longer works, more ambitious, and some were placed in binders as if I were publishing a little book.
As Part II mentioned, my only sixth grade story, submitted in October 1963, didn't obtain the praise I expected from my new teacher. There's something murky about the circumstances surrounding "One October Day" which I still can't quite place, but I know that this story marked the end of a fun and productive era of writing. Though I dropped two more stories into The Blue Notebook, one from each of the seventh and eighth grades, after that little failure I knew that the Notebook era was over.
So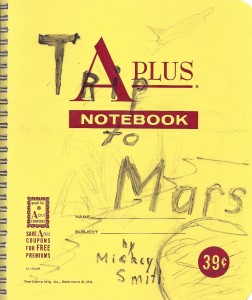 Part III begins with the childish Trip to Mars of spring 1964. In the aftermath of a 2033 World War IV which rendered the Earth uninhabitable and blew up the moon to boot, Jack Commer and the crew of Typhoon I are chosen to spearhead the evacuation of Earth's surviving population to Mars. I wrote fifty-five pages using my existing space hero Jack, giving him three brothers and a shuttle-like spaceship years before the actual space shuttle was developed. At the time I considered Trip to Mars a real novel, yet I recall feeling that the story was dull. I was mainly proud of my longest page output yet.
In October 1965 my friend Sabin came to visit me for a week at our new house in Vienna, Virginia. We'd been corresponding since I moved away from New Jersey in 1962, and our parents had helped us arrange a few visits over the intervening years. The October visit was one of the classic ones, as we both compared new stages of our writing, and I, in awe of Sabin's imagination, strove to emulate him. The friendly competition with the genius Sabin was a definite boost to my writing. During the visit Sabin wrote a fascinating story entitled "That!" and in response I wrote The THING from Planet X. After a sixty-four-second World War III, an alien spaceship offers to take the five hundred survivors to its home world, which (groan) turns out to be Earth. For some baffling reason the refugees from the destroyed Planet X have brought along a monster created by the radioactivity of their war. They'd managed to shrink the beast, but now, exposed to air, it grows to gigantic size and wreaks havoc on Earth cities.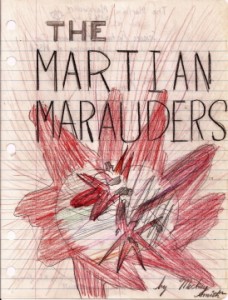 But the main push that came out of this visit was my decision to begin The Martian Marauders before the month was out and stick to a disciplined writing schedule. After the evacuation of the Earth's population to Mars, the crew of spaceship Typhoon I fights native Martian terrorists led by their new human Emperor, traitor Sam Hergs. When the Typhoon is destroyed by a Martian ice ray at Mercury, sole survivors Jack and Joe Commer are captured by Hergs and languish in a Venusian prison, where, after abandoning the novel at 110 pages in March 1966, I left them for decades.
The Martian Marauders was the only happy writing time of the Part III era. I thoroughly enjoyed and felt proud of its first chapters, but the further I got, the more I bogged down in boring scenes and, though I had some projected chapter titles and ideas which I thought could have finished out the book at 160 pages, I just didn't have the wherewithal to continue. A 4/15/67 letter to Sabin summed up how I felt a year later: "Do you remember that book, The Martian Marauders that I got up to 110 pages? Well I wrote it in the eighth grade, and now as I look back on it, it is a lousy story. At least I've improved."
I didn't start anything new in 1966. 1967 brought a more developed and somber style, beginning with The Flight of Gemini X-1, in which Ed Mier and Jim Conway blast off in a modified Gemini space capsule, but the overly eager Ed neglects to depressurize the cabin before exiting for his spacewalk, and Jim, whose visor is still open, dies instantly. Though the ground controllers tell Ed to bring the craft home now, Ed refuses, saying the mission is too important to abort, and he spends the next five days in orbit with a corpse, gradually going insane. Yet during the scorching reentry phase he notices in shock that Jim's hatch was never fully secured. It flies open, and Jim's body ignites and is flung out of the ship. Ed has a second to shout back to Earth that "The craft is in flames! Jim is gon–"
This story was finished on the day of the Apollo 7 fire. I sent it with a 2/5/67 letter to Sabin, which notes:
"This story in this letter was written 2 weeks ago by an ill-mannered peasant who will never succeed as a writer, Mickey Smith. It was written and copyright Jan 26, 1967. However it was finished on Jan 27, but before the Apollo accident took place (so I hope you don't think I have copied off it). For this reason the story must be deplored, as our policy states. However, it will be included here, because I feel it is pretty good, and I have not had time to form another story."
Spring 1967 brought a demented thirty-six-page effort concocted as I shot baskets in our driveway over numerous spring afternoons. The Saga of Billy Bam, Basketball Star riffed off TV commercials in which a wimpy kid basketball player remolds himself into a superstar after drinking grape juice. I made the fourteen-year-old Billy into a foul-mouthed punk who, after missing his 500th point in a row, murders a taunting radio announcer, then blows up the entire sports arena to eliminate ten thousand witnesses to his crime. But when a second stadium of 20,000 fans explodes, a homicide detective finally corners Billy on live TV, and Billy elects to commit suicide by hand grenade.
I've often called my ninth grade year in Wilmington, Delaware my Lee Harvey Oswald loner year. I kept entirely to myself, not bothering to make friends in a new environment I was sure would only last one school year anyway. "Saga" sums up the feelings behind this year, with heretofore unexpressed sardonic humor and a strangely satisfying plot arc; it became the basis for 2008's Ocean Singe Horror.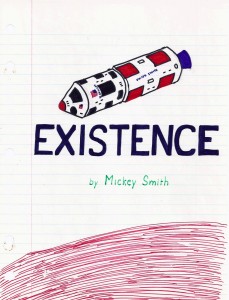 But Existence from June 1967 veers back into all the ironic SF doom of the period. Major John McCarthy flies the one-man Neptune III on a six-month journey to perform the first manned circumnavigation of Mars, but his ship fails to reappear from its trajectory around the far side of the planet. Ten years later his friend Colonel Jim Stevens, in command of the six-man Theseus IV, makes the first manned landing on Mars. The crew finds the crashed Neptune III, McCarthy's emaciated but well-preserved body, and his tape recording detailing his crash.
Though I left "Existence" unfinished, I knew how it would end. McCarthy's recording would describe his solution to the oxygen problem, his discovery of edible Martian plant life, and finally, years later, the unexpected loss of his food supply. But McCarthy winds up weakly describing the landing of the Theseus IV, and his last feverish words are a hope that he can be saved–and it dawns on the Theseus crew that McCarthy died just minutes before their arrival.
Ironic, isn't it?
That summer I also wrote a detailed outline for a story, Pegasus Reports Failure, but though it wasn't a bad plot, I couldn't force myself to write it, and it would take me another year to understand that I'd outgrown this sort of thing: Russia and the U.S. are fighting for control of world government, but the Russians are currently on top and decree the end of all space exploration. A secret team of U.S. scientists get four old spaceships and crewmen. Russia destroys one ship, two are lost by accident, but the last, Pegasus III, survives to encounter alien ships coming to attack Earth. The aliens radio the ship to demand its surrender. Though the Captain doesn't wish to, the first mate and the rest of ship do, the aliens having promised them luxury for the rest of their lives. The captain and two followers activate their last hydrogen bomb and launch the ship on a course for the aliens. The bewitched first mate and his crew set the captain and his two followers adrift in space to die slow deaths, but the captain at least has the satisfaction of seeing the H-bomb explosion that takes out Pegasus III along with the alien armada.
Yet another failure to complete an exploratory mission … maybe a bit of heroism this time.
The fall and winter brought two disgusting attempts at trick endings and a final catastrophe story to end Part III. In The Menace, a monster attaches itself to a man's face, sucking the life from its paralyzed, helpless victim, but in Cute Twist Ending Experiment I, the monster is revealed to be a newly-lit cigarette. This is teenage moralizing crap, but the horror part worked well up to that point. In The Accident at Runway 502, pilot William Jolson launches his experimental craft but it crashes and Jolson is trapped in the mangled wreckage of … in Cute Twist Ending Experiment II, little Billy Jolson's overturned tricycle, which he pushes back to the family garage, rubbing his skinned arms and legs.
It's telling that I immediately needed to rewrite this piece of fluff into Test Flight! Here pilot William Jolson launches his experimental craft but it crashes and Jolson is trapped in the mangled wreckage of … his C-X3 jet plane. Borrowing heavily from the gruesome pre-cute parts of "Accident," the story describes Jolson's matter of fact appraisal that his arms and legs, tangled in the debris of his shattered cockpit, are now "probably nonexistent," then veers into his fresh panic at noting flames on his fuselage creeping closer. Yet when he sees rescue trucks heading his way he reverts to calmly considering possible causes of the accident and the report he'll make to his superiors.
The last sentence of this December 28, 1967 story and of the entire Part III era?
"After the explosion the men of the rescue squad said they could have saved him, had they been two minutes earlier."
Also included in the 1967 writings is a checklist of stories I'd completed and others I felt I should write. This checklist gives me a definite cringe. It's so like me to have such a to-do list, but the guilt wafting off that page is obvious. It includes "The Saga of Billy Bam," the only one checked as done, "The Motionless Man," which I have no memory of, "Existence," "The Return of Billy Bam," and, as "being written," The Martian Marauders, and, as "to be written this or next year," Trip to Mars. While it's interesting to see Martian Marauders and Trip to Mars still considered for completion or revision, I suspect I really didn't want to do either. "Existence" itself is unchecked and I may have made this list after its first twenty pages, trying to goad myself into finishing it.
I revised the tone of the initial draft of this post after rereading my 1967 letters to Sabin. I'd initially pursued a rigid thesis that I'd felt "unworthy to be a writer" at the time, that Part III was a Dark Ages needing its Part IV Renaissance, but that's an exaggeration. Yes, the writing since 1963 wasn't as satisfying as The Blue Notebook period, but there's such quirky good humor in the Sabin letters, and so many memories of newly-expanding consciousness arise as I go through them, that I can't just consider this period a clever, easily-defined theme for the blog.
And I have to remember something I said in a February 1972 letter to Sabin: "During the time of my childhood, under the guidance of my teachers Sabin Russell, fifth grade teacher, other glarfy kids, God, mommy and daddy, I began my writing career (any occupation that has lasted for twelve years is a career)."
So I never considered there was a time when I was not writing and trying to improve what I was writing. No Dark Ages. Not exactly.
We close Part III of my writing history. 1968 and on was definitely something else, like the inflation of the universe after the first primordial nanoseconds. I have loose ideas about a "Part IV" that would run through "Space, Time and Tania" in the summer of 1974, after graduation from Rice, but … that doesn't feel quite writable yet.
Copyright 2014 by Michael D. Smith