The UR Jack Commer: A Look at the Childhood Beginnings of the Commer Saga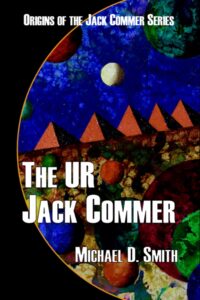 Okay, why revisit this early stuff????
After publishing seven Jack Commer novels I felt a need to pull together Jack's entire history starting from my first fifth-grade story about him. That was the story that electrified my nine-year-old self. Although I'd already written several science fiction stories, "Voyage to Venus" was the first time I'd finished one and said to myself: Wow, this is cool, this is where I belong, this is what I want to be doing! It began my writing path. I also debuted here as an entertainer; when I read my SF stories to the class, even the enemy class bullies were spellbound.
So Sortmind Press has come up with:
Smashwords eVersions. Normally $1.99, but coupon code MP85G will make it free in numerous eBook formats, including EPUB, MOBI for Kindle, and PDF.
Adorable little mass market paperback on lulu.com. This does have a price, but it's a lovely volume.
To keep this book and a short forthcoming companion, The Balloon Ship Interviews, feeling separate from the published series, I decided to publish only mass-market paperback versions of each on lulu.com, and to offer them in various eBook formats on Smashwords, but not make 6" x 9" trade paperbacks or add them to the series lists on Amazon or Smashwords. I consider them promotional in nature, somewhat like the marketing postcards you hand out at book fairs.
The UR Jack Commer consists of early and later experiments that never made it to the published Jack Commer, Supreme Commander series. Included also is high school's "The Legacy of Jack Commer," which was probably the real spark of this book. It took me quite some time to hunt down my ancient box of high school essays to find this class assignment that had reverberated over the years. I'd never forgotten it, but upon discovery it wasn't quite how I'd remembered it.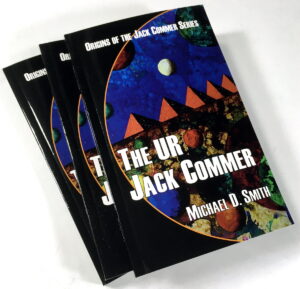 Kid consciousness unfolds in increasing maturity through the first few stories and the abandoned eighth-grade draft of The Martian Marauders. Then "The Martian Holes" showcases my wild, sloppy, but somehow still amusing post-college writing style. The interviews with Jack in "Zorexians" develop a new adult flavor; in addition to finally admitting that he's way in over his head with the sexy, unattainable Jackie Vespertine, Jack also muses on his long acquaintance with me and critiques my writing procedures.
We conclude with an aborted 1987 attempt to rewrite the eighth-grade version of The Martian Marauders. There were numerous difficulties integrating child and adult consciousness which I didn't resolve until years later, when I resurrected much of this first dropped chapter and revised the book into a fast-paced adult novel, then wrote a cycle of Jack Commer novels.
copyright 2021 by Michael D. Smith