Presenting Balloon Ship Armageddon, or, Nine Astronauts Were Walking to a USSF Meeting, or, Jack Commer Shot his Spaceship Directly into the Sun
To the Astute Reader of This Blog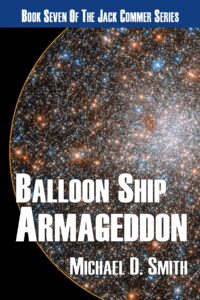 Certainly the reader will recognize in the "nine astronauts" phrase the fifth-grade, September 19, 1962 first line of "Voyage to Venus," introducing space pilot Jack Commer. It's elegantly followed, of course, by Jack's musing farewell to the series from his published blog interview. That's a lot of decades of Jack Commer, during which time I've reveled in the childhood-to-adult themes of this series, channeling new writing through old myths and old visions. But I still don't know why Jack has stuck with me for so long.
In any case Sortmind Press has just published Balloon Ship Armageddon, Book Seven of the Jack Commer, Supreme Commander series.
Amazon paperback
Amazon eBook (Kindle format)
Smashwords eBook (multiple formats)
Jack Commer's murdered son Jonathan James finds himself recreated as a bio-robot of the Wounded, a race that destroys stars for kicks. Eight hundred years later he rises to captain Balloon Ship Armageddon on a toxic waterworld in the Large Magellanic Cloud, but he's terrified by the ancient, inexplicable star map in his cargo hold that warns of an abrupt termination of the universe.
Wounded soldiers abandoned in the Cloud have yearned for the mystic return of long-departed Class A Wounded Draka Sortie, and their redemption from 124,400 years of inexplicable warfare and suffering. On realizing she's been appointed executor of Draka's estate, Dr. Amy Nortel claims that the myth actually means the construction of a Dyson sphere in the Large Magellanic Cloud that will destroy the entire Orion Arm of the Milky Way. But the executor documents transmitted in the last frantic milliseconds of Draka's life are fragmentary and corrupted, and it turns out that Dr. Amy has no clue what Anti-Dark Energy really entails.
The Jack Commer Series Overview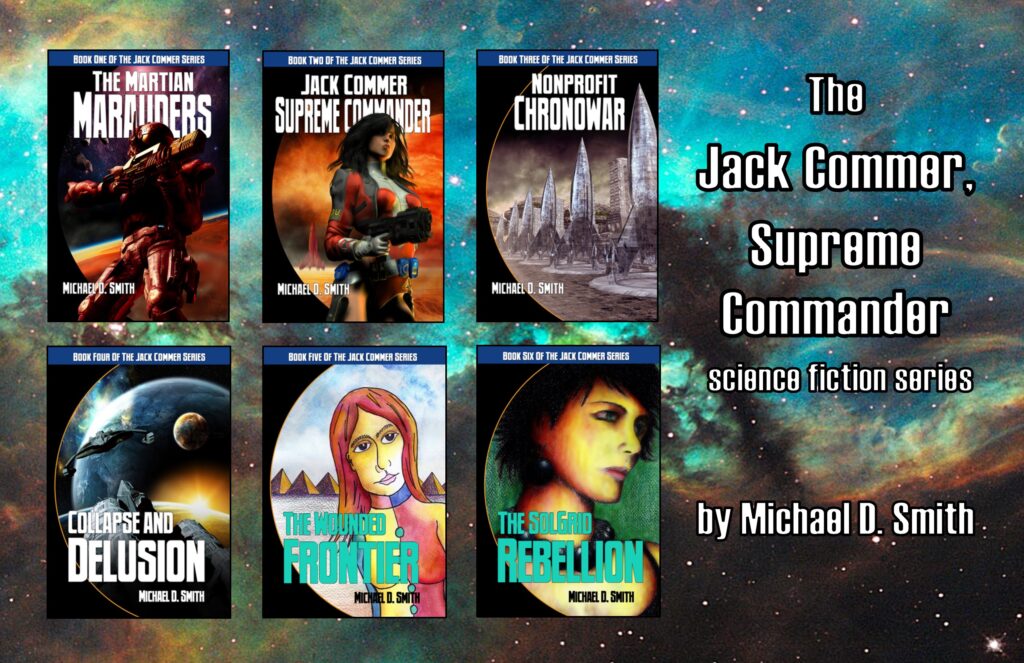 With the shocking suicide of the Typhoon I, the most powerful military spaceship ever built, the four Commer brothers are reduced to two. After the horrors of the Final War, the evacuation of Earth, and an unexpected conflict with native Martian terrorists, is eldest brother Jack really fit to lead the United System Space Force? Yet despite stress bordering on hysteria he always seems to come up with the proper solution. Shy with women but easy with command as opposed to his passionate, guilt-ridden brother Joe, when promoted to Supreme Commander Jack passes over numerous ambitious admirals and holds onto power for decades with the newest rejuvenation technology. But has he ever really recovered from the responsibility of overseeing forty years of futile time war with the Alpha Centaurians?
Written to be the Seventh and Last Jack Commer, but Contains a Loophole for an Eight
Even as I composed Balloon Ship Armageddon's rough draft in 2018, I was feeling that the original Jack Commer series publisher wouldn't continue much longer, and that I'd probably self-publish this final book. The end of the Jack Commer series is karmically coinciding with changes in how I'm viewing this entire publishing trip. Some course corrections are needed, which I will no doubt muse upon in future posts.
Upon finishing edits and republication of the first six books, then putting out Book Seven, I have a sense of "overwhelming exhausted accomplishment," but so far I can't find any grander philosophical and blog-worthy perspective than that. I'm certainly glad I got the chance to redo the first six books, and that this process also informed Book Seven. As for whether or not Balloon Ship Armageddon is the final Jack Commer, I'm at peace with that for now. I  can say it is or it isn't and not feel any pangs either way.
I did realize after completing the novel that it does share characteristics with the steampunk genre. I mostly appreciate that genre for its visual aspects; just think of the time traveler's chair in H. G. Wells' The Time Machine. But I was also somewhat startled to grasp how extensively Balloon Ship Armageddon emphasizes themes of negativity, unresolved crap, sin, annihilation, ignorance, and deluded fantasy life. Yet all the while I remained focused on Jack's sunny and perhaps naïve confidence that he can pilot a brand-new Typhoon VIII straight into an Anti-Dark Energy star and navigate straight to the n-dimensional source of the problem. His robot dog Edward calls that "rewriting the universe."
Maybe Jack will do that in Book Eight.
copyright 2021 by Michael D. Smith
Balloon Ship Armageddon – more info
Jack Commer Series on Amazon | on Smashwords