Jack Commer Book Seven Interviews, 7: Waterfall Sequence
Mike: Now we come to a fascinating character, Waterfall Sequence of the Ywritt. The Ywritt were briefly introduced in Book Five, The Wounded Frontier, as the Wounded's latest victim during the shrouding of the star Iota Persei with a Dyson sphere. However, the Ywritt remained backstage in Book Six, The SolGrid Rebellion, functioning more as a means for how Jackie Vespertine, professor of Exobiology, and other members of the Committee to the Ywritt might relate to strange, foggy aliens. But we foresee interesting developments for the Ywritt in Book Seven. Welcome, Waterfall Sequence.
Waterfall Sequence: Greetings, young, inexperienced human author.
Mike: For the benefit of readers of this interview, Waterfall Sequence is alluding to the fact that he is well over ten thousand years old in human terms.
Waterfall Sequence: Technically I am, in fact we all are, "it," not "he" or "she." However, as we've begun picking up the human tendency to assume gender, based on sense impressions and unconsciously held assumptions, for instance a telepathic contact sounding in the listener's mind as a deep "male" voice, or a pastel-colored sphere feeling "female" to the human, we have gone along with gender assignments for the sake of assisting with communication with your race. At first contact I was assigned the status of "male" by Patrick James of the United System Space Force, and have chosen to accept that.
Mike: I may as well add that across from me in the Smith Writing Studio is a bubble of swirling fog approximately seven feet in diameter. Waterfall Sequence has a blue-purple coloration, though hints of red and orange appear at times. We've come to understand that the spherical fog is the easiest and loveliest shape for a Ywritt to maintain, but that any Ywritt can increase or decrease that size, change into flowing or formless mist, and is able, with proper amounts of energy and what we would call "meditation," to assume a variety of shapes and sizes. They can create appendages to manipulate tools, build technological machines, and so forth. The Ywritt are also known to be master communicators, and Sol is currently in negotiations with the Ywritt to act as ambassadors to other races we may encounter in our travels.
Waterfall Sequence: All quite true. Your Book Six also pointed out that we never developed Star Drive because, basically, we were content to hone our communication skills between planets of Iota Persei. What has only been mentioned in passing in Book Six is that the characteristics of the most sentient beings on the third and most developed planet, Yaraltar, came to dominate all other species of varying degrees of sentience, numbering over two hundred, so that all eventually became combined into Ywritt. When the Ywritt then encountered other forms of life on other rocky planets and gas giant moons of the Iota Persei system, we were able to incorporate them into the Ywritt fairly easily. I will also point out that this homogenization of first an entire planet, then the rest of the solar system, came about not through conquest but through eons of negotiations and logic.
Mike: And yet, in the series so far, the Ywritt are pretty undefined, as are you yourself, Waterfall.
Waterfall Sequence: Waterfall Sequence. The entire name must be used. We do not shorten our appellations into nicknames as you do, even in the rough translations into English such as Waterfall Sequence.
Mike: Well … sorry, then. I didn't know that.
Waterfall Sequence: What you and I just exchanged was a form of Ywritt negotiation. I trust you are familiar with Joe Commer's frustration at not being able to communicate with us on his own terms?
Mike: Right. Let me find that passage in The SolGrid Rebellion: "Joe didn't relish asking Waterfall Sequence or any other Ywritt for permission to search the Iota Persei system … it might take a whole day to interface with those damnable Ywritt Mandarins. The idea of the Ywritt being 'master communicators' had long since soured on Joe. They seemed to take delight in obstructing communication. Maybe that was a form of communication right there."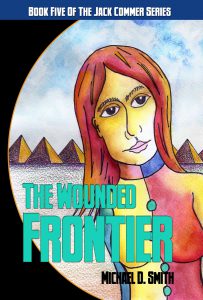 Waterfall Sequence: Yes. So right. My friend Jackie Vespertine has also theorized that we have been so traumatized by thirty-four of your years of being trapped by the Wounded's Dyson sphere, during which time we obsessively played with quantum computers and artificial universes in a vain attempt to escape, that a certain percentage of us went what you would call "crazy" and that there is therefore a certain defensiveness and paranoia throughout the Ywritt. While our daily use of telepathy is not compatible with, or very much similar to, Martian one-way outradiance, we do propagate our race-mood throughout all members of the Ywritt over time, in a similar way that the Total Martian Outradiance does, and thus a certain level of defensiveness has crept into our culture, even as we celebrate our freedom from the Wounded and our eternal gratitude to Jack Commer and Sol for saving us and rendering all the technical assistance they have.
Mike: So are you saying that Joe is misinterpreting your defensiveness as obstruction?
Waterfall Sequence: Yes. Of course the two concepts could be considered synonyms.
Mike: Hmm. So what role do you see for the Ywritt, as embodied by yourself, in Book Seven?
Waterfall Sequence: Difficult to say. Obviously Iota Persei 2, the second planet of the system, is the stage for the first scene, Rick Ballard's unfortunate demise. However, the fact that Jack Commer may suspect the Ywritt of seeking to aid Rick Ballard in illegal activity on behalf of the Wounded opens some interesting plot speculations. Separating the three entities Rick Ballard, Johnathan James Commer, and T'ohj'puv from the single chromium pyramid into essentially Wounded robots would be considered a monstrous betrayal of all the help Sol has given us.
Mike: Yes, there is definitely a sense in the USSF that the Ywritt may be trying to play both sides of the street, even though the Wounded threatened the total destruction of Ywritt culture. To Jack this is simply incomprehensible.
Waterfall Sequence: And we understand that. However, we would insist that the Ywritt libraries of Wounded technology appropriated during the Long Sphering of Iota Persei, as we call it, are essentially kept only for archival purposes, and that we the Ywritt do not even pretend to comprehend Wounded technology despite the constant sorting and querying of all that documentation through our most advanced quantum computer technology. And thus the Ywritt would be incapable of wishing to assist the chromium pyramid, which in fact penetrated Iota Persei without our permission and sought to use a secret Wounded hospital facility on Iota Persei 2 we were not even aware of. Yes, Rick Ballard made initial contact with us but was told to leave the system immediately, which he refused to do.
Mike: But after some recriminations back and forth after JJC flees Iota Persei, you then decide to accompany Jack and Amav to the Greater Magellanic Cloud in an unusual way.
Waterfall Sequence: Yes, the integration with the Jim Commer Heroes and Villains of the Thirties robot, upgraded like General Douglas and Laurie 283 into a machine of unfathomable complexity and intelligence, looks interesting. We are aware of the trauma that Jack Commer will face in encountering a perfect replica of his dead brother Jim. We are also keenly aware that this same ploy, as you might term it, was used in Collapse and Delusion when Jack met John, the robot of the other dead Commer brother, John. However, Jim will represent a closing of the circle, the other shoe dropping, to use one of your metaphors. It's necessary for the series for Jack to have some sort of closure, no matter how artificial, with both John and Jim, and that it be in a karmically similar manner: the use of obsolete, but now upgraded, HAVOTT robots.
Mike: Yes, I was thinking that myself.
Waterfall Sequence: Furthermore, settling my Ywritt consciousness into the mechanical circuits of the Jim HAVOTT represents an interesting technological challenge. We have done similar things before, but not with a machine of this complexity, and certainly not one based on a human form. The original primitive human software of the HAVOTT robots is also something we Ywritt find strangely beautiful and compelling. In any case, the conflicts that arise force the Jim entity–which we do regard as a real, living being–and myself into fusing our personalities into a religious figure, a prophet called Tri-Collarie. The loveliness of HAVOTT programming is probably why I go along with being assimilated into this new figure. How Jack reacts to the development of a double-selfed religious entity will be fascinating to observe.
Mike: I imagine he'll be whipsawed in all directions.
Waterfall Sequence: And as that happens, I will be allowed to develop as a character. As I assume Jim will, too. As you are aware, he had a significant role to play in The Martian Marauders. Only one scene, but it showcased the dysfunction in the Commer household. Now more of that dysfunction comes back to haunt Jack. The peacemaker third brother has a religious streak, and begins to unravel some of the metaphysical tangles of this harsh, ruined universe. Much to Jack's dismay, we may add.
copyright 2018 by Michael D. Smith