The Karma of Fancy One-Line Blog Posts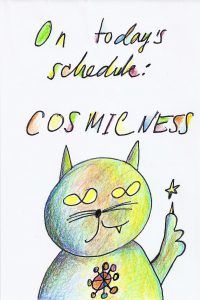 I don't pay much attention to my list of ideas for blog posts, because new ideas keep arising and, when I do peruse my notes, I see many I've retained out of obligation and which I know I'll never write. 
Several have remained just a title and a single sentence of notes, but as one-liners describing the marketing life of a certain author, they have their own expression; as full-blown posts they'd be ponderous. 
So, thinking entirely of the reader's convenience, I purge them out of my system.
Blog Post 1.  What We are Told to Do
What if what we are told to do to succeed may simply number us among the vast majority of merely OK writers?
Blog Post 2.  Let's Agree on a Common First Sentence
If it's so damn important, it could be licensed for use in every novel.
Blog Post 3.  Are You Ready for AI Authors?
What about when we're competing with computers for authoring formula fiction?
Blog Post 4.  Glory
Are you after "glory," like some politician Civil War general?
Blog Post 5.  A Very Special Jack Commer Christmas
Every Christmas for the last several years I've thought about writing this smarmy satire, but I have no notes for it, not even one line. The very thought of composing it makes me gag. I just can't do this to my Jack Commer series, even though of course I know that a special Christmas story would guarantee bestseller status for all six books. But let the title alone suffice.
copyright 2018 by Michael D. Smith