The SolGrid Rebellion in Paperback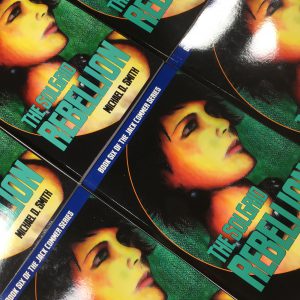 The SolGrid Rebellion, Book Six of the Jack Commer, Supreme Commander series, is now out in paperback at Amazon. The novel expands a theme introduced in the previous books, the possibilities of telepathic understanding shared among an entire race, versus justifying the fascist control of that telepathic system as a defense against possible hostile aliens. The Sol System has adopted the buggy SolGrid telepathic network designed by former United System Space Force officer Patrick James, but Jack Commer's charismatic but troubled son Jonathan James instigates a rebellion against what he considers brainwashing. His followers include his lover Suzette Borman, exobiologist Jackie Vespertine, SolGrid First Assistant Sanders Hirte, and warrior dog Trotter.
I'm about two-thirds through the first draft of a seventh Jack Commer novel, Balloon Ship Armageddon, and the plan is to end the series with seven. It's time to move on from this genre … probably … although, who knows?
Copyright 2018 by Michael D. Smith
More on The SolGrid Rebellion