Jack Commer Book Four: Collapse and Delusion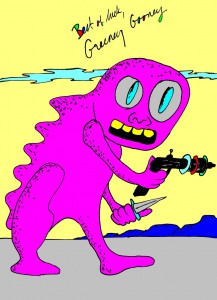 The fourth book of the Jack Commer series, Collapse and Delusion, has been accepted for publication by Double Dragon Publishing.  I just finished this novel, which showcases the core characters from the series and begins at the wedding of September 17, 2038 to which four time travelers at the end of Nonprofit Chronowar (Book 3) are heading.
Then, kidnapped by Alpha Centaurians to 2049 along with Jack Commer's infant son Jonathan James, former Typhoon II ship's engineer Phil Sperry struggles with his reversion to Centaurian brainwashing and his treason to the human race.  His lover Hedrona Bhlon, who resists Conversion to the Centaurian Grid, is considered an Animal and must fight as a Gladiator of the Sled for four years.  In May 2053, when the Emperor dies and the Grid collapses, the two rescue Jonathan James and his robot attendant, John Root, an irritating recreation of the youngest Commer brother John, who died ramming the Typhoon I onto Mercury.
In June 2075, after twenty-two years of Gridless Alpha Centaurian misery amid futile Martian counseling efforts, Phil must challenge his mentor, the non-telepathic Martian G'rea'nyaigu'nye, a name shortened by human colonists on Mars to Greeney Gooney.  Gooney, onetime terrorist, Mayor of Marsport, and Martian Star General, has inexplicably declared himself Emperor of Alpha Centauri.  Meanwhile the robot John Root gloats that he inserted malware into Jonathan James' bestselling, libelous, father-bashing autobiographical novel that will spread a new Grid throughout Alpha Centauri.
Books in the Jack Commer, Supreme Commander series:
1.  The Martian Marauders – published by Double Dragon Publishing January 2012.
After the evacuation of the Earth's population to Mars, the crew of the Typhoon I spaceship must fight native Martian terrorists led by their new human Emperor, political agitator and traitor Sam Hergs.  But Captain Jack Commer compromises the mission when he kidnaps the Emperor's consort and falls in love with her.
2.  Jack Commer, Supreme Commander – coming 2012
Jack Commer brings poor negotiating skills to the war with the fascist Alpha Centaurian Empire, losing his crew to Centaurian brainwashing as he and his wife are sent to be tortured on a barren planet.
3.  Nonprofit Chronowar – coming sometime between #2 and # 4!
Ranna Kikken creates The Committee to End Suffering on Planet Earth at her nonprofit Cat Farm, but its first conference in 2020 is destroyed when intruder Joe Commer time travels from 2036 to lecture CTESOPE on the coming breakdown of the solar system and the destruction of the Earth itself in 2033.
4.  Collapse and Delusion – coming 2013
copyright 2012 by Michael D. Smith