Harray Andreall's Wedding Night, July 1975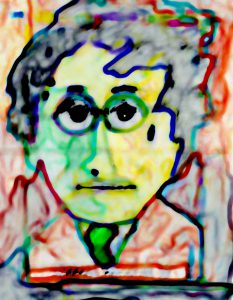 A cinder block falls on Akard Drearstone's head and he trades his print shop job for lead guitar. Months later, as the four members of the Akard Drearstone Group face the onslaught of national fame, Akard decides to throw a demented wedding reception at his rural Texas commune to honor manager Harray Andreall. But on the way to the commune Harray fights with his bride, the Exponentialist philosopher Michelle Morgan, in front of two hundred guests at the Austin airport.
"Dammit, keep quiet, bitch! Everyone's gonna think we're assholes!"
"Ah, fuck you, jerk!" Michelle wrenched open a glass door and stomped away.
"You can't call yourself mindful!" Harray screamed after her. "You'll never be able to call yourself mindful!"
She was gone, mixing into a group of well-wishers. Harray went to a public phone and opened the Yellow Pages to Electrical Contractors. Damn, it was bad again tonight. But maybe he should try to keep up with the feeling this time. Retain his calmness, his complete lack of mood.
Like, the Buddhists said that the true disciple attended to the path without getting hung up on being the disciple. In a way that described Harray perfectly. He'd never made the mistake of taking this mindfulness meditation seriously. He just used it where necessary. And that made him a true disciple, a monk of the path, didn't it?
So Harray had a responsibility to himself and to the universe to make sure Michelle's petty anger didn't prevail. He might be damn depressed, but he could still observe, still let karma work itself out.
But he regarded the dull people moving through the terminal and sighed. It was hopeless. Two hundred losers heading off to one more party to distract themselves, to act out their same asshole karma over and over again … and he knew this was what Buddhism was all about. All is suffering.
But the Buddhists saw the suffering and got some sort of cosmic perspective out of it, whereas Harray's stupid depressions led nowhere. He shuddered to think of all the trivial crap he performed like a machine every day, never grasping any of it. No matter how much he watched his damn breathing, did he ever get any cosmic perspective? Shit, no! Maybe it was time to blow off a little steam. Maybe there wouldn't be any cosmic perspective, but Harray could still work himself into a damn good snit. He could overwhelm a roomful of plastic partygoers with one of his foul moods, and it would serve them right.  His despair would show them just how miserable their own lives truly were.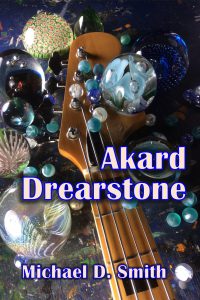 Deeper into that same night, contemplating the dissolution of his hours-long marriage, Harray finds a dead body packed in ice on the second floor of the commune barn. Though he tries to convince the sullen members of the group that their musical experiment is worth continuing, Harray's boss gets arrested on murder charges, the record company veers towards collapse, and Harray is dumbfounded to discover a second killing perpetuated by another band he manages.
copyright 2019 by Michael D. Smith