Jim Commer from The Martian Marauders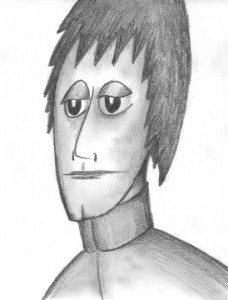 Typhoon I Navigation Officer and the third of four Commer brothers.  From The Martian Marauders:
Jack and Joe swiveled to him. "C'mon in. Shut the door behind you and take a seat," Jack said, indicating the third seat at the rear of the Control Room.
Jim did so. "What's up?"
"Well, we've got three hours before we hit Mercury, not much to do … and … well, I'm sorry, Jim, but this is really the only time we can talk. I know it's awkward …"
Jim looked back and forth between his two older brothers. Like him, they were wearing their clean red, white, and blue ship uniforms. But they looked embarrassed. Jim tried to think what he could possibly have done to get dressed down by his brothers.
"Well … well … what's going on?" he managed.
"Well … it's John," Jack said. "We have to do something about him."
"Oh …" Jim said.
"I mean, I don't want to be ganging up on him, but really, this just can't go on."
"Are … you sure we should be discussing it … now? I mean … on this mission? I mean, with everything at stake?"
Jack sighed again. "When else can we discuss it? We haven't had a second …"
"I … I just don't think this is the time …" Jim muttered. "We can't have … can't have … loss of morale …" Jack should know that! he thought. Isn't morale a ship's captain's primary concern?
"I hate to say it, but I agree with Jack here," Joe put in. "John could've gotten us killed yesterday in that saucer attack. He just wasn't reacting, wasn't following orders–he gets so–so dreamy and out of it–"
Jim looked away. Of course Joe was right. Then again, it was just like Joe to always stick up for everything Jack said. The two of them stuck so tightly together–the command crew versus the commoners on the ship. Jim sighed. He didn't want to go down that ancient path again–the Jack/Joe axis versus the Jim/John axis. The two older brothers versus the youngest. But Jim always had to play that role, had to be John's defender, even though he'd always found John childish and irritating and secretly wished the axis could be Jack/Joe/Jim, the mature ones, with John somewhere off to the side.
"You can't … can't split the Commers," Jim said. "I can't believe you're saying all this stuff … now …" Was it just that Jack was so stressed by all these responsibilities? By the saucer attack, by the skirmish in the desert today? The skirmish Jim couldn't even think about yet?
"We have to say it," Jack countered. "I've got eight lives at stake on this mission–on every mission from here on out. John's not–he's not making it. We've given him all these chances and–and now–"
"He performed very well during … during the war … during the Evacuation …" Jim said feebly.
Jack swiveled back and forth and crossed his arms. "He performed poorly. We all know that. Everyone on this ship is always having to stop and hold his hand."
"This–this is our brother …" Jim protested, wondering whether these two might size him up in the same tones as soon as he left this room–which he fervently wished would happen right now.
"And that's why he's been protected all this time," Jack went on. "Because he's our brother, because everyone thinks it's cool how all four Commer brothers got into the USSF and are serving on the same ship. We have this media image to maintain and it's getting pretty silly if you ask me."
"But he's not bad at all! You know his IQ tested at 160." Jim pointed to the command console behind Jack. "I hope you have the intercom off for this!"
Jack glanced back. "It's off. Jim, look. We need your help on this. Joe and I have been discussing this for a while, but after John's performance in Scott's office today … well, we knew something had to give. I mean, everyone heard me let him have it outside Scott's office, but did it do any good?"
"You were pretty harsh with him," Jim said.
"And he acted like he just wasn't going to listen! Stuck his nose up in the air and pretended I wasn't there!"
"Which enabled you to completely lose control of yourself right out in the hall," Jim pointed out. "I'm sure Scott heard everything."
"Yes, I'm sure everyone on the 130th floor heard everything. And yes, I'm ashamed for losing my temper. But don't you see, Jim? This is a military organization, not a family! Anybody else who talked back to me or Scott like that, they'd be cleaning toilets on what's left of Europa! But John–he gets this special protection, whether or not he's endangering the crew and the entire population of Mars! Don't you see the necessity of doing something? What would you do now?"
"I … I don't know …" Jim said, agonizingly aware that he himself would not give John one more chance after what happened at Scott's office a few hours ago.
Copyright 2014 by Michael D. Smith
The Martian Marauders is available as eBook and paperback from Double Dragon Publishing, amazon.com, and barnesandnoble.com.