I Threw Jump Grenade a Little Further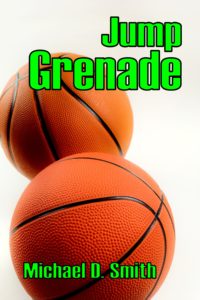 A psychopathic Junior Dropout Basketball League star kills a radio announcer with hand grenades, then blows up an entire sports arena to erase all witnesses.
Published by Sortmind Press, Jump Grenade is now available in numerous eBook formats from Smashwords. I published this short novel on Amazon with Kindle Select status in October 2019, but in the meantime decided that I'd rather have more places and formats for the eBook version, and so, after Select status expired this June 28th, I also published the eBook on Smashwords. Once you buy from Smashwords, you can download the book from its website in numerous versions:
EPUB (for instance, Barnes & Noble Nook, Apple Books. Kobo, etc.)
Mobi (Amazon Kindle format)
PDF
HTML
and other formats shown on the product page
Smashwords also ports the book for sale at Barnes & Noble, Kobo, Apple Books, and other venues. Jump Grenade is still available in these formats:
Kindle eBook
Amazon Trade Paperback
lulu.com mass market paperback
Bonus! Ineffable Satanic Software Horror
I'd assumed I could make a quick upload of Jump Grenade to the Smashwords site after the book's Select status expired on Amazon, but I found myself locked in a truly insane struggle which I couldn't solve through 1:00 AM and which I finally had to force myself to disengage from. The problem was the Mobi version which displayed all red font in some attempts, and a mixture of black and red font in others. And so I plunged into the maddening whirlpool of "doing the same thing over and over in the expectation of different results."
I do give myself credit for sticking with different experiments and at least I didn't collapse at my desk at 3:45 AM hammering away at Ineffable Satanic Software Horror. I knew around 12:50 AM that one last experiment was all I had left and that I had to shut down and rethink this. And much refreshed by sleep, and after checking a troubleshooting passage on smashwords.com, I found that there was a Body Text style in red font, that, though not currently used in the document, was underlying/influencing the Normal. Once that style was removed, the book finally went through all right in Mobi (Kindle) format.
Then the next day I found that I needed to finagle and resubmit the document to ward off some mysterious Table of Contents problem in the EPUB version. I didn't even want a table of contents! But after my Satanic lesson I just calmly figured out the problem and in so doing restored the dedication to my wife Nancy which I initially assumed wouldn't work in this version.
All very educational. I seem to have a little better understanding of Word styles now and if I ever want to build a table of contents, I have the tools. I do try to keep the novel clean with only two styles per document: Normal and Centered. But others seem to lurk.
Super Bonus if You Keep Reading this Post! A List of Major Characters
Billy Bolamme, sixteen-year-old wunderkind of the Junior Dropout Basketball League, a shamanic force of death and destruction who changes his name to Ocean Singe Horror on an LSD trip during a basketball game
Guenevere "Universe" Ryder, art gallery receptionist, Billy's sixteen-year-old girlfriend, and unwitting accomplice in thirty thousand murders
Hiram Pebley Bolamme, Billy's father, coach and owner of the Bolammes basketball team, an ineffectual, dreamy art gallery owner as well as a wealthy do-gooder who started the Junior Dropout Basketball League with his wife Madeline
Dan Ryder, Bolammes regular announcer, Universe's father, and the man who must finally summon the courage to confront Billy
Frank Chester, former Bolammes player, now Bolammes co-announcer, but unfortunately quite doomed
Double Extra Bonus! Other Characters
Madeline Bolamme, Billy's mother and the director of the Bolamme Center for Hurt Feelings
Mongar Frederick, detective with the Plattville Homicide Bureau
Emala Ryder, Universe's mother and dean of the Billy State University School of Library Science
Jonathan Mueller, surviving witness of the Baltimore disaster who dies after giving testimony about Billy's involvement
Copyright 2020 by Michael D. Smith