It's about Time … and about Space …
Another review by author Toni V. Sweeney, this time for the third volume in the Jack Commer series, Nonprofit Chronowar.
Nonprofit Chronowar by Michael D. Smith
5 Stars
One minute it's the year 2036 and Joe Commer is about to consummate his lust for Huey Vespertine's wife Jackie … the next, he finds himself at the podium of the 2020 CTESOPE … The Committee to End Suffering on Earth. What follows is a comedy of errors as well as numerous tragedies as Joe realizes he isn't in love with Jackie but with her sister Ranna, who is head of CTESOPE and also will die in the mass evacuation of Earth shortly before Joe and Jack drop the Xon bomb on the planet.
In no time at all, thanks to Heuristic Time Transition, which everyone knows exists but all deny, Joe, Ranna's lovestruck assistant Urside, his girlfriend Mandy, and various other participants are hopping all over the Space-Time Continuum, trying to find themselves, and each other, and make certain everyone who should survives the destruction awaiting the Earth in three years …
Meanwhile, back in 2036, what about this Celestion business?
… and what does Ranna's cat Churchill have to do with any of it?
Again, this is another Jack Commer novel which is difficult to synopsize. We learn Joe has resigned from the USSF. He's now partners with Huey Vespertine in a GaiaNet radio show. The Alpha Centauri-Earth peace is holding … or is it?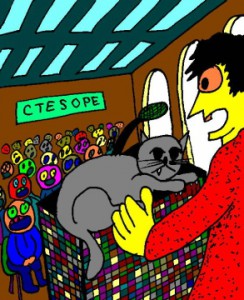 The rest of the gang, from Martian Emperor Dar to Jack himself and all characters in between, as well as some newcomers, are all in attendance. First and foremost, however, it's Joe's story and he runs with it … sometimes slightly amuck.
Don't take my ramblings at face value. Read this entry in the series for yourself. It's by far the best because it re-examines some of the things happening in the previous two and gives a little more explanation.
I'm not a fan of time travel stories because they're usually so futile, but this one definitely has a ray of something that could be sunlight at the end of its tunnel. It ends as abruptly as the previous novel but indications are it'll pick up immediately in the next, which I'm looking forward to reading.
I hope the title, Collapse and Delusion, is a misnomer.
Review by Toni V. Sweeney
---
A note from Mike: Collapse and Delusion, the fourth novel in the Jack Commer series, is forthcoming from Double Dragon Publishing.
After focusing on the 2053 demise of the Alpha Centaurian empire, the second half of the novel moves to 2075, when Supreme Commander Jack Commer and his wife Amav journey to the paradise planet Andertwin for a painful visit with their reclusive son Jonathan James, infant survivor of an abduction by Alpha Centaurian security forces and now the author of a bestselling novel about the collapse of the Centaurian empire.
All the characters have been rejuvenated to be in their thirties even though many are approaching seventy by this time; I can probably keep the series going indefinitely this way!