The Wounded Frontier is Published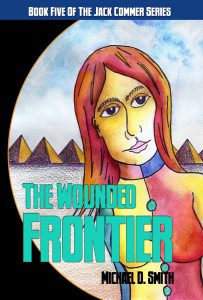 Double Dragon Publishing has just released The Wounded Frontier, Book Five of the Jack Commer, Supreme Commander series. I was honored to do the cover image of Laurie Lachrer, a minor spaceport technician in Book One, The Martian Marauders, but now promoted to Colonel and investigated more closely as one of the main characters in The Wounded Frontier. The new novel is now available in eBook format and a paperback edition should follow soon.

After the 2075 restoration of a benign telepathic Grid to Alpha Centauri, Supreme Commander Jack Commer returns home beset by bad news: his son's housekeeper K'ufunb just suicided in a spaceship via a failed Warp Transfer, Mars is panicked by the renewal of the Grid, and ship's engineer Draka Sortie is resigning to marry Martian Empress Mandy. Navigator Will Connors announces he's quitting as well, and embarrasses Physician/Engineer Laurie Lachrer by revealing that the two recently started dating.
To top it, the star Iota Persei, 34.36 light years from Sol, has disappeared, and USS Jupiter is destroyed there after encountering a Dyson sphere 967 million miles wide. Jack readies the untested Typhoon V for Iota Persei, assigning Laurie to the ship and asking a reluctant Will to stay on as navigator.
Nobody ever considered that the fascist Alpha Centaurian Grid, linking twenty trillion citizens of the seventeen suns of the Alpha Centaurian Empire to their psychopathic Emperor, might turn out to have an important benefit to Sol. The United System Space Force embarks on exploration beyond Alpha Centauri only to encounter a far worse predator that, unknown to anyone, has been kept at bay for thousands of years by the Centaurian Grid. What exactly lies outside our comfortable circle of firelight?
copyright 2018 by Michael D. Smith