Introduction to The Wounded Frontier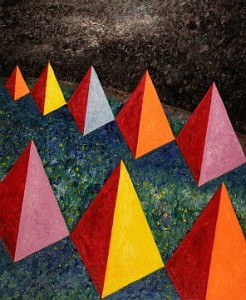 Who would ever have thought that the fascist Alpha Centaurian Grid, linking twenty trillion citizens of the seventeen suns of the Alpha Centaurian Empire to their psychopathic Emperor, would turn out to have an important benefit to humanity?  I'm working on a fifth Jack Commer novel, which chronicles humanity's somewhat reluctant 2075 decision to begin exploring beyond Alpha Centauri, only to encounter a far worse predator that, unknown to anyone, has been kept at bay for thousands of years by the Centaurian Grid.  What exactly does lie outside our comfortable circle of firelight?
That's all the detail to be revealed at this point. I finished the first draft of The Wounded Frontier a couple months ago and you just don't discuss the plot until you're finally done with the novel.  I'm only now gearing up for a thorough revision.
A few weeks after finishing the rough draft, this painting came out, and I realized it was also to be called The Wounded Frontier, a sort of rough draft cover for a rough draft novel.  My original plan was to have the pyramids firmly mounted on the ground by correct perspective shadows (which is left-brain fun but right-brain painstaking), but when I finished the colors and saw that the pyramids appeared to be floating like cold sentinels above a planet, I decided to leave them float and knew the painting was about the novel.
I was initially hesitant to reread Jack Commer 5, especially after reviewing the final sixty pages and finding myself mortified to see how conceptual that last section really was, and almost certainly confusing (and thus boring) to a reader.  Then I read the first sixty pages and was mortified by how conceptual …
I even cringed at the original title, OutCurve: Legends of the Stellar Trolls, which I began hating halfway through the novel, and discarded upon completion of Draft 1.
At this point I'm not sure whether the uneven results of Draft 1 were due to exhaustion and lack of imagination, that I really pushed this thing at times when I shouldn't have, like late night rough draft, writing when I had such a bad headache I could hardly think, or working on it every day instead of my old sane method of recognizing I'm best with two rough draft sessions a week.
But in further rereading I saw I'd hit a certain good stride in the middle parts of the novel, and I began seeing a revision based on the amount of energy and enthusiasm engendered by certain characters and situations; the ones with the highest energy obviously must come to the fore in Draft 2.  I got excited about revision.  The new title The Wounded Frontier itself makes me want to seize this novel and make it my best.  A new structure is beginning to take shape; there is some good stuff in the novel and much of what failed is also a seed of what I still want to say–and of course there are many botched experiments that can simply be discarded.
The challenge is to be open to anything that improves the novel.  But "improve" not just in terms of craftsmanship and "interesting stuff," but to make a high-quality investigation.  The fourth novel in the Jack Commer series, Collapse and Delusion, arrived "almost fully formed," as sometimes happens to an author's delight, but this fifth novel is a different matter–maybe in the same way that Nonprofit Chronowar (Jack Commer 3) was a difficult case and needed over a decade to come into focus.
I'm beginning to think that the novel did need to come out the way it did–hurried, with high points and low points, and needing a completely new approach for Draft 2.  There is something I wanted to say at the heart of The Wounded Frontier, something about being seduced by power, of realizing you'd ceased to explore, of holding back.  There is a kernel in this novel, a reason I bothered to write it, that must come out.
I want to keep evolving with each novel.  I'm also learning about writing a series as I go along, and I see why we speak of the need to "reboot" a series.  In other words, you've gotten too comfortable with your existing world and characters and are no longer stretching.  You may also be making assumptions about what readers might expect in the characters and plot.  After all, both you and the reader are going into the next novel with baggage from previous ones.
In my first conceptual ending, I found myself with fifteen or twenty characters standing around on an infinite plain talking about what just happened (yawn), and if they were lucky I tossed them a couple informational lines, like Tully in The Rat Patrol.  Ranna, the heroine of Nonprofit Chronowar, was just along for the ride and since I felt sorry that she didn't have any lines, I'd slip her one now and then.  But its idiocy to assume you have dear readers slavering for such info.
And weirdly, even during the exhaustion phases of the rough draft I got a great idea for a sixth Jack Commer novel.  No use cramming it into Number Five.  Even as vaporware it seems interesting and quite writable.  I have no idea how many Jack Commer novels I may write; I'll definitely stop when it doesn't seem like fun anymore.
In any case, the third novel in the series, Nonprofit Chronowar, should be coming out from Double Dragon Publishing sometime fairly soon, and the fourth, Collapse and Delusion, after that.  By then I'll have The Wounded Frontier fully revised and polished.
copyright 2013 by Michael D. Smith