Akard Drearstone – The Blog Post, Part I: Publication at Last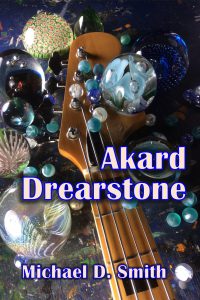 A cinder block falls on Akard Drearstone's head and he trades his print shop job for lead guitar. Months later, as the four members of the Akard Drearstone Group face the onslaught of national fame at their rural Texas commune, twelve-year-old Jan Pace nurses her crush for the narcissistic, paranoid bassist Jim Piston, growing up way too fast in a surreal summer between seventh and eighth grade.
eBook:
Amazon
Barnes and Noble
Smashwords
paperback:
Amazon
The Akard Background
Over the past forty-two years Akard Drearstone has gone from being an unexpected if unpublishable flood of expression and experimentation, to an obsessive trial and an abandoned burden, to years of neglect followed by a renaissance demanding new integration, and finally to a determination to press this project to a conclusion, to make it the best writing I can do and push it out into the world. I'm not just polishing up some decades-old manuscript I'm feeling nostalgic about; there is some karmic life-destiny about finally publishing Akard through Sortmind Press. The cover and the glorious print version confirm that for me. What a lovely object has taken form!
The central vision for the novel was my secret desire after graduating from Rice to live in an artistic commune. Since I couldn't do that, and being a rigorous introvert probably would've hated it anyway, the next best thing was to write about it. Akard emerged full-scale in one day in August 1975 as I constructed a satire record album cover out of scraps of pink paper. Three single-spaced pages of notes I typed a few days later charted the course of the first draft. From August 1975 to February 1976 I heavily inventoried dreams, recent ideas, and my bleak employment in an insurance company to throw everything into what I knew would be a massive work unlike anything I'd done before. It may be that the stretching involved in Akard, the disbelief that so much expression could flow out, is the reason I've been so committed to it. It was Akard's tone and methods that began the evolution towards the rest of my novels.
Official Sortmind.com Website Synopsis
Jan Pace, a twelve-year-old girl at the Akard Drearstone commune north of Austin, Texas, watches Akard Drearstone and his fellow musicians setting up for what they think will be a small concert on their dirt parking lot. Jan, who knows she's in love with the twenty-seven-year-old bass guitarist Jim Piston, tries to comfort him while he freaks on marijuana. Meanwhile, to everyone's shock, thousands of Akard Drearstone Group fans have invaded the parking lot and the vast fields beyond.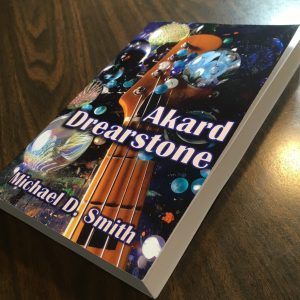 During a break, the musicians discover that Dallas businessmen have bought Freeway Accident Records along with the Drearstone Group's manager, Harray Andreall, onetime member of the commune. Commune member Bill Dunn is invited to play guitar on "Overturned Runway," but narcs raid the concert and kidnap him.
At the Overturned Runway Bar, named in honor of their song, the musicians begin to realize how famous they're becoming. Michelle Morgan, journalist and fiancée of Harray Andreall, explains the principles of her new philosophy, Exponentialism. Declaring bassist Piston to be the core genius of the group, Michelle interviews him for Worthless Weekend Sunday Magazine and seduces him during the interview.
Harray and Michelle fight about Buddhism on their wedding night. En route to the reception at the commune, Harray plunges into metaphysical horror. To soothe him, Jan takes him to see her horse at the barn–but there they discover a dead body packed in ice.
Though he tries to convince the sullen members of the group that their musical experiment is worth continuing, Harray's boss has been arrested on murder charges, the record company is on the verge of collapse, and Harray is dumbfounded to discover a second killing perpetuated by another band he manages.
Copyright 2017 by Michael D. Smith