Righting an Ancient Injustice – Review of Ascarion by F. T. McKinstry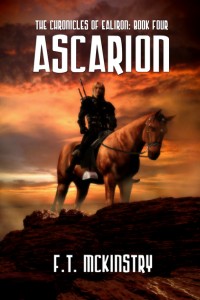 A deep psychic imbalance manifests itself on the island of Tromb in the Gray Isles, where the inhabitants play by their own rules and practice ancient and unapproved magic.  Each of its four castle towers was to be commanded by a son, but the king and queen only produced three, and their daughter Rhinne, who became Sentinel of the North Tower, is shunned by the people of Tromb for supposedly condemning the island to its malaise.  However, the causes of the imbalance prove to go much deeper, as this fast-paced novel brilliantly proceeds to investigate.
Ascarion, the fourth book in the Chronicles of Ealiron, is a rich and satisfying fusion of characters and themes from the first three volumes, and points the series in new philosophical and psychological directions.  The opening scenes describing the unease on Tromb are unforgettable.  The royal castle becomes a metaphor of timeless stagnation, injustice, and oppression.  The architecture of the four towers with their claustrophobic circular underground seems a perfect breeding ground for evil as oborom warlords, a dark order claiming the undersides of the island, begin emerging from the depths under the command of Dore, Rhinne's power-mad brother, and her father, King Ragnvald, whose soul has been taken over by a god seeking to hide an unthinkable past crime.
At first you can scarcely believe you're reading about family members at murderous war with each other within the dank confines of their ancestral castle, yet the matter-of-fact presentation cements the idea that this level of evil has been long accepted.
When a warrior shows Rhinne a book in a dream, she's unaware that it will become the key to her own past trauma.  Yet this dream sets in motion a series of flights from both enemies and apparent allies as she charts her own course, fleeing Tromb on a perilous sea voyage and replacing the cramped paranoia of the castle with the endless open dangers of the realm of the Mistress of the Sea, the terrifying loerfalos serpent and an aspect of Maern, the primordial goddess of nature, life, death, and transformation.
Rhinne is a fascinating and complex character–so impulsive as to seem self-destructive, yet her hotheaded instincts always wind up aligning with Maern.  Constantly navigating, whether consciously or unconsciously, towards harmony with the deepest forces of the world, Rhinne is unfathomable to those around her and perhaps even to herself.  As events unfold she begins to understand the depths of her power and her position in the realm above time and space, the injustice and torture she suffered in a past which nevertheless exists here and now, and what she must do to set things right and restore her ancient union to Ascarion, a god unjustly exiled to Void, but one who can respond to Rhinne's energy and who appears in this dimension through the eyes of Maern.
Former assassin Lorth, now a canny, unconventional member of the Council of Aenlisarfon, the ruling body of Ealiron, and a central character from the three previous novels in the series, plays an exceptional role in this book and his character continues to grow deeper.  Though he's earned incredible powers and insight, he cannot know everything and must grope his way forward as well as he can.  He warily approaches the unfolding war on Tromb, having always been uneasy with the unauthorized magic prevalent throughout the Gray Isles.  He bravely negotiates with gods who could exterminate him in an instant, and in serious swordfight trouble, summons Ascarion and makes a promise of an offering he may not be able to pay.
Though powerful gods interact with mortals throughout this novel, they must operate under certain laws, and extra limits are added, such as the treecloak energy shield covering the isle of Tromb that forces the temporarily blinded gods to operate through the eyes and ears of mortals.  Needless to say, this sort of obfuscation often leads to confusion and treachery, and the gods must move gingerly, lest a timeline disaster occur that that would lay waste to the world.
The pace never slackens as the characters move from one adventure to another in this epic novel.  Background explanations are well-integrated and it's easy to get your bearings in the complex yet emotionally solid mythology of Ealiron.  Romance, magic, and pathological power manipulations unreel alongside fascinating swordplay that rarely turns out as you might expect or hope.
Ascarion by F. T. McKinstry
Published December 2013 by Double Dragon Publishing
348 pages (estimated eBook length)
Review by Michael D. Smith