At the North Texas Book Festival, April 5, 2014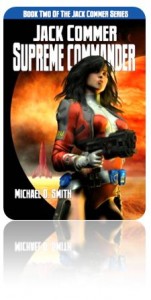 I will be representing Double Dragon Publishing and selling my first three Jack Commer novels (hopefully!) at the North Texas Book Festival in Denton, Texas, Saturday, April 5, 2014.  I've never done a book festival before so I'm not sure what to expect, but I find myself thinking it may be like opening night for a group art show, only with tables and books.  Famous last words.
I actually volunteered to be a speaker, figuring I ought to at least make the attempt, but to my 20% chagrin/80% relief, I've just found that I didn't make the cut.  That's OK, as this whole thing will be new enough without that stress.  My topic would have been the irregular origin of The Martian Marauders, the first book in the series.  Which I wrote about in a blog post a while back anyway.  This is such an easy story to tell (because it's true) that I don't think I'd have any serious trouble giving it as a talk.
Here is the URL for the North Texas Book Festival which includes location, time, authors attending, and background info:
Copyright 2014 by Michael D. Smith