Back to The First Twenty Steps For a Moment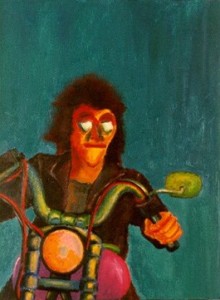 I was able to place my heartwarming novella about a motorcycle gang on amazon.com, via their Kindle Direct Publishing program. So The First Twenty Steps can now be downloaded to either a Kindle or a Nook. The price is still $1.00, and the book is still available on Barnes and Noble.
This was an interesting experiment because it was a completely different (and not so straightforward) process than with Barnes and Noble's PubIt, and involved saving a Word document as HTML and then having that converted with free third party software, MobiPocket Creator, into something called a ".prc" format, as opposed to PubIt's .epub format, which seems to be evolving to be the standard.
I was able to use the same digital cover photo, and the two editions are identical. The Kindle URL is:
http://www.amazon.com/dp/B0054GQBHG
and PubIt meanwhile has updated my URL to:
http://search.barnesandnoble.com/The-First-Twenty-Steps/Michael-D-Smith/e/2940012097644
Harry, the novella's hero, is an ex-convict, just released from prison in the afternoon, who later that night finds himself mixed up with a motorcycle gang's plan to steal a supercomputer from the dreaded Dataflux building.
The novella is not available in print, but someday I may investigate the whole Print on Demand technology. I would love to see one of those POD machines in operation. Here's an interesting overview of the pros and cons (or, as the article seems to indicate, mostly the cons) of POD publishing:
http://www.sfwa.org/for-authors/writer-beware/pod/
Feel free to write a review of The First Twenty Steps on either amazon.com or the PubIt site, or as a comment here on the blog. It would be nice to get a comment from someone other than Russian pharmaceutical spammers, BTW. And if anyone is setting up as blog and would like me to explain why blogs attract so much comment spam, and such spam's relation to Google search results, let me know. WordPress has a nice add-on that blocks these creepy but often hilarious literary gems.
copyright 2011 by Michael D. Smith