The Martian Marauders, Book One of the Jack Commer Series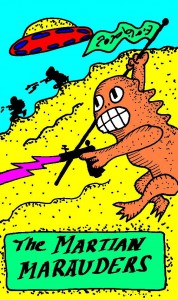 My novel The Martian Marauders is scheduled for publication with Double Dragon eBooks in January 2012.  The Martian Marauders is the first in my Jack Commer science fiction series, which includes Jack Commer, Supreme Commander and Nonprofit Chronowar.  I'm halfway through a fourth novel in the series, with a working title of Seven of Cups/Beyond Damnstar.
Publication of The Martian Marauders is scheduled for January 2012.  But there's no way this crude cartoon–one in a set of bizarre Tarot cards I drew a long time ago–would be the cover of the novel!
In 2033 Captain Jack Commer drops the planet-wrecking Xon bomb to end The Final War, forcing a hasty evacuation of the remnants of Earth's population to Mars. But by June 2034 previously unknown native Martians have risen in rebellion, led by their new human emperor, the political agitator and traitor Sam Hergs. Amid family squabbles arising from the presence of four Commer brothers aboard his ship, Jack finds himself in the deep Martian desert battling Martian insurgents armed with shatterguns that crack their victims into millions of jagged pieces of glass.
Jack's ship, the Typhoon I, is sent to Mercury to destroy a Martian death ray designed to incinerate what the Martians now consider a despoiled Mars. There John, the youngest Commer brother, impetuously rams the ship into the enemy base in a suicide attack, killing all crewmembers and marooning Jack and Joe in deep space.
Though the brothers are eventually captured by Hergs' agents, taken to yet another Martian base on Venus, and finally escape, Jack compromises the entire mission when he kidnaps the Emperor's consort and falls in love with her.
copyright 2011 by Michael D. Smith