Collapse and Delusion, The Seven of Cups, and Unexpected Redemption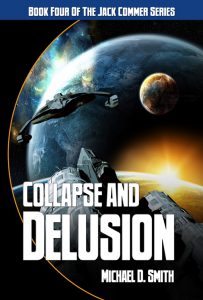 The ongoing stylistic cleanup of the Jack Commer, Supreme Commander series continues, with Collapse and Delusion, Book Four, just republished by Sortmind Press:
Amazon paperback
Amazon eBook (Kindle format)
Smashwords eBook (multiple formats)
Collapse and Delusion picks up from the last exploding spaceship scene of Book Three's 2033, and takes us to Nonprofit Chronowar's promised wedding of September 17, 2038, where Alpha Centaurian security forces time-kidnap Jack Commer's infant son Jonathan James to 2049, along with Phil Sperry, the greatest systems engineer in USSF history, as well as former art gallery director Hedrona Bhlon. While Phil succumbs for the second time in his life to Centaurian brainwashing, struggling with soul-wrecking guilt about his treason to the human race, Hedrona refuses to Convert to the worship of the Alpha Centaurian Emperor and is sent to become a gladiator in rocket-powered death duels invented to distract the Centaurians from the looming May 14, 2053 demise of their empire.
We finally land in 2075 with all the core characters still active, thanks to new rejuvenation techniques, and we follow Jack and his wife Amav on their journey to a backward agricultural world to get a look at the disintegration of the Centaurian Empire in the aftermath of its lost war with Sol. Their estranged son Jonathan James has chosen to remain secluded in the shattered Centaurian empire and has written a bestselling novel about the collapse of Alpha Centauri, a book which also manages to heartlessly ridicule one "Hack Blommer, Supreme Salamander of the United Sneeze."
Though Collapse and Delusion focuses on the broken relationship between the insolent, ego-saturated Jonathan James Commer and his parents, it also dwells on the character of Phil Sperry and themes of psychic survival. Locked for years in shared telepathic despair with trillions of Alpha Centaurians, Phil feels cast out of humanity, in contrast to his lover Hedrona's heroic adaptation to new life and new energy. Yet, brainwashed once by the Centaurians in 2035, then for a second time from 2049 to 2053, Phil finally understands that his hellish decades of delusion have in fact been necessary so that he can face the third and most tempting fantasy. And this time he offers a solution to free not just himself but twenty trillion lost Alpha Centaurian souls as well.
Of course, there's no way he can suspect such future redemption on May 14, 2053, his last day of Brainwashing II:
The Seven of Cups looked like any sled other except for the bright color scheme: the royal blue HEDRONA BHLON painted along the stern, and her personal blue, yellow, and red Tarot card across the top surface of the sled. The sled was a flat slab of metal seven feet wide, eleven feet long, but just six inches thick. The twelve thrusters, each a four-inch circle, were recessed into the aft panel. Likewise the two-inch maneuvering thrusters along the sides and top and bottom corners of the craft were flush with the surface to keep the aesthetic impression of a cold hard rectangle.
The interior of the slab consisted entirely of a HtkARR 658 Prime Antimatter engine, except for the volume required for a thousand rounds of two-inch explosive shells and a feeding mechanism up to the gun mount.
Phil looked away from the creepy image on the surface. She'd deliberately chosen that damn Tarot card to gall him. He should never have admitted it scared him. Did she really want to take advantage of any weakness she could find? The card was human pollution, just one more infiltration of the Centaurian system. It was killing them.
He had to calm down. Nothing was killing them, nothing was killing their dear Emperor, all was well, didn't they all know that down deep?
No, that was the illusion. They were dying. The Tarot card was real and they knew it.
Phil couldn't stop the accelerating anxiety. Since all events throughout Alpha Centauri were instantly known by all citizens, as mediated by the wisdom of the Emperor, the Alpha Centaurians had never worried or speculated about the future. But ever since the Martian Emperor Dar had broadcast relevant portions of his Amplified Thought proofs that the Empire would cease to exist on May 14, 2053, something evil had found its way into the Grid.
They'd never needed fortune-telling, but now it was everywhere, imported from Sol. Tarot and I Ching and Ouija boards and God knew what else had all leaked in. Everyone was using it. They knew it was blasphemous, but they had to have something to combat Dar's goddamn astrology, didn't they? To combat today, May 14, 2053?
Phil was ashamed that each time he came to Cssarr he made Hedrona sit with him over his own Tarot deck. On every reading she insisted that the cards spelled doom on May 14, 2053, and Phil heatedly offered a counter-interpretation based on the same cards. But even as the Alpha Centaurian citizen knew perfectly well he was right, the human being still within him knew he was blowing smoke.
It was the Seven of Cups that came up, every time, whether Phil asked the Tarot about himself or the Empire. It was the Waite deck image, the man shocked to confront seven cups floating in the clouds, each holding a promise: love, sex, fame, riches, power, even mystical revelation. They were all so obviously illusions. And they annihilated Phil even as he wanted them so badly.
And Hedrona would laugh. As he shivered and babbled all his fears about the Seven of Cups, she'd cackle with delight. She'd painted the card on her sled to tell the entire Empire that Phil's whole life was an illusion. He was deluded, the Empire was deluded, and everything was collapsing.
Copyright 2020 by Michael D. Smith