The CommWealth Republication
A. Property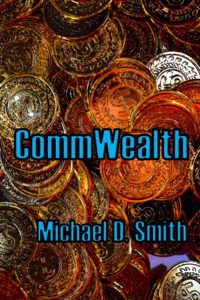 What if anyone could ask for anything you owned and keep it for thirty days until someone else wanted it … your home, your car … even your body? Members of the Forensic Squad theatrical troupe find themselves leading a suicidal revolution against the CommWealth system, which has outlawed all private property.
CommWealth was originally published in 2015 by Class Act Books, but after it became apparent earlier this year, after queries to fellow Class Act authors and to Amazon, that the small publishing house had, as far as anyone could tell, ceased to exist, Sortmind Press was right there to step in. I checked my Class Act contract and found I could sever it by giving 60 days' notice, and that technically it had lapsed without renewal in 2017 anyway. The entire experience has been a valuable lesson, but the important outcome was that I was able to get a freshly edited version of my novel published as:
B. Copyediting
As with the April update of my flagship novel The Soul Institute, the changes are a thorough copyediting rather than revision. The novel has the same plot and characters, just with a much improved style, mainly clearing up an old habit of relying on italicized character thoughts, as well as overuse of exclamation points.
I was surprised to find so much italicized thinking lingering in the 2015 version, as I thought I'd cut a lot in the final Class Act edits. In translating italicized character thoughts back to narrative, I found there was a low-key, conversational aspect to them which fits the tone of the novel. Much of it simply wasn't needed, repeating what should be obvious to the reader. A made-up example of such overreach:
Gunshots echoed crazily and McPherson collapsed on the concrete, a softball-sized hole in his chest.
Oh my God! They shot him! He's dead!
Interestingly, there were cases where I let characters just speak their thoughts and saw that they worked much better as speech. Usually italicized thinking is intended to be information withheld from other characters, yet sometimes it was perfectly in character for the person to just speak his or her line.
I wound up translating all italicized thinking back to narrative thought. There is not one italicized thought in this novel now. It just worked out that way.
As with the 2020 Soul Institute copyediting, I also cut as many hyphens and ellipses as I could, along with meandering "Well … uh–I mean–" dialog. Of course, if that punctuation did add strength to a passage, it stayed. But usually it doesn't mean anything to the reader.
I find it strange that I ever veered onto the florid stylistic path of over-italicization. I feel I'm returning to my real voice after what may really have been an unconscious and misguided desire to perfume my writing to attract publishing suitors. I looked up the one phrase I thought so apt in query letters from the last major push for publishers, this one dated 12/17/09:
The University of Mars aims for high energy, humor, intense character interaction, and strong emotion. Extensive use of dialog and character thoughts are used to keep the feelings flowing through the narrative.
I now see that as deluded. And I just now noticed that it's ungrammatical; it should be "is used."
C. The Covers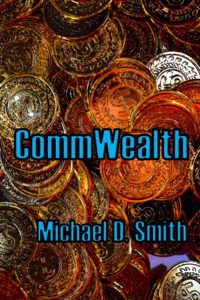 1) The main cover, replacing my Property painting image. The original one was okay, but didn't really pop. My wife Nancy was instrumental in converting me to this choice from several other great ones, but this image really does work well for getting across what the book is about.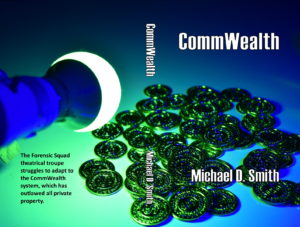 2) The mass market paperback cover. Lulu.com has redesigned its publication process but I found that the template for making a single image cover wasn't working well for the main image. But this led me to go back to a wraparound cover experiment I'd been playing with, which bleeds nicely to the entire cover, front and back. There was something electrifying about developing this cover with its quirky approach to the CommWealth themes.
D. Next Steps
I'm very pleased with a clean-up which has made CommWealth a much stronger novel. And because of the high energies I've felt doing this book along with Akard Drearstone, Sortmind, Jump Grenade, and The Soul Institute, I feel that, after some time experimenting with space opera SF, a return to literary novels is the next phase. I have to admit I've soured on submitting to outside publishers; it just seems like a waste of time, and for what? To repeat small publisher Amateur Hour? Getting that sort of publishing credit is close to useless and you can see what happens when the business flops.
So the energy seems to be to write well, and write new stuff, and publish it well on Sortmind Press and try to figure out sane ways of marketing and selling. To push the revamped CommWealth and The Soul Institute, for instance. Not to take a dozen science fiction novels to a book fair and just get the reaction, "Well, you sure write a lot!"
copyright 2020 by Michael D. Smith