Complaints, Fight Songs, and Daily Technology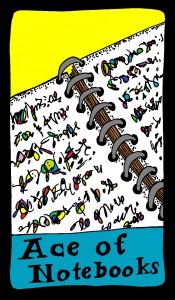 I wrote this piece of satire after perusing some older journals, but to my dismay I realized that if I'd actually run across this passage in a previous journal I might have thought it was a real entry. It's bugged me for years that a subset of journal entries begin with complaints that my consciousness has been dim, then morph into fight songs urging me to rise above the squalor. Sometimes I was warming myself up to a day's writing session, but in any case the final result is just a fluffy bunch of words taking up journal bandwidth. So with a certain amused shudder I present this self-satire. Maybe there's a novel character in here somewhere.
I think I'm now strong enough to finally acknowledge that I've been overly tired, frazzled, distracted, and unconscious for quite some time. Yet I feel that this point in my personal history, and this realization, were fated to come, in their exact karmic instance of this moment, now, when I am at last fully prepared to finally realize that I've been wasting valuable life energies on mindless aspects of existence that may seem important to the trivial self, but which in fact contribute nothing to my ongoing fate. I must be resilient and grasp the possibilities instead of worrying about such negativities.
Above all I must remember that I am an artist, inserted into this world for a purpose, and that I must maintain a new and responsible vigilance, a more modern and more appropriate interface with the universe, a more direct art identity, at all times. That means 24/7 awareness. I have been so unconscious for so long. BUT I've finally realized that I must now, finally, at this exact moment, step up, with newfound courage, based on my deepest values, to the responsibilities facing me as a human being who, for whatever reason fate has decreed, has been called upon to create art, to open up to the world and process these energies instead of wasting them in dull entertainment or futile delusions.
The fight will be endless, but I vow to make it a worthwhile struggle! For my destiny demands it! Above all consciousness must be maintained, and this means that, despite all obstacles of this world, I must become more fully honest, conquering all fears with the full mindful intention of moving forward. Yes, perhaps decades have passed in "merely reasonable consciousness"; but now it is finally time to reclaim that karma once and for all!
I think that's enough. A send-up of every complaining journal entry, and every italicized and exclaimed exhortation to conquer it, that has marred the journals. I'm both laughing and wincing as I reread it.
Once more back to this blog's founding statement: I think "There is a Super Colossal Mess Jungle going on. It's my business to get involved in it, any way I can," is more than enough direction, and includes the daily technology to support it: get involved and stop complaining. Whatever state of mind you're in is the starting point. Follow whatever energies arise.
copyright 2020 by Michael D. Smith