The Super Colossal Mess Jungle 2.0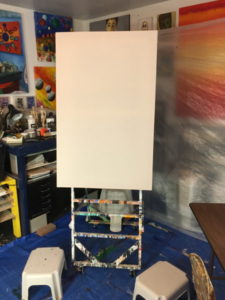 Following up on the building of the red stretcher and stretching its canvas, here's the sequence of the completed painting, though as usual I forgot to chronicle all of it, so we see just a couple major steps and the final result before gloss medium varnish. But there was some good learning along the way. I actually did two acrylic paintings Friday, April 24, the entire process as exhausting as usual. And I unexpectedly wound up with a third archival object.
Basically I focused on the 41.5″ x 31.5″ main canvas, destined to be designated Painting 318. Here's the stretched canvas ready for two coats of white gesso, but I have no photo of the gleaming primed canvas. That dazzling white always looks good in bright light. Here we have the beige tone of the raw canvas.
Before I began the main painting, though, I wanted to try a pouring experiment on a 16" x 20" canvas. I'd bought some pouring medium and thought I'd have a fun ten-minute swirl of thick interesting colors as a warm-up.
I was too dispirited by the resulting mess to take any photos.
Though I got to a point where the image looked like a reasonable poured-paint conclusion, with red and yellow clouds (again, no photos), I was dissatisfied with the almost total lack of control. The thing looked mediocre, with a lot of mud swirled into those bits of bright color. Though I've used thinned and spattered acrylic as backgrounds for paintings, allowing a certain level of chance, I've always done this with some deliberation, moving around the canvas and throwing the colors where it seemed best. Pouring eliminated most of that sense of control. I found that tilting the canvas to get lovely weird patterns was merely … distressing.
So I scraped off vast volumes of mud and started again, using 318's black lines and similar colors, intending the smaller painting as a companion to the larger one.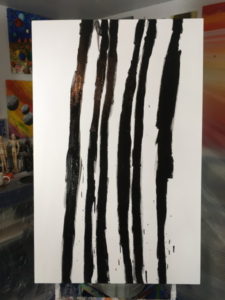 So, back to 318 and its initial syrupy black lines. Though this painting had its improvisational aspect, I was working off a colored pencil sketch I'd done a few days earlier and had a sense of the final result in mind. I wanted a forceful color-field gesture as opposed to the anarchic turmoil of a fully improvised painting. Those abstract expressionist ones are frequently the most problematic, and for this day I'd decided I didn't want that sort of combat.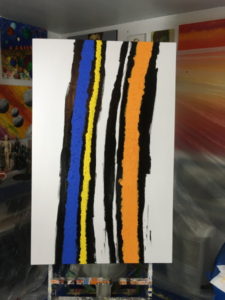 Some of the colors filled in with rough texture: ceramic stucco, glass beads, and sand. I'm obviously failing to show all the steps; I just got too involved to keep documenting.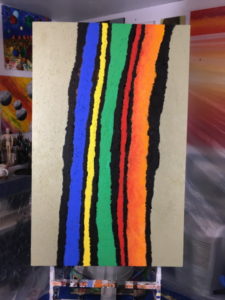 The final painting before its thick coat of Liquitex gloss medium. I definitely wanted a high gloss on this thing. The background color is hard to photograph for some reason I've yet to discover. It looks gray but it's actually a sort of butternut, consisting of acrylic bronze mixed with cerulean blue and titanium white; it looks warm as opposed to the grayish nature of this digital snapshot. I must practice my exposure settings. It occurs to me that this phenomenon mirrors the confusion between Civil War Confederate "butternut" uniforms being taken for and referred to as "gray."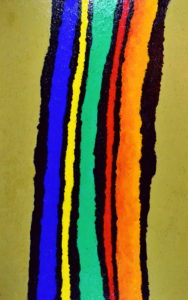 After one coat of gloss medium, the final painting, "Super Colossal Mess Jungle 2.0," image manipulated to show close to the actual colors.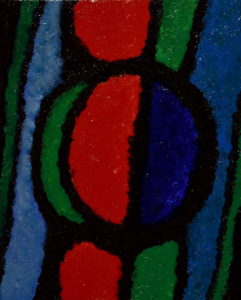 Meanwhile the smaller painting, No. 319, "Companion," 20″ x 16″. It's crowded as compared to 318, but I like that. Usually my "companion paintings" are mere experiments that don't have much force, but somehow this does.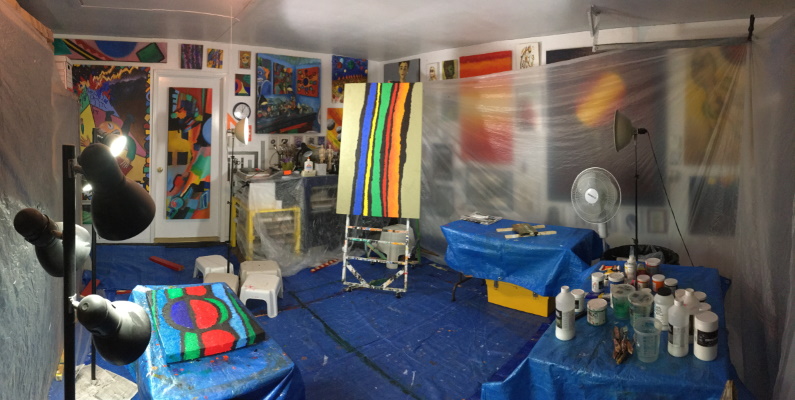 The studio at the end of a long day, 9:20 PM. During the process of working on both paintings, I noticed that while I'd gotten dispirited after the first pouring mediocrity, and fatigued on both paintings near the end, I didn't descend into my usual acrylic desperation. I didn't succumb to blind urges to just fix and finish the damn things. In fact I felt some intuition on colors coming into play toward the end.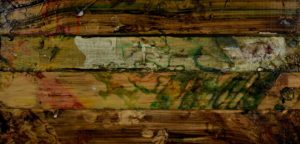 Finally, we have the third so-called painting of the day, "Paint Pouring Disaster Archive," 6″ x 12.25″, in wood, acrylic, and glue. The only indications of the mud left over from scraping the second painting were four pieces of 1″ x 2″ wood propping up the canvas, but all four were thoroughly soaked with 319's final muddy color. I glued and c-clamped the dried strips together, and somehow the final result has its own magic and serves as the archive for this painting day.
I was stumped for titles. Trying to conjure some, I made my own tag cloud:
black blog clouds coat colors conclusion control couple disaster dissatisfied documented dots draft experiment gloss image intended journal lack large lines medium mud paint photos point post pouring process quick reasonable red redone scraped sequence shots similar sketch stretching strips table total volumes yellow
I thought to work in the word "progression" somewhere, but that finally struck me as one of my typical bombastic painting titles. I considered that "lucid" might somehow fit, though that immediately seemed like a worse ego trip. Note to self, and in fact to everyone: do not ever title a painting "Lucid Progression."
Then I recalled the "Super Colossal Mess Jungle," and the perfect title was there. "Companion" instantly jelled for the second painting.
The manifesto about the SCMJ can be found as this blog's founding statement from 2010:
"There is a super colossal mess jungle going on. It's my business to get involved with it, any way I can."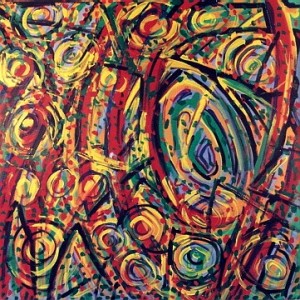 The original acrylic "Super Colossal Mess Jungle," 38″ x 38″, from sophomore year at Rice. The phrase was silly but it has stuck. It lovingly mocks chaos even as it accepts it, but it also:
tells me what I need to do with the SCMJ around me: get involved with it.
provides a simple, robust technology: any way I can. That is, interact with chaos using whatever energies and talents I possess, with an implicit caution that there are other paths I cannot, should not, follow. Appropriate interaction.
The sophomore painting demonstrates its own acceptance of the boisterous, often incomprehensible outer world; somehow the chaos holds together in its own rhythm.
Now here in version 2.0 there's a different, organic order: energy flowing in one set of related directions, somewhat planned, open to improvisation and color experiments. And in its showcasing of the consequences of abandoning all control, even this day's pouring disaster was a lesson in Super Colossal Mess Jungle.
copyright 2020 by Michael D. Smith