Draft and Final Covers: Collapse and Delusion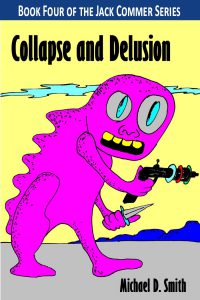 In tossing off this image of Martian Star General Greeney Gooney–real name G'rea'nyaigu'nye, which humans have naturally come to mispronounce–I wasn't originally thinking of making a cover for Jack Commer Book Four. But somewhere along the line I scanned and colorized the black and white line drawing, and from there it's not too difficult for the novice to superimpose text like "Collapse and Delusion" and "Michael D. Smith." Then this past month, long after final publication of the novel in 2016, I added the Double Dragon-like series blurb for "Book Four" to make a final alternate cover.
Here Greeney, a vicious enemy of the Commers in my childhood imaginings, vamps for the viewer with shattergun and knife, becoming the dreaded stereotype of the merciless killer Martian. True, he'd run the terrorist cell that murdered General Douglas in Book One, but by the time of Collapse and Delusion, forty years later, the human-Martian war is long ended and Greeney has since reinvented himself as mayor of Marsport and gone on to command Martian fleets in the United System Space Force. A true Martian wunderkind at the post-adolescent Martian age of 250 years, this genius knows exactly how far he can play with our fears on this cover.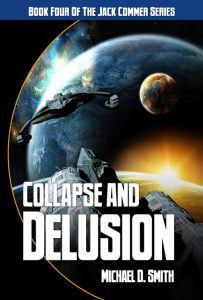 As with all my alternate covers, I drew this image during an early draft of the book, and, like all, it not only doesn't get close to Deron Douglas's final version for Double Dragon Publishing, but would also hinder sales of the book!
The final is dazzling. The dark blue tones contrasted with brown, the spaceships surging forward with such grim purpose, the ballet of planets, moon, and sunrises, all perfectly mirror the book's themes of societal collapse and disorientation, along with the multi-dimensional paradoxes of Star Drive and an alien telepathic net spanning seventeen solar systems. The curving shape of the spacecraft wings and even the left framing arc, common to all the books in the series, fall effortlessly into the rhythms of circle and horizon. Are those sunrises over the limbs of planets? Or world-destabilizing Xon bomb explosions? In any case the cover is an image of wholeness; somehow the scattered empire will find its way through the humiliation and defeat.
copyright 2018 by Michael D. Smith
Book 4. Collapse and Delusion
Supreme Commander Jack Commer and his wife Amav journey to the paradise planet Andertwin for a painful visit with their reclusive son Jonathan James, author of a bestselling novel about the collapse of the Centaurian empire.