Draft and Final Covers: Nonprofit Chronowar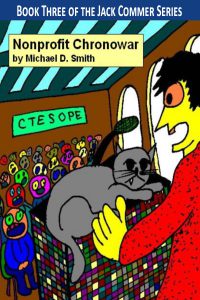 The first time it occurred to me to make an alternate Jack Commer series cover was a year before Nonprofit Chronowar's 2013 publication, when I wanted to proof a late stage of the novel for errors. Colorized from one of my eccentric Tarot cards, my draft EPUB cover depicts Jack's younger brother Joe immediately after being jerked from the embrace of his illicit lover Jackie Vespertine on Mars in January 2036 and inexplicably deposited back on the home planet in May 2020. Here he finds himself speaking at the podium of the first and only conference of the Committee to End Suffering on Planet Earth, and he's so traumatized that he begins blurting out the awful details of the next thirteen years, including the Final War, his role in the destruction of Earth, and the resulting evacuation of shell-shocked survivors to Mars. As the smug nonprofit ladies of a comparatively innocent era nervously tolerate this troubled intruder, only the mystic Russian Blue cat Churchill, an apparent traitor to head nonprofit lady Ranna Kikken, seems able to calm Joe down.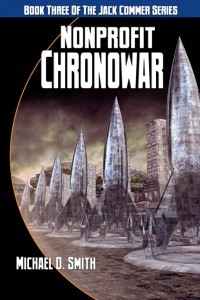 Of course I knew this cartoon image would never do for a real cover. The May 2013 final cover by Double Dragon publisher Deron Douglas stunned me with its brooding vision of a scene I'd imagined again and again but never actually wrote into any of the Jack Commer novels: a cinematic vision of an entire spaceport of ships blasting off in total defeat. I'd even drawn that image about six months earlier in Trip to Mars, the Picture Book, in an eerie if somewhat clunky attempt at a vision that would be a fantastic opening shot for a movie. I was also happy to note that Deron had again picked up the 1950's spaceship (face it, the V-2 archetype) and multiplied it to distressing effect. This planet is done; we're finished; we're gone.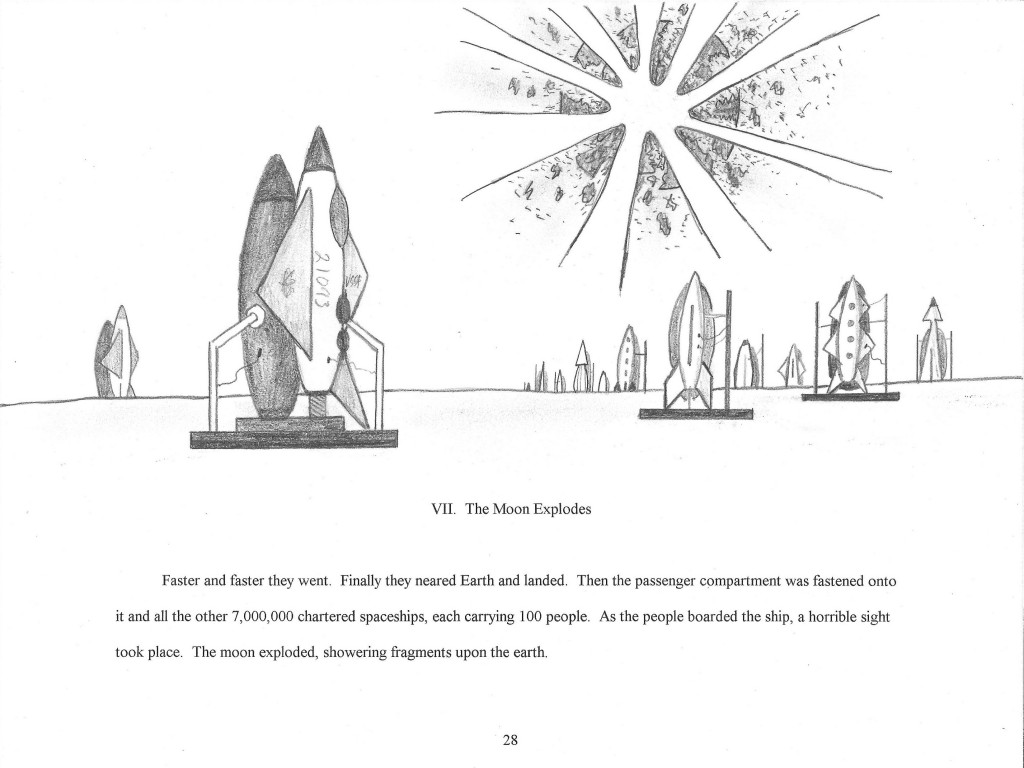 In looking through old blog posts I noted I'd previously looked at some of these old cover images and I'd also mused about the evacuation scene in much more detail. (Cue brooding Ralph Vaughan Williams music). No need to repeat that here.
copyright 2018 by Michael D. Smith
Book 3. Nonprofit Chronowar
Jack's younger brother Joe time travels from 2036 to lecture complacent nonprofit ladies about the coming destruction of the planet.