Draft and Final Covers: Jack Commer, Supreme Commander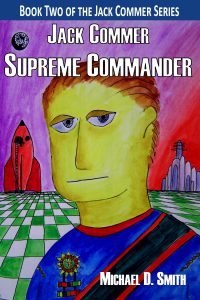 I finally finished the long-abandoned childhood rough draft of The Martian Marauders in early 1986, liberating heroes Jack and Joe Commer from their Venusian prison and updating the characters with adult concerns, including romantic lives. Or in Jack's case, the lack thereof. It was great fun to come up with at least slightly plausible scientific explanations for the eighth grader's absurd conception of science and the solar system. Finishing an abandoned kid novel was deeply satisfying, as was following any new themes that cared to surface in the high energy typescript. So I'm not sure why I felt a sequel was necessary, other than Jack's fiancée Amav Frankston declaring at the end of The Martian Marauders that she and Jack would travel to Alpha Centauri and end the senseless war there.
In any case, a few months later I was into Draft 1 of Jack Commer, Supreme Commander. I'd never seriously considered writing science fiction before, but The Martian Marauders had shown me it could be fun. So I continued the high energies of the first novel while giving the shorter Jack Commer its own separate, fast-flowing plot. But upon completion I was unsure of the book, mocking it in my journal, and drawing this illustration of Jack which now strikes me as also hinting at derision. Jack looks old, chunky, and bilious. His science fiction city and 1950's spaceship, his sash and medals, his green-tiled tarmac, all jest with the viewer. Okay, there's a certain amount of comedy in the Jack Commer novels, but I never intend fashionable irony. At least the colors pull the image together, and I still like it overall, but I never considered this as any sort of cover until a few days ago when I realized I wanted a set of six alternate JC cover images.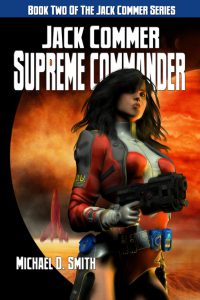 Many drafts and years later, and shortly before publication of Jack Commer, Supreme Commander in August 2012, Deron Douglas of Double Dragon Publishing had emailed to ask for verbal descriptions of the main characters. I sent him some and also included the '86 image of Jack. I was floored by Deron's resulting cover. Not only did he go all in with Jack's wife Amav, both redefining her for me while perfectly capturing what I'd always intended for her character, he anchored her with the red 1950's spaceship. I'd never seen such a fantastic cover.
As opposed to the floating, anonymized, probably lost soldier on the cover of The Martian Marauders, Amav has planted both feet on her world. She's self-assured and weaponized, claiming final success. She owns the spaceship and the hot swirling gas above it; even the giant Jupiter in the background bends to her will.
And the red flight suit shows up in subsequent novels. Yes, people have pointed out that it's not Jack Commer, Supreme Commander on the cover. But I answer, of course not, that's his wife; she is the book.
copyright 2018 by Michael D. Smith
Book 2. Jack Commer, Supreme Commander
Newly-promoted Jack Commer brings poor negotiating skills to the war with the fascist Alpha Centaurian Empire.