Draft and Final Covers: The SolGrid Rebellion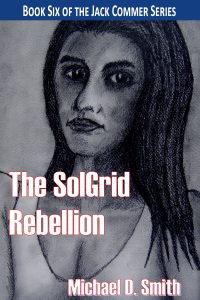 After Book Five, The Wounded Frontier, came out earlier this year, I had no idea when the The SolGrid Rebellion might be published. But I wondered if one of my images might again be used. I created this draft cover featuring Suzette Borman with that in the back of my mind, though again I really didn't take it seriously as a publishable cover; it's quite dark and has no color, for instance. Suzette's character, and the theme of rejuvenation and its drawbacks, are nevertheless important; co-owner of a bar in Marsport along with her rather boring hotshot senator husband, she's lived a hard forty-two years, but in her case the rejuvenation process, which normally just freezes one's apparent age, has reversed her to a somewhat crazed nineteen. But I also knew I had a much better image and worked on colored pencil and watercolor versions of another important character, Jackie Vespertine, Joe Commer's femme fatale from Nonprofit Chronowar.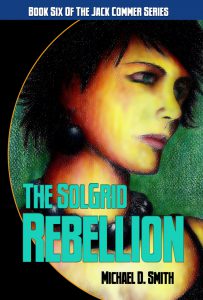 I was surprised that June publication came up so fast, but of course The SolGrid Rebellion was long done and accepted by Double Dragon Publishing the previous year. In preparation for publication Deron Douglas again asked for image ideas. I reworked the colored pencil version the old-fashioned way, in colored pencil, and the resulting cover is radiant. Jackie is one of the main rebels against her ex-boyfriend's malfunctioning SolGrid telepathic network, and she's inexplicably renounced a professorship of exobiology and her work with a newly discovered alien species. Her own themes of rejuvenated life energy, and where to take her seventy-six-year-old self next, are central to the book.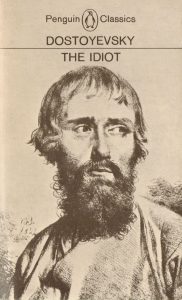 I've heard the opinion that you shouldn't put portraits of your characters on your book covers, apparently so the reader will be free to imagine what the character looks like on his or her own. But I think that's a fallacy. I always treat any cover image as the artist's personal conception of a character or idea, and certainly not as a final authoritative rendering. For example, take this well-known cover of The Idiot. Does anyone seriously think this should be Prince Myshkin? No, this is a sketch of a character concept, not a passport photograph. Likewise the colored-pencil drawing on the cover of The SolGrid Rebellion is just one idea of what Jackie Vespertine might be.
copyright 2018 by Michael D. Smith
Book 6. The SolGrid Rebellion
When the solar system adopts the buggy SolGrid telepathic network designed by former Space Force officer Patrick James, Jack Commer's charismatic but impudent son Jonathan James instigates a rebellion against fascist brainwashing.