As Long as We're on the Subject of Jackie Vespertine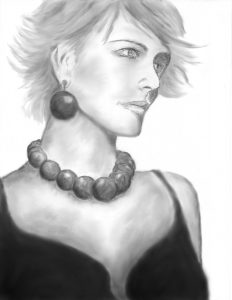 Here's the final version of Jackie Vespertine, a completely digital version of the original pencil drawing which has its strange flaw as described below. I lack deep image editing skills but used newly discovered GIMP freeware to experiment with the original Jackie scan. Basically I only used the smudge tool and airbrush (the latter in great moderation), and the final result felt like a black and white oil pastel, just without benefit of fingers. I used smudge with extreme transparency on the eyes, nose, and mouth, not wishing to blur their definition. The resulting image is compelling, and somehow true to the original pencil drawing, don't ask me how. But this has to be the final iteration of the Jackie Vespertine image.
I'd drawn Jackie's original portrait in pencil on rough paper from an ancient (ca. 1999-2000) magazine advertisement which struck me forcefully as what the Jackie Vespertine of Nonprofit Chronowar must look like. But in using grid lines to scale the image up to an 11" x 8.5" sheet, I found out the hard way that erasing the light pencil grid on the rough paper presented some existential problems: the grid lines can be erased but since they've left their grooves on the rough paper, and since I made gradients by rubbing my fingers through the pencil, every time I erase the grid lines I erase part of my gradient, and when I re-smooth the gradient the grid lines reappear! I really didn't have the heart to experiment further with erasure methods, and figured a scan would improve the image. But as you can see it did not. Yet the physical drawing still lives in a frame above my writing desk and, for me, is the most representative Jackie of all images.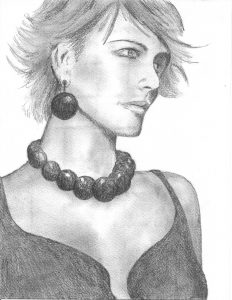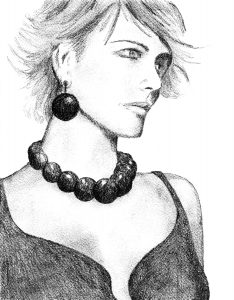 Experimenting further with the scan, I found that if I saved it as a purely black and white image and lightened it, the grid lines disappeared. Yay. Now it looks more like a line drawing but retains the Jackie personality well. This became my standard Jackie image for website and blog.
In looking to have some possible images ready for a cover for The SolGrid Rebellion, I printed off two black and white images on the same rough paper–you'd think I'd have learned by now–and made a colored pencil and a watercolor version. The colored pencil version, which went through more edits right before it became the cover of the novel, is a much better image, and still holds the Jackie character, whereas feel the watercolor seems to be slipping into becoming another person.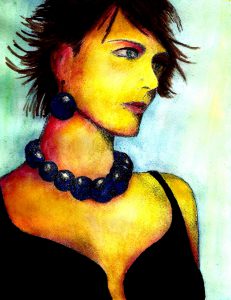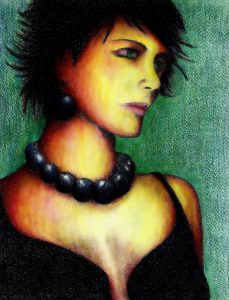 These alternate Jackies pushed out an urge to deal with the grid line problem on the original pencil drawing. Thus the final GIMP version. I could fool with this endlessly, adjusting the gradient, adjusting the tone, but I'm done with it. What I noticed a long time ago, at least for myself: if you want realism, use pencil. Paint, at least at my level of expertise, always morphs the image into something I'm never quite comfortable with, because paint is inherently messy. Colored pencil, however, is an interesting blend of pencil and paint. In any case it's better to draw some more character faces in good old pencil. I know how to use smooth paper to avoid the erased gridlines problem!
In this except from the SolGrid Rebellion, newly minted rebel terrorist Jackie winds up revealing way too much about her top secret work with the Committee to the Ywritt:
"But that's no problem," JJC went on. "I'm just letting Pat double check it to keep his worrywart mind occupied. Meanwhile, I wanted to ask you about the Ywritt."
"The–Ywritt?"
"Yes, ma'am. That's the reason I wanted you on my crew. Because you're on the Committee, and I sorta figured they might be allies, you know. They say you know 'em inside and out."
She felt her face fall. "Well … well …" At once Dr. Jackie Vespertine, Professor of Exobiology at the University of Mars, began thoroughly lecturing her.
That's all he wanted you for, missy! He wants to pump you for Ywritt data like any SolNet reporter! He doesn't care for your boobs or your butt or your charming little laugh or anything else! And probably like everyone else he thinks you flirted your way to your damn Ph.D.! Everyone thinks you're a brainless bimbo! Even I do!
Jackie swallowed. "Well, everyone wants to know about the Ywritt, you know … but they're hard to explain in so many words …" And that, of course, was because she wasn't supposed to tell anyone but the Council.
"But you're on the Committee. You've been negotiating with 'em for months now. You know where they stand on the whole Grid thing, how much they hate it and all."
"Well, it's not really that they hate it, they just feel their own methods are better. It's hard to explain the difference. In a way the Ywritt already have a Grid. But as far as we can tell, the interface is completely different. It's nothing like telepathy, more like these … these infinite libraries of fully indexed information."
"Yeah, wow," JJC said, nodding. "I heard something about how pissed they were about the IotaAlphaSol deal because it was so inefficient, or whatever they were saying."
Jackie met Jonathan James' brown eyes and blinked at the odd mix of intensity, curiosity, and sorrow. She was impressed that he seemed to be trying to understand what she was saying. Could he possibly respect her?
The negotiations for the Ywritt to become part of a proposed OverGrid between Iota Persei, Sol, and the Alpha Centaurian Empire had been unsuccessful, to put it mildly, and some of that top level info had leaked to the press. Waterfall Sequence himself (or was it itself?) had come close to halting all talks when IotaAlphaSol was first proposed, and Jackie and Greeney Gooney had spent three days getting him/it calmed down. She'd felt from the beginning that the iridescent bubble rainbow Waterfall Sequence could be a great personal friend, but navigating his angry silences was akin to trying to get a blown computer system back online.
Yet when Waterfall Sequence was back up and running, he graciously and easily joked that IotaAlphaSol was based on such primitive algorithms that employing it in Iota Persei would be like Jackie going back to being a cavewoman–and he'd attached several terabytes of images of fashioning crude pottery, tanning hides, foraging for nuts and berries, losing children to typhus and husbands to raiding parties, dying in childbirth–and Jackie was still wondering where he'd picked up all that history.
Jackie looked down at her crimson blouse and restrained herself from marching off the bed and grabbing the rest of her clothes. She was soggy.
"Yark! Yark yark!"
Trotter walked into the room.
"Hey, how did you get down here, buddy?" JJC said.
HELLO, DEAR MASTER! HELLO, EVERYONE! Trotter beamed as he leapt onto the bed. YOU LEFT HATCH TO POD OPEN AND I CAME DOWN STAIRCASE!
"How's my little fluffy bear?" Suzette said, chucking the dog under the chin.
I AM NOT FLUFFY!
"I know, I just say that," Suzette laughed. "I had a cat that was fluffy, so I say everyone's fluffy! But you are a much lovelier beast!"
"Yark! Yark yap!" Trotter turned to Jackie. YOU DISCUSS YWRITT WITH MASTER? GOOD! HE HAS BEEN WORRIED THEY WILL NOT ACCEPT HIM.
"Really?" Jackie said. She met JJC's brown eyes once again. "You talk this sort of stuff over with your dog?"
JJC shrugged. "Well …"
"Of course I'll help you in any way I can," she found herself declaring, sitting up straight and shifting her legs and not caring what JJC might see. "I mean, I signed on to be a member of this–this team, after all. Whatever I can contribute–I mean, sure!"
And most of it was classified top secret. What was she doing?
copyright 2018 by Michael D. Smith