Draft and Final Covers: The Martian Marauders
A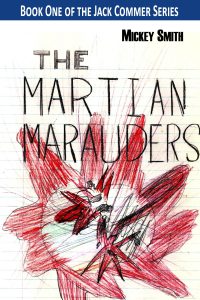 few days ago I realized that of the six published Jack Commer, Supreme Commander novels, I'd made draft covers of the last four when working on early versions. Often I'll make an EPUB or MOBI version of a draft, or even a nearly finished manuscript, just to reread and evaluate the book in an entirely different reading environment than the Word document or a printed copy. Doing so gives perspective and incidentally helps catch typos. Usually the draft cover is pretty crude, tossed off to just provide an image for the eBook, but I worked on some for a long time, like colorizing every pixel of the original black and white Nonprofit Chronowar image.

The first two novels had no such draft covers, but then I realized I had ancient images, contemporary with their first drafts, for The Martian Marauders and Jack Commer, Supreme Commander. So I came up with alternate book covers for them, and for all six novels I added the same blue band denoting series number as shown on the final excellent covers done by Deron Douglas of Double Dragon Publishing. I'll muse about what the covers have meant to me in this and five subsequent posts.
Crude definitely describes my eighth grade Martian Marauders cover. When Mickey Smith set out to write his definitive Jack Commer childhood hero novel in the fall of 1965, the cover or title page, executed on the same 8" x 10.5" notebook paper as the book's handwritten 110 pages, appears to be the first thing he did. It depicts one of the mysterious solar system disasters of the 2020's and 2030's, the collision of Jupiter and Saturn. An eighth grade boy is entitled to describe such an improbable event; after all, my 1950's solar system map showed the two planets right next to each other. Looking closely, we can see that each planet apparently remained a perfect circle, executed no doubt with a pencil compass, up to the moment of impact; no messy tidal effects, Roche limits, or gaseous distortion, and Saturn's rings remain true up to the end as well. However, give Mickey Smith credit for rendering the relative diameters of Jupiter and Saturn fairly accurately.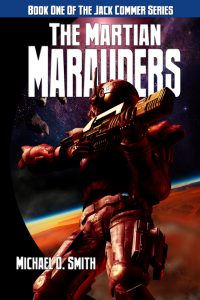 When the final adult version of The Martian Marauders came out in January 2012 from Double Dragon Publishing, I had no concept whatsoever of its cover until the publication date. And then I was overwhelmed with its rugged power and dark moody colors. A striking science fiction image, even if at first glance I couldn't find my characters or the book's plot in it. Does this floating soldier belong to Jack's United System Space Force? Or is it a terrorist Martian? A robot? Why is he/she/it floating in orbit clutching a wicked SF weapon while a meteor shower (or worse, an asteroid shower) pummels the planet? The planet does have to be Mars, right? But in the face of the excellent image (and also, that I'd finally gotten a book published!) none of these questions mattered, and I finally decided that the cover represents the merciless, existential war the new human refugees on Mars have inadvertently sparked with an implacable unknown foe which, in my 1965-era first draft, was probably based on the Viet Cong. Whatever's going on, the floating soldier is right in the thick of it, competent and lethal amid chaos and probable doom.
copyright 2018 by Michael D. Smith
Book 1. The Martian Marauders
After the Final War and the evacuation of the Earth's population to Mars, Typhoon I Captain Jack Commer fights native Martians led by their traitorous new human Emperor.
The Irregular Origin of The Martian Marauders