Harri McNarri from The Martian Marauders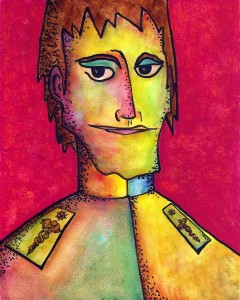 Brilliant, argumentative Typhoon I Physician/Engineer who set the standard for all subsequent United System Space Force engineers.  From The Martian Marauders:
Harri was aware of the other Typhoon crewmen coming up to view the body. A hundred yards past them, at the edge of the parking lot, a bright blue police force field had been set up. Dozens of Marsport citizens behind it strained to see what was going on. Harri turned back to the body of General John J. Douglas with professional interest. The blood had dried to a crimson crust in the virtually nonexistent Martian atmosphere, but Harri could tell that a lot of it had come out of the general before decompression had blasted his features into spoiled meat. Further down, on the naked torso, were numerous stab wounds.
"Under this second sheet," Yao went on, "is the body of one of the things the general killed." He whipped back the sheet.
The men gaped. Before them lay a small pinkish creature, its head curved back into a long fin running down its translucent white back. The entire body was no more than four feet in length. Not that the resemblance was exact, but Harri was reminded of human fetuses in the early stages of development. He mutely pointed to what appeared to be a missing eyeball in one of the two eye sockets.
Yao nodded. "Douglas apparently gouged one of the eyes out. We haven't found it yet."
"Sheesh," Ken Garrison put in for all of them from behind Harri.
There was no apparent sign of clothing on the alien. The body was humanoid, but Harri had a hard time deciding if there were genitalia between the legs, and if so, whether it was male or female.
"What–is this thing?" Joe said, staring.
Yao shrugged. "Some of the civilians over there who first saw it in the parking lot have been calling it a Martian."
Harri scanned the growing crowd behind the force field. "So they've seen it …" he said, letting the implications sink in for all the men. The noises in the night, the unease throughout the city …
Copyright 2013 by Michael D. Smith
The Martian Marauders is available as eBook and paperback from Double Dragon Publishing, amazon.com, and barnesandnoble.com.